Six Flags to pilot Amazon's Just Walk Out technology in June ahead of peak summer season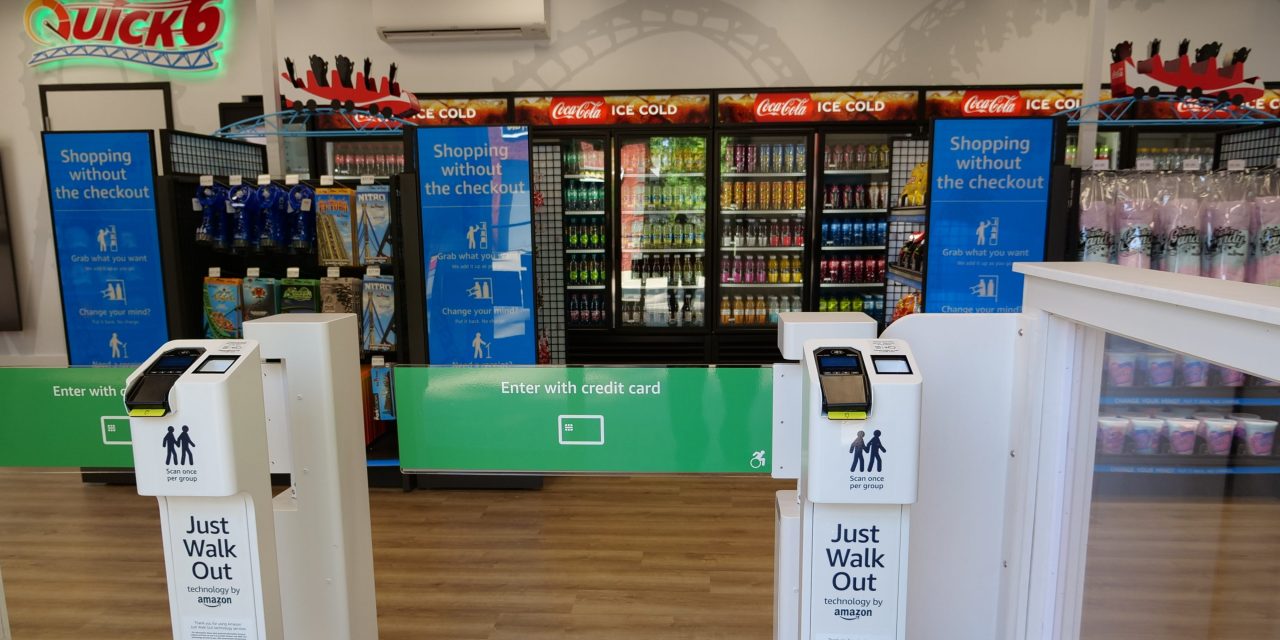 Six Flags
Six Flags will be the first theme park operator to pilot Amazon's Just Walk Out technology at a few select locations to reduce wait times for customers wanting to purchase food and drinks.
Next month, Six Flags will soft launch Amazon's Just Walk Out technology at its theme park in New Jersey on June 1. If all goes well a similar rollout will be planned for the Six Flags Magic Mountain location in Los Angeles.
Six Flags wants to use Amazon's Just Walk Out technology, which has been previously implemented in high-foot traffic destinations like airports, to speed up the guest experience at its amusement parks and reduce wait times. Amazon first started selling this technology behind its cashier-less convenience stores to other retailers in March 2020. In 2021, Hudson unveiled its first Hudson "nonstop store" using Amazon's Just Walk Out technology at Dallas Love Field Airport and added another one at the Los Angeles International Airport in 2022.
Stephanie Borges, global vice president, strategic marketing & partnership at Six Flags Entertainment told Modern Retail that one of the pain points for the theme park attendees has always been lines.
"We always look [at] how can we use technology and innovation to enhance the guest experience. We look at holistically a consumer coming to our parks and all the different things that they're doing in that day and one of the pain points is always lines," Borges told Modern Retail.
The tech collaboration is the result of a joint venture between Six Flags, Amazon and beverage giant Coca-Cola, a longtime strategic partner to Six Flags. Rachel Chahal, director of amusement and entertainment partnerships at Coca-Cola told Modern Retail the hope is that this partnership could improve Coke's retail sales per visitor by 10%. "If we hit those numbers, then we will be able to implement the technology in other parks and ultimately replace all the vending machines," Chahal said.
Six Flags will be introducing the Just Walk Out technology at a 400 square foot "Quick Six" store. At the store, people can pay for items like drinks, food, candy and branded Six Flags merchandise like mugs and t-shirts. Customers will be automatically charged to the payment method used to enter the store, removing the need for traditional checkout queues, the company said.
Chahal added that the total processing time, if a person just wanted to grab a drink, could amount to less than 50 seconds with Just Walk Out. Previously, waiting by a Coke vending machine or waiting in line at a retail store inside the theme park could take up to six minutes depending upon how big the line was.
According to Neil Saunders, managing director for retail at consulting firm GlobalData, the Just Walk Out rollout at Six Flags seems very sensible because locations like theme parks do have issues around managing crowds with surges of customers coming in. "I do think the technology is particularly useful at destinations where people are in a hurry, where there can sometimes be surges in the number of people that are quite sudden and are difficult to cope with. And theme parks are obviously one of those locations," he said.
However, Saunders said that Amazon has found it difficult to convince mainstream retailers to use its Just Walk Out, because it is very expensive to implement — "which is why a lot of retailers especially in low-margin segments like grocery have shied away for using it," he said. "However, at theme parks because of the mix of merchandise you've got with lots of gifts, and the higher prices that you often pay at theme parks, the technology might be more financially acceptable."
The new tech rollout comes as Six Flags posted a loss of $40 million in the first quarter and reported that attendance to its theme parks dropped 5% year-over-year. But revenue for the most recent quarter rose 3% to $142 million. The company is looking for ways to better monetize its parks and run them more efficiently. Borges said the company is looking to adopt technology from vendors in other areas, like cleaning its pools using robots to reduce labor costs.
"If somebody is coming in and they want to just buy a quick bag of chips and a Coca-Cola, this is going to create a really unique experience for them to come in grab and go much more quickly than having to wait in line. This also helps from a staffing perspective as we look at being very nimble in that space," added Borges.
For Coca-Cola's part, the beverage conglomerate is hoping to draw more money from each consumer thanks to sped up transactions. "If you have to wait in line to get a drink, and you have to wait in line to go on the roller coaster, you may choose [one or the other]. This is going to speed up the transaction so you can do both," Chahal added.
Borges from Six Flags said she would gauge the success of this partnership based on financial indicators like the EBITDA of its Quick Six stores as well as sales. "What are the items that are selling in that store? Is this a profit center for us? Is this able to generate more revenue than what our other typical retail stores are?" she said.
"I don't want to give the impression we're going to put them in every single park, because obviously if they don't perform well we won't continue to expand. But the hope is that these become really successful across our parks and then yes, we would look to expand this, sort of given the success of this, across all of our parks as well," Borges said.