Zulily updates its sales strategy to highlight big-name brands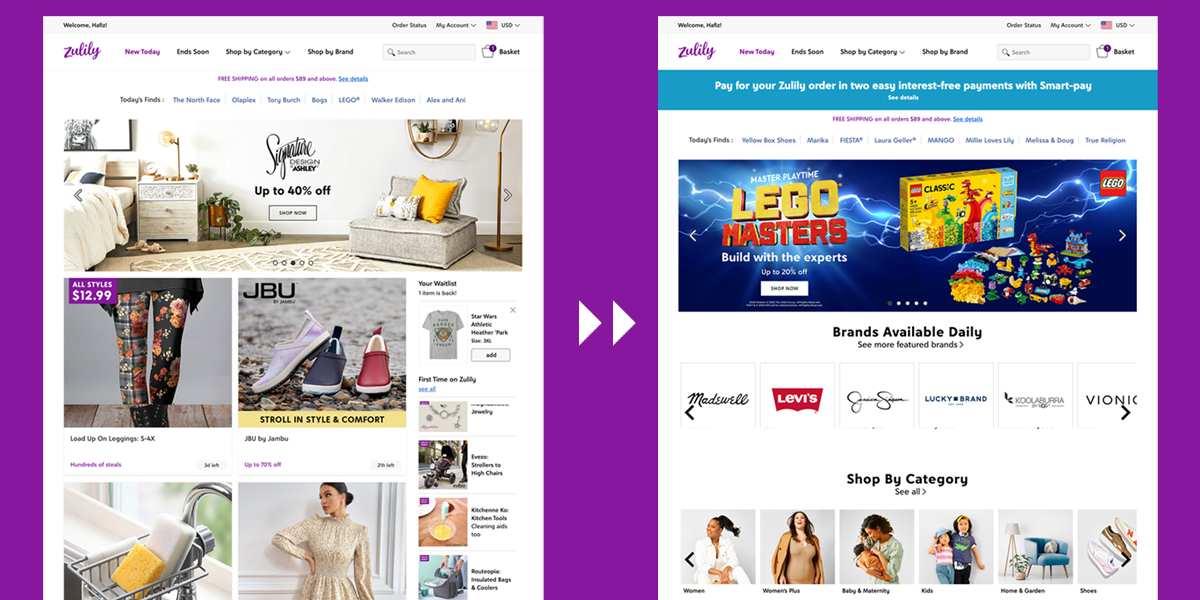 Family-focused e-commerce marketplace Zulily is changing up its sales strategy by offering more popular brands and highlighting them in its web design.
The 12-year-old platform built its reputation on deep discounts and flash sales on items like clothing, children's toys and housewares. But after the online shopping booms of 2020 and 2021, Zulily is seeing sales drop off. This fall, its changing its strategy to focus on offering exclusive deals from well-known brands like Birkenstocks, Levi's, Nike and more.
"We don't want to be a list of products. We want to elevate collections of great brands and great products that will make it easy and fun," said Chief Technology Officer Courtney Kissler.
Zulily previously offered about 100 flash sales for 72 hours that would be pushed out to customers via data-driven advertising on its homepage and social media. Many participating brands were boutique or little-known. Now, the platform has launched individual pages for more than 300 brands at prices that will stick around — and it's emphasizing working with name brands. But the new strategy continues to focus on deep discounts — one of Zulily's prime competitive advantage over e-commerce giants like Amazon and Walmart.
This change comes as discretionary spending is shifting and affecting brands like Zulily: second-quarter earnings for Zulily's parent brand Qurate showed year-over-year revenue decrease by 45% from $397 million to $220 million. The company cited supply chain constraints and marketing inefficiencies that led to fewer customers; it also went through a corporate restructuring and exited a fulfillment center.
But Zulily is betting that its new strategy will appeal to inflation-weary shoppers hungry for deals. Zulily in August commissioned a survey of 1,000 U.S.-based moms and found 72% said they're feeling price increases on essentials like groceries and gas.
Kissler said the new brand-focused strategy aims to help the company increase lifetime value and re-engage customers. Before, Zulily's flash sales might be a one-and-done offering. But the new brand-specific stores will have fixed inventory and pricing, meaning "mom can always count on these collections from brands that she loves," Kissler said.
She said the brand-focused stores are also aimed at making shopping convenient — roughly three-quarters of shoppers are ordering on mobile.
"We really want to make this something that is truly fun and kind of takes the digital fatigue that everyone's feeling, and make it less about that and more about, 'How do I know I can make a great decision and feel confident in my decision?"
To highlight the new offerings, the top of the Zulily homepage is now anchored by a rotating carousel featuring top brands and deals. Underneath, a scrolling row of brand names links to a mini shop for each company. In the previous version of the site, the homepage featured an assortment of daily deals without any brand-centric curation.
Zulily declined to provide information about how sales are split between the company and the 300+ brands sold on its website, citing contractual terms. But Kissler said that participating brands choose what products and how many to offer on Zulily — some brands offer about 100 products, while others offer nearly 2,000. The site provides an avenue to sell excess inventory that may have piled up due to recent supply chain issues, she said.
"We are positioned perfectly to be a great partner for many of those brands because this is a place where we can help them," she said.
Kissler said Zulily will market the new site via email and social strategies, as well as influencer marketing plans.
Gerard Szatvanyi, president and CEO of OSF Digital, a global e-commerce consultancy firm, said it's become a trend to have marketplaces focused around a particular sector or need — and it's increasingly common for children's goods. Zulily's push to offer more well-known brands shows that they're listening to their customers, Szatanyi said, as many parents are brand-driven.
"They've worked with their customer base to understand what they want, and how they can provide a much more meaningful answer to their needs," he said.
Offering a specialized and specific experience — in this case, popular brands at a discounted price — can give a company an edge over Amazon or other e-commerce retailers, Szatvanyi said.
"One of the drawbacks of Amazon is they cannot personalize and customize the experience
to a level Zulily could, and that's what makes a huge difference," he said.
Kissler said that Zulily aims to stand apart from other retailers by cutting down decision making with the brand-based offerings being presented as a collection, rather than individual items. And the company also relies on a mix of data-driven merchandisers and machine learning to advertise products based on what's trending, remaining inventory and top sellers.
"What we hear from customers is they want some inspiration and some amount of engagement that's above and beyond 'go to a retailer and search for something and find it and buy it,'" she said. "So with us, you're going to get this additional engaging, curated collection."