Feminine care brand The Honey Pot Company is distributing free products at Beyoncé's Atlanta concert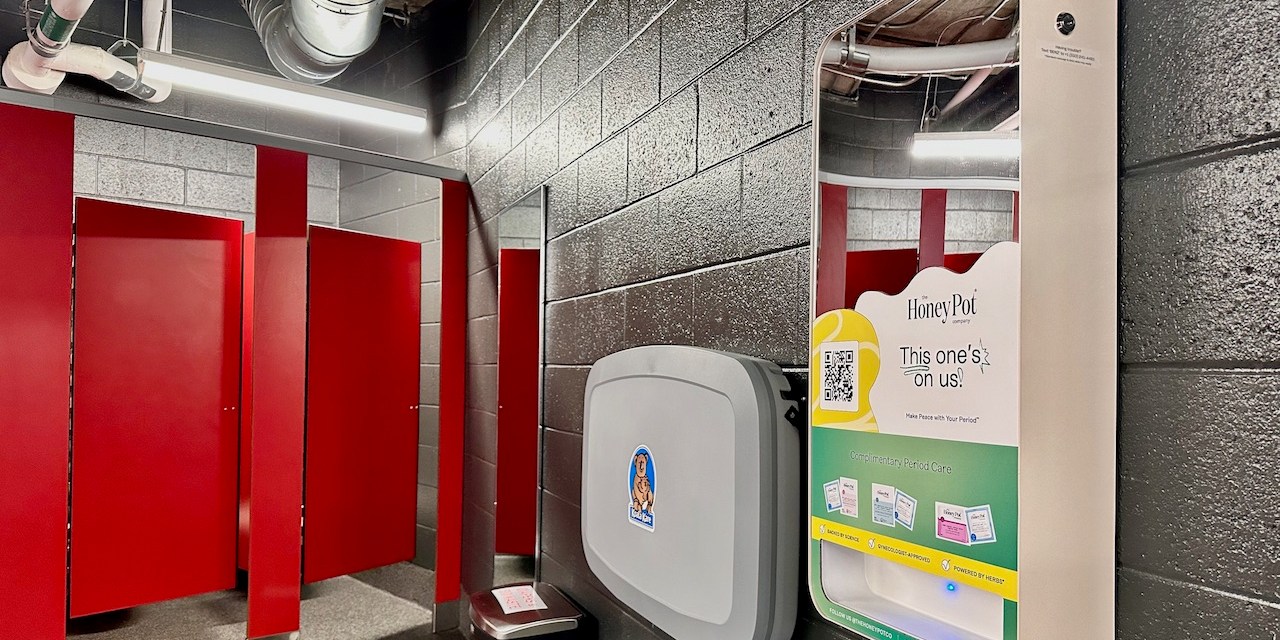 Strapt Vending
On Aug. 11, femcare brand The Honey Pot Company is giving out thousands of free products during Beyonce's tour stop in Atlanta.
As a part of a market test, the "Menstrual Renaissance" campaign at the Mercedes-Benz Stadium will garner exposure to 71,000 fans over the two-night shows. Through cashless, branded vending machines throughout 15 bathrooms across the stadium, attendees can choose from three popular Honey Pot products: tampon, pad and cleansing wipes. After scanning a QR code, the machine asks for an email address and then dispenses the items free of charge.
The brand awareness play comes after a major push into retail by The Honey Pot Company, which was founded in 2014. The brand's plant-based feminine and sexual care products are now available nationwide at chains like Walmart, CVS and Walgreens. Increasingly, more startups including beverage brands like Sanzo and Happy Hour are looking at unorthodox sampling opportunities to get their products in front of customers at places where other brands might not have gone yet. And concerts provide one relatively untapped way to do so. The Honey Pot Company has also expanded into sexual wellness products recently with products like lubricant and intimacy wipes and this activation is another chance to expose audiences to the new line.
The company is working with cashless feminine care vending machine startup Strapt, whose venue partners include offices, hotels, stadiums and restaurants, one of which is the Mercedes-Benz Stadium. The partnership with the stadium will run through the end of the year, and include upcoming events like Atlanta Falcons games and an upcoming Karol G. show. If the concert run proves successful, the Honey Pot Co plans to evaluate and execute a national rollout of this program, targeting concerts and major sporting events across America.
Since launching in 2020, Strapt has stocked its machines with products from brands like Lola and Here We Flo. Giovanna Alfieri, vp of marketing at The Honey Pot Company, said that "the trial was intentionally done in this controlled atmosphere," noting the likely overlap between Beyoncé concert goers and potential users of The Honey Pot, which is also a Black-founded brand. "We get to have this localized moment with the partnership, and then of course there's Beyoncé," she said. "Who doesn't want to get woven into that cultural zeitgeist?" 
Like many consumer brands, Alfieri said data-driven sampling is also becoming a bigger part of The Honey Pot's marketing strategy, both due to higher digital CAC and targeting specific demographics. In this case, exposure to thousands of young, menstruating concert goers who may be in urgent need of a tampon during a long concert. "The reason we're pursuing this initiative versus exhausting more digital ads is because we typically run ultra-targeted campaigns since we have so many categories," Alfieri explained. 
Alfieri added that historically, vending machines in these venues have typically been locked or require coins to dispense the product. As part of the initiative, Honey Pot is also promoting a nationwide push for free menstrual products at major sporting events, concerts and schools in the U.S., which is also being proposed through federal legislation.
Honey Pot did a trial run in the Strapt machines during a late July soccer match as part of the Premier League Summer Series. However, the company expects the Atlanta stop of the Renaissance tour to draw in thousands of users throughout the stadium. The machines are placed both in all female-identifying bathrooms and those located inside private boxes and suites. "We did capture a sizable amount of emails," Alfieri said. "But we did notice that some of the bathrooms had a more concentrated traction than others." 
From there, the brand wants to expose users to its portfolio products and retailer availability. "We're still a scaling brand, we still have so much runway for exposure," Alfieri said. "We also intentionally chose to include our non-herbal products, which is what we're known for," she said, but could take new users by surprise due to the cooling effect. 
Increasingly, CPG companies are trying to add a digital component to their sampling efforts to better reconnect with these newly acquired customers.
Christine Smith, director of client success at Sampler, which works with brands like L'Oréal and Nestle, said, "one of the key benefits of digital sampling is that you can continue the conversation with consumers after they have tried your product."
This is why many companies are going beyond just handing out products to anyone passing through. "As much as brands like to believe that all they need to do to convert someone to purchase is to get them to try their product, we know that it takes multiple touchpoints to make someone into a brand buyer," Smith said.
Alfieri said Honey Pot hopes that attendees who may have seen Honey Pot products on social media or in stores will be encouraged to try the products. "Even if it's a faulty email, at the end of the day we're happy having someone try our product for the first time," she said.