Why Walmart is continuing to overhaul its sexual wellness aisle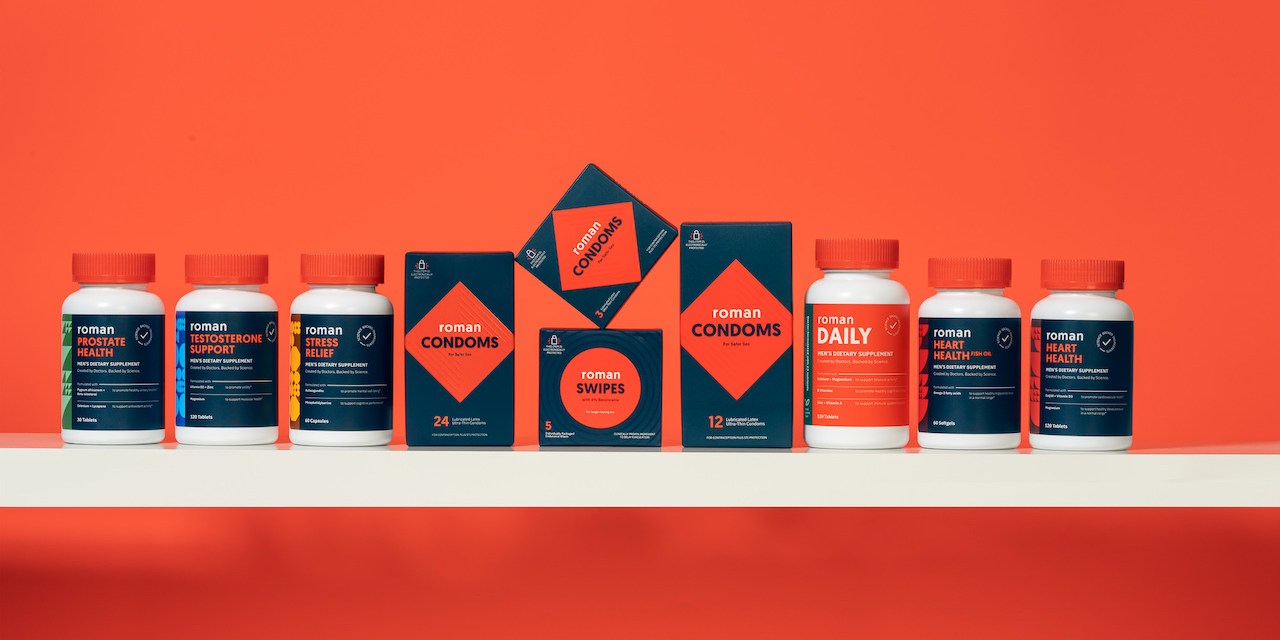 Image via Ro
Walmart is continuing to expand its lineup of health and wellness products, with a particular focus on one niche: sexual wellness.
Starting this week, the company's Ro line — consisting of men's sexual health essentials and vitamin supplements — will be available at over 4,600 Walmart locations and the retailer's website. Similarly, sexual health brand The Honey Pot is making its debut at over 4,000 Walmart locations this spring, along with Walmart.com.
Walmart has made a number of moves to build out its health and wellness business as of late, from experimenting with building its own medical clinics to expanding its feminine care assortment. But another major focus has simply been adding more products from startups like Ro and Honeypot to its sexual health aisles. Partnering with startups helps Walmart stay relevant among younger consumers that gravitate toward digitally-native brands, while still increasing its foothold in health and wellness overall.
Katie Thomas, lead at Kearney Consumer Institute, said that these partnerships with hip, young brands is Walmart's way of fleshing out its large pharmacy segment. "There is a major potential to cross merchandise between digitally-native brands and the national players," Thomas said. And for DTC brands, "Walmart tends to legitimize them among more mainstream consumers." 
Rob Schutz, co-founder and chief growth officer at Ro, told Modern Retail that Ro will have a presence at nearly 97% of all U.S. Walmart stores by June. "It makes us one of their biggest DTC partners to date." 
Sitting alongside Walmart's national pharmacy business may seem counterintuitive for a pharmacy disruptor like Ro. However, Schutz said both brands target the same consumer demographics in different ways. For example, the average age of a Roman customer is 46-years-old, the same as Walmart. Furthermore, 41% of Ro users are Walmart shoppers themselves, according to the company. Part of the partnership includes releasing several exclusive products, like bulk packaged condoms.
The company — which operates Roman, Rory and Zero — had an annual revenue of $230 million in 2020. However, the company hasn't turned a profit yet. Along with the potential Walmart sales, part of Ro's upcoming scaling plans include building out more pharmacy fulfillment centers. The company is due to hit 10 national locations by the end of the year, Schutz said. 
In 2017, Ro launched as Roman and focused on male sexual health. "We're now a fully integrated primary health care operation, so the retail products are only part of our offerings," Schutz said. The idea is to introduce Walmart's vast customer base to the other growing sectors of Ro. "We're currently venturing into at home care, like dispatching nurses and phlebotomists to people's homes," he said. 
A wellness aisle overhaul
Roman's debut is part of Walmart's overall effort to expand its sexual health offerings. The Honey Pot is another DTC brand in the category making its Walmart debut this spring. The company, which makes plant-derived feminine care products, is also unveiling a new product, an organic lubricant, to coincide with the Walmart launch. 
Founder Beatrice Dixon told Modern Retail that the partnership with Walmart "has always been a brand objective" for the company. "The relationship came about organically as Walmart was looking to grow a better-for-you assortment," Dixon said, referring to more eco-friendly, organic alternatives to national brands.
"Walmart provides exposure to a national consumer with varying needs and shopping behaviors," Dixon added, who said the brand will monitor their Walmart consumer's journey and how they build their basket, "with and without Honey Pot products."
Walmart has increasingly become the go-to retailer to partner with for many DTC brands, first and foremost because it's the largest retailer in the U.S. In the past year, brands like Modern Fertility and Lola were added to thousands of the retailer's shelves and the Walmart website. At the same time, the retailer has ambitions to eventually offer full-service healthcare, including primary care, dental exams and X-rays, among other medical care. In 2019, Walmart announced it's building thousands of Walmart Health clinics, which have been fast-tracked during the pandemic.
Mohit Mohal, managing director at Alvarez & Marsal Consumer Retail Group, said these partnerships cater to a larger demand among consumers. This includes the shift toward more natural or alternative health and wellness CPG options.
Mohal said that among younger customers in particular, there's increased interest in so-called "natural" health and wellness products, often with eco-friendly or organic ingredients. "In the past decade, millennials were the key driver for this market, but with Covid adoption rates have become higher across Gen Z," Mohal explained. It's why Target has also been rapidly adding health-focused DTC brands to its shelves.
For retailers like Walmart and Target, there is also room to test and retest what brands work for their customers. At the moment, there are a plethora of these young startups to choose from, Mohal noted. "So unsuccessful ones can quickly be replaced by other young, digitally native counterparts." 
For brands like Ro, which has its own consumer pharmacy ambitions, a Walmart presence is just one piece of the puzzle in reaching customers. "We want these customers to discover us and become part of the Ro ecosystem," Schutz said. "If it becomes its own acquisition channel, that's a bonus."