'I want there to be conflict': How DTCs manage tension between their performance and brand marketing teams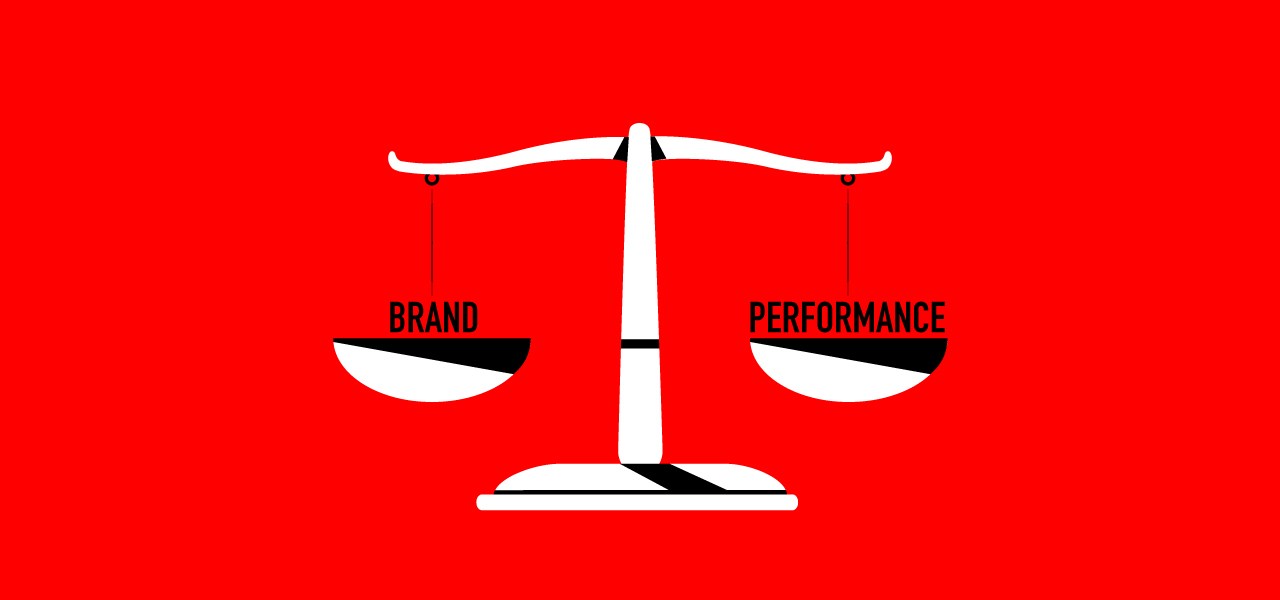 Before men's athletic apparel brand Rhone gets ready to run an advertising campaign, the performance marketing team has to run the creative and the language by the brand's brand marketing team. The goal, according to CEO and co-founder Nate Checketts, is to ensure that every ad that Rhone runs has a consistent voice. But sometimes, that results in conflict.
"I want our brand team to say 'hey we hate this ad, it's not beautiful, it's not representative of what we do,'" Checketts said. "And our performance team to say, 'yes but it's performing twice as good as the ad that you've supplied us.'" 
It's exemplary of the tension that executives at many digitally-native brands are finding themselves having to manage: What's best for the brand may not always be deemed best by performance marketing standards.
Many of these brands acquired their first set of customers through performance marketing channels like Facebook and Google. The effectiveness of these ads can be measured simply by tracking conversions, clicks or return on advertising spend. But, as they grow up and have more money to spend, they are becoming increasingly interested in investing more in traditional brand marketing channels.
What exactly constitutes "brand marketing" depends upon the company, but often times television ads, billboards and events fall under this category. With these types of advertising campaigns, the goal is not necessarily to acquire as many customers as possible for as cheaply as possible, but to get customers to think more positively about a brand. And that's not something that can be measured simply through clicks.
It's an internal tension that legacy brands have always had to manage. But, for many of today's digitally-native brands, which were born on Facebook and Google ads, the performance marketing muscle was established first.
Checketts doesn't think that's a bad thing. "I want there to be conflict," he said. "That's a healthy system in my mind of push-and-pull."
Art vs. science
Chief marketing officers often describes the tension between brand and performance as art versus science. Exactly how established the "art" side of a business is versus the "science" side depends on the startup.
Styling service's Stitch Fix's CEO Katrina Lake, for example, described performance marketing in an earnings call earlier this year as the company's "bread and butter." But, earlier this year, Stitch Fix launched its first "integrated brand marketing campaign" — which the company said it spent $16 million on during its third quarter earnings on in June. Lake said the goal of the campaign was to "build an emotional connection with existing clients and prospective clients."
Cristina Angeli, Stitch Fix's former vp of brand and creative who left the company in 2017 and is now an independent consultant, chalks Stitch Fix's preference for performance marketing up to a couple of factors. One, is the fact that the company is headquartered in data-driven Silicon Valley. The other is that Stitch Fix's value proposition was based upon asking customers to provide data what clothes they want, and then using that data to send new items of clothing to customers. But, she said that she joined Stitch Fix because she liked the challenge of fighting for the importance of brand at a very data-driven company.
At Rhone, Checketts has tried to stress the performance of brand from the beginning by keeping Rhone's digital advertising spend low in the first year, so as not to rely too heavily on digital marketing. He estimates that he spent less than $5,000 a month on digital advertising during Rhone's first year. And he's set up the marketing team to ensure that brand and performance marketers are in constant communication with one another.
"[Brand] is really about creating that strong centralized message," Checketts said. "I want that to be consistent when it comes to the way we package our product, to the cards that are used in a catalog to photography." 
Building a brand for the long-term
Sometimes, it's obvious when an ad that's deemed successful by performance marketing standards is not good for the brand long-term. Checketts gives the example of perpetually running ads that promote steep discounts — they will probably drive a lot of clicks and conversions, but would hamper the brand's ability to turn a profit.
But more often than not, these decisions aren't as clear-cut. For example, Angeli said that when she was at Stitch Fix, she pushed the company to refresh the homepage. At the time, Stitch Fix's home page featured a single image of a model. Angeli said that the was told that any time Stitch Fix tried to change the homepage, conversion went down, so the home page had featured the same image for nearly two years. But Angeli said that she believed long term, a home page that featured images of multiple outfits would do a better job of converting potential customers, since Stitch Fix's value proposition was based around the fact that it can help find outfits for customers that fit with their personal style.
Founders and marketers say that the best way to manage tension between performance and brand marketing teams is to install a chief marketing officer who understands the perspectives of both teams — that it's important to track metrics like clicks and conversions, but that they're not the end all be all.
Stephanie Swingle, chief marketing officer at menswear brand Mizzen + Main, said that she tries to manage tension between her brand and performance marketing teams by setting different KPIs for each campaign, and ensuring that everyone on the marketing team knows what those KPIs are. Oftentimes, it's revenue-based goals, but for brand marketing campaigns sometimes those goals will instead be related to how many pages on the website a customer who came through that campaign visited, or how many email signups a campaign drove.
"You run the risk of setting upper funnel or brand-oriented activations that aren't necessarily in service of bringing the right consumers through your funnel," Swingle said.
There are also ways to measure the effectiveness of brand marketing in the short-term. Angeli and Swingle both say that they often look at social media comments to try to get an immediate read on how customers are responding to new creative or an advertising campaign.
Brands also have to ensure that they have heads of brand marketing who can effectively communicate to the rest of the company the importance of brand marketing, and is willing to step on toes at times to push for the importance of brand.
Angeli said that while at Stitch Fix, she tried to sell others on the leadership team on the importance of brand marketing by explaining that, when copy cats inevitably came for Stitch Fix, customers would stick with the brand that they had the strongest affinity for — which she said could only be established through brand marketing.
"Those conversations help people understand that you are building for the long term," Angeli said.