Why Swoon abandoned its DTC arm and is using Amazon to fulfill all its online orders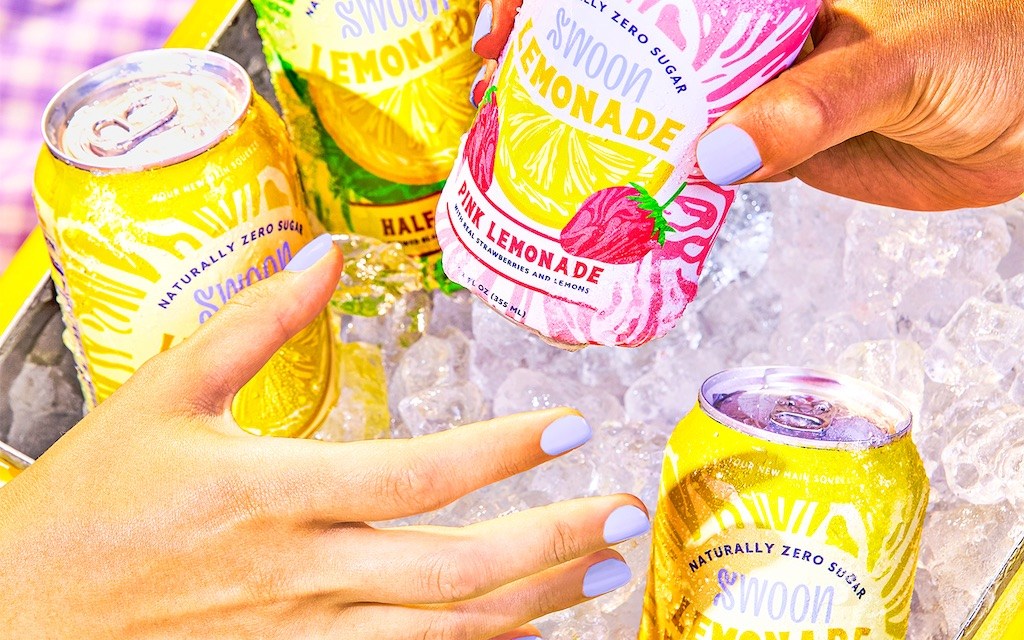 When a shopper goes to zero-sugar beverage brand Swoon's website, they are now directed to checkout through Amazon rather than buying directly from Swoon.
At the end of February, Swoon moved its backend entirely to Amazon's fulfillment services after analyzing its customer base, their purchasing habits and the costs associated with shipping and fulfillment when using an independent 3PL. Founded in 2019, Swoon sells drinks like lemonades, iced teas, syrups and mixers on a variety of channels. It sells its products through Target stores nationwide, and its products are also available on a pickup basis through the Minneapolis-based retailers' website. It also sells its products through some online grocery services, like Thrive and Imperfect Foods. About 70% of Swoon's sales come through retail and 30% comes from online, the company said.
Now, Swoon has joined a growing group of grocery and gourmet brands whose main online store is run solely through Amazon, utilizing the e-commerce giant's fulfillment service. These brands are turning to Amazon to fulfill orders, rather than building out their own direct-to-consumer operations. That's because as shipping and fulfillment costs rise, it's getting more expensive to maintain a DTC arm.
"It's very hard to be profitable online for a beverage brand in general," said Swoon's marketing director Chelsea Johns in a chat with Modern Retail. Johns added that it was more convenient for shoppers to buy a 12-pack case of lemonade while they're already shopping on Amazon, rather than going separately to Swoon's site.
Swoon first started selling its lemonades on Amazon in February 2021. Roughly six months later, the company decided to make a switch to Amazon's FBA because it believed Amazon would be able to better fulfill orders while also helping Swoon save on logistics costs. This plan was fully carried out this past spring. The company still operates its own website but it had to redo the checkout section, which now takes customers directly to Amazon's marketplace.
"Even if people did find us on our website, they just add to cart and checkout, so it's just one extra click of the mouse. It's not a complicated checkout process for the consumer," explained Johns. Swoon reported compound monthly sales growth of 18% between March and July since it switched to Amazon's fulfillment services.
According to Swoon co-founder Jennifer Ross, this is the startup's first substantial change in its web strategy thus far. "For us the big decision really was — do we continue selling and fulfilling through our own website or migrate that over to Amazon?" she said.
"Selling a beverage and shipping it is very expensive because of the weight. So it was hard to continue to make that [DTC] channel so profitable while meeting consumer expectations and how quickly they want the product," Ross further explained. Swoon did not always plan to move to FBA but after managing shipping and delivery through a 3PL for more than one year into the business, the move seemed like an enticing proposition. Especially given the 200 million Prime members that Amazon gives sellers access to.
"In the very beginning, we obviously knew we were going to have a website and then we were going to sell online and we were trying to do everything to see what was working best. But this was the first decision to really say — ok let's really focus our efforts and hone in on one channel," added Ross.
Swoon sells a few thousand units on Amazon every month, said Ross. Part of this decision to switch entirely to Amazon was also driven by costs. "When selling online it is really hard to make any economics work to be able to send one or even two cans. So, the price point is just very different. Part of it is unit economics but it's kind of overall costs across the board," Ross said.
Swoon's migration to Amazon also comes at a time when the Seattle tech giant has raised the costs of operation for sellers, most recently with the addition of a temporary peak holiday fulfillment fee. According to data from Marketplace Pulse, Amazon has increased its fulfillment fees by over 30% since 2020. But Swoon doesn't mind the fee hikes because its online sales business is significantly smaller compared to its retail operations.
"As long as the retail business is a significantly bigger part of our business, if Amazon is a bit more expensive, it's still worth it, given that Amazon is never going to be 90% of our business. Having a strong presence on Amazon so that people can try our product, buy what they like and then buy it in-store," said Johns.
According to Chris Palmer, CEO of Amazon agency SupplyKick, Swoon's change of tactics is happening to sellers across the board.
"This is a very common occurrence not only for grocery & gourmet brands but in many industries/brands who are selling on Amazon," Palmer wrote in an email. He added that SupplyKick currently works with a food and beverage brand that's made a similar calculation — the company sells its product both online and through brick-and-mortar stores, but its primary e-commerce business is managed via Amazon and FBA. Palmer said the brand has "seen exponential growth and success from this model," but did not share specifics.
Palmer said making a complete switch to Amazon's FBA gives brands access to the most expansive warehouse network available in the U.S. "As a Prime seller, you also are able to guarantee two-day shipping to your customers," he said.
"As long as you're devoted to operating Amazon as your key e-commerce sales channel (as it previously might have been your DTC website) and putting in the time and resources required to stay competitive on the marketplace, going this route has many advantages," Palmer added.