Earnings
// October 25, 2022 ■ 4 min read
Adidas' slashed profit outlook paints a grim picture for apparel brands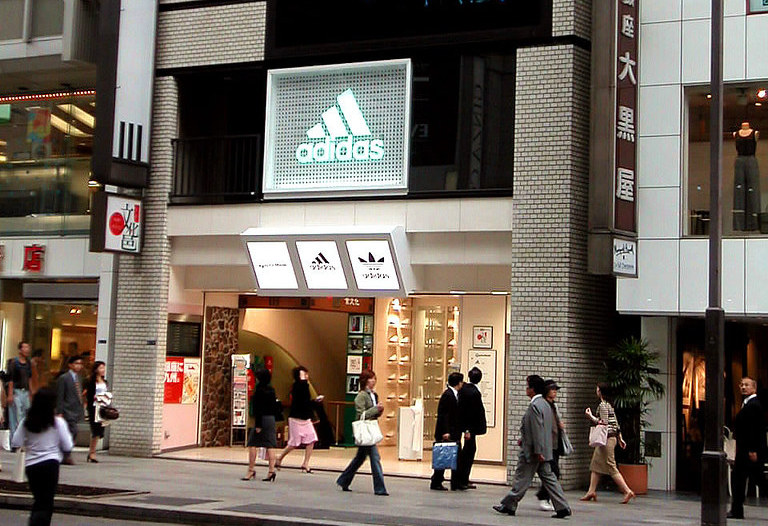 Adidas is, once again, sounding the alarm for the rest of 2022 — and it may be a bellwether for other brands' outlooks as well.
The German-based apparel brand has trimmed its yearly profit outlook for the second time in three months, citing a "deterioration of traffic trends in Greater China," as well as "a significant inventory build-up" linked to lower consumer demand in Western markets as of September.
Adidas — the world's second-largest sports apparel manufacturer after Nike — is battling a unique series of challenges as it prepares to release its third-quarter earnings next month. The company's shares are down 65% since January. It is still trying to find a successor for its CEO, who will leave in 2023 after taking the reins in 2016. And, after mounting pressure from the public and its own employees, it has cut ties with Kanye West, also known as Ye, after the rapper wore a "White Lives Matter" T-shirt, promoted anti-Semitic conspiracy theories and falsely claimed that George Floyd died of a fentanyl overdose. Adidas has partnered with West since 2013, and its Yeezy brand was "up strong double-digits" during the second quarter, according to the company's latest earnings call.
On Tuesday, Adidas said it would "terminate the partnership with Ye immediately, end production of Yeezy branded products and stop all payments to Ye and his companies." Yeezy reportedly brought in about $2 billion in sales a year, which represented approximately 10% of Adidas's revenue.
Still, while Adidas is facing a distinct set of issues, its competitors are also in a tough spot when it comes to generating revenue and attracting cost-conscious consumers. Heading into the holidays, it's likely that other athletic apparel companies will join Adidas in adjusting their guidances, experts tell Modern Retail.
Adidas last updated its profit outlook in late July, citing the impact of Covid-related lockdowns in China. It posted a 28% decline in operating profit in the second quarter, mentioning fallout from supply chain constraints and its decision to suspend business in Russia. "Against a challenging macroeconomic market backdrop, we are diligently focusing on all factors that we can control to maintain our growth momentum in Western markets and to accelerate growth in Asia-Pacific," CEO Kasper Rørsted said on the company's August earnings call.
Now, for the third quarter, Adidas is reporting a preliminary 4% bump in revenue. However, it says its net income for the quarter will total €179 million ($176.7 million), a 63% drop from the same period a year ago. For all of 2022, Adidas expects its net income to total €500 million  ($493.9 million) — a far cry from previous estimates of €1.3 billion ($1.28 billion).
Adidas, like its competitors, is finding itself saddled with excess inventory stemming from last year's supply chain snags. Adidas says it foresees "higher promotional activity during the remainder of the year" to free up space for new merchandise. It is currently offering up to 65% off on thousands of shoe and clothing styles.
Nike, whose inventory was up 44% year-over-year in the first quarter of its 2023 fiscal year, is also "aggressively" liquidating excess product, its CEO Matt Friend said in an earnings call last month.
Both retailers' struggles are something their counterparts should keep in mind, analysts say. Telsey Advisory Group (TAG) mentioned Adidas and Nike's inventory issues — as well as "the pressures being faced by the sporting goods brands" — in a recent note downgrading Under Armour's rating. Under Armour cut its outlook in August, projecting operating income of $300 million to $325 million for its 2023 fiscal year, down from previous estimates of $375 million to $400 million.
Besides inventory problems, the athletic footwear market as a whole is in a tough spot from shifting consumer preferences, softening demand and higher costs. Prices of footwear shot up 3.9% from Sept. 2021 to Sept. 2022, while prices of sporting goods rose 3%, according to the U.S. Bureau of Labor Statistics. In a note on Adidas' guidance cut, Wedbush analysts said "the clearest 'silver lining' we can see is that the near-term issues in the athletic industry are now out in the open."
Similarly, "I do expect that these issues will last into next year," Beth Goldstein, a footwear and accessories analyst at The NPD Group, told Modern Retail in an email. "The pendulum is still swinging — it hasn't stabilized. And, Q3 earnings season will likely reveal that many companies in the industry are struggling with the imbalance and have plans to take action. So I would expect more profit warnings."
Note: This story has been updated to reflect Adidas' decision to cut ties with Kanye West.