Amid an economic slowdown, Chewy's revenue growth slows and user base shrinks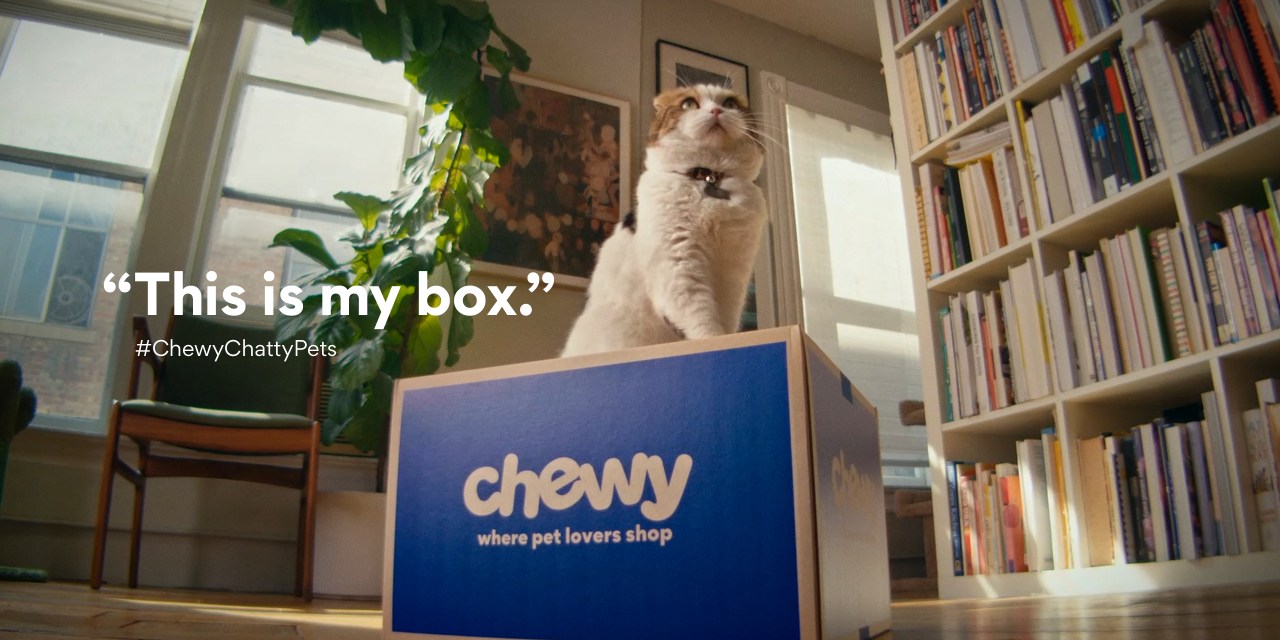 Chewy
Chewy's revenue growth slowed in the fourth quarter, as pet owners cut back spending on discretionary items.
The pet retailer reported net sales of $2.71 billion in the fourth quarter, a 13.4% year-over-year increase. Chewy said sales of non-discretionary categories including consumables and healthcare, which grew 18.5% year-over-year, were key revenue drivers for the company. That being said, the company reported fewer customers this period than the year before. The company did, however, swing to a profit of $6.1 million against a loss of $63.6 million in the fourth quarter of last year.
Chewy CEO Sumit Singh said the company's "disciplined execution and dedication to serving pet parents and partners with a widening ecosystem of offerings led to another year of market share gains in the pet category, which continues to demonstrate its resilience in the present environment."
Last year, Chewy expanded its owned assortment with the launch of Vibeful, the pet retailer's first private-label line in the pet wellness category. In August 2022, Chewy expanded its health insurance and wellness offering with CarePlus.
Singh said the company's strategy for 2023 is to "scale our existing cost base while simultaneously making purposeful investments that drive sustainable growth and profits over a multiyear period," in a letter to shareholders.
Despite increased sales, the pace of growth in Chewy's revenue numbers dropped to 13.4% at the end of the fourth quarter compared to a 17% increase for the same period last year. The company ended the fourth quarter with 20.4 million customers lower than 20.66 million reported a year ago.
"We believe the modest sequential decline in active customers reflects the continued softness in discretionary spending experienced across the broader economy," Singh wrote in the letter to shareholders.
To streamline its supply chain, Chewy started investing in automated fulfillment centers in 2019 and is set to open its fourth automated facility in Nashville in the first half of this year. So far, Chewy runs automated fulfillment centers in Pennsylvania, Missouri and Nevada.
David Marcotte, senior vice president of global retail at Kantar, said inflation could bring down Chewy's overall share of wallet because of rising competition from rivals.
"Inflation is less of a concern generally speaking because pets are less price sensitive, but you do get into competing for dollars. So, that brings down the overall share of wallet and that's an issue," Marcotte told Modern Retail.
Marcotte added that "the money Chewy needs to invest to make sure it's in a good inventory position is getting more and more expensive."
"It's also an inventory-heavy company normally, so getting caught with too much inventory is never a good idea," he added.
Overall, however, Marcotte thought the company still posted some good results. "It's a healthy business but it's getting to a point where single-digit growth is going to be the norm for a little while," he said.