As losses continue, Joann promotes a 'back-to-basics' mindset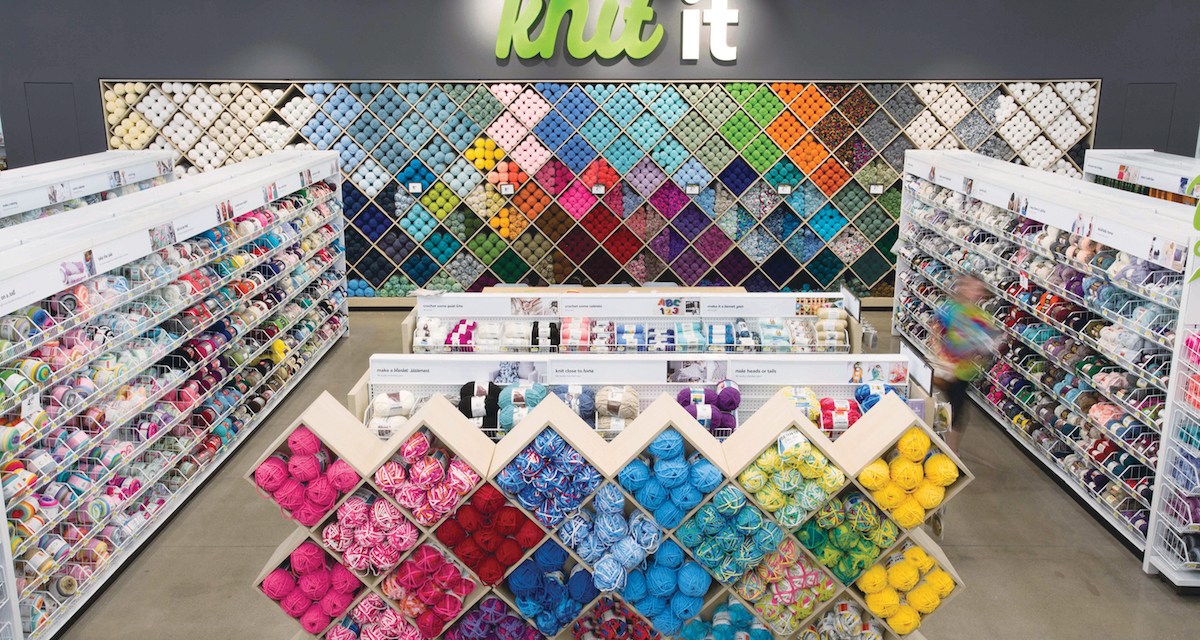 Joann
Though beginning to stabilize, the arts and crafts market remains behind its pandemic-era peak.
On Monday, fabrics retailer Joann revealed that net sales for its first fiscal quarter of 2024 dipped 4% year-over-year to reach $478.1 million. Joann posted a net loss of $54.2 million, compared to a net loss of $35.1 million a year ago. Nearly 12% of its quarterly revenue came from e-commerce.
Like its competitor Michaels, Joann benefitted from people staying at home during the pandemic. Droves of shoppers looking to pass the time leaned into activities like knitting, collage-making and scrapbooking. Joann enjoyed so much growth that it went public in March 2021 and raised around $131 million in its IPO. Joann's revenue for the first three quarters of 2020 totaled $1.921 billion, according to its S-1 filing.
However, as more people resumed day-to-day activities in late 2021 and 2022, interest in arts and crafts waned. Joann has reported negative comp growth for the past eight quarters, the Telsey Advisory Group pointed out in a memo. And, since Joann went public, its share price has dropped nearly 87%.
Right now is a pivotal period for Joann. The retailer has more than 800 stores across 49 U.S. states as well as an e-commerce business. The company's CEO Wade Miquelon retired in May, and while Joann has two interim CEOs, its board is still looking for a permanent replacement. As of March, Joann was still recovering from "unprecedented inflation" and "continued supply chain disruption," Miquelon said previously.
But the company is taking steps to stabilize. Last year, Joann announced its Focus, Simplify and Grow initiative, which aims to save $200 million in annual costs by early fiscal year 2025. The plan targets three general areas: supply chain costs, cost of goods sold and SG&A costs. In March, Joann announced it had entered into a $100 million first-in-last-out (FILO) facility to "provide the company additional liquidity, help optimize the balance sheet and drive free cash flow across the enterprise."
Joann also made headway on reducing inventory this quarter — its levels are down 13% year-over-year — and says it's seeing "healthy customer engagement" in its core sewing and crafts business, especially among younger consumers.
"While the discretionary portion of the economy remains under pressure, these category enthusiasts are returning to creative activities for themselves, their families and to sell as part of their household income," Chris DiTullio, co-lead of the Interim Office of the CEO, said in a press release.
Going forward, Joann is focusing on a "back-to-basics mindset," DiTullio said on an earnings call on Monday. "We are strengthening our focus on winning in our core sewing and crafting categories, delivering a high-quality in-store and online experience with emphasis on driving operational excellence and efficiency."
At the same time, DiTullio acknowledged that Joann sees craft technology like the electronic cutting machine Cricut and sewing machines as "our primary challenge to positive comparable sales." "We expect this headwind to continue as we move deeper into fiscal year 2024," he said.
From a full-year perspective, Joann projects topline sales to drop one percent to four percent in fiscal year 2024.
Today, Joann faces increasing competition from retailers like Amazon and Walmart, who sell craft supplies and fabrics. Michaels, one of its main rivals, went private soon after listing its full-year results for fiscal 2020. In February, Michaels announced it would launch a third-party marketplace and said it had increased its online SKUs from 250,000 to more than 1 million.
Cristina Fernández, who covers Joann for Telsey Advisory Group, told Modern Retail that she sees arts and crafts spending — and Joann's business — recovering with time. "Arts and crafts is in a normalization mode, in some ways, similar to electronics," she explained. Fernández expects to see negative comps throughout the year, "but probably getting closer to where this year-over-year comparison is getting easier."
"I think we're getting closer to the tail end of leveling out from the Covid boost," she said. "But at the same time, it is a discretionary category… When you look back at recessionary cycles, it doesn't go down as much as other big ticket discretionary categories, but it's still somewhat economic dependent."
When it comes to new leadership, Fernández said the company needs someone who is "financially savvy," due to the large amount of debt Joann has on the books. Joann had gone public once before, but was taken went private in 2010. At the time, Joann had no debt. That debt now stands at $1.0319 billion.
"Right now for investors, there's definitely concerns around their liquidity position and their ability to continue," Fernández said.