Being 'everywhere that people buy and sell cereal:' How Magic Spoon went from online-only to wholesale in six months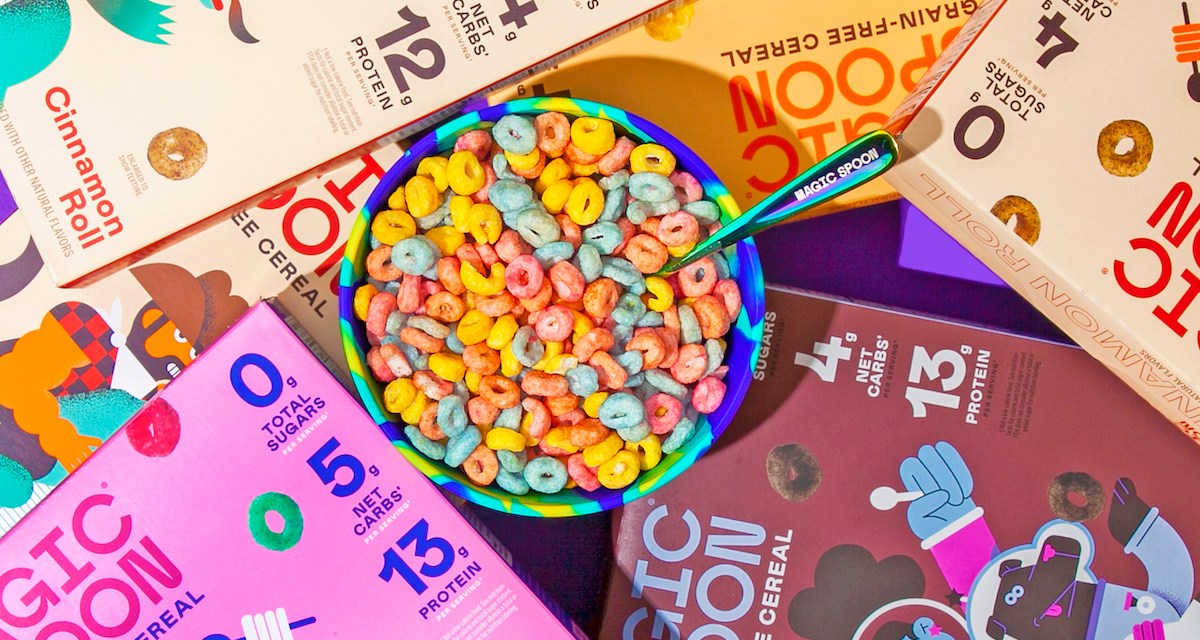 Magic Spoon
Last summer, the cereal brand Magic Spoon could only be found online. Now, it's conducting a massive wholesale rollout as it looks to branch out beyond its digital roots.
Magic Spoon first jumped into physical retail last June by establishing a presence in 1,300 Target stores. In September, it launched in around 300 Sprouts stores. And last month, it deepened its partnership with Target while also expanding into thousands of Walmart, Kroger and Albertsons locations. Today, its brightly-colored boxes are in 6,800 stores across the U.S.
Magic Spoon originally launched online in 2019 as a way to "recreate classic childhood cereals, with more protein, less sugar [and] less carbs," co-founder Gabi Lewis told Modern Retail. Magic Spoon sells its cereal in a variety of flavors, including Fruity, Peanut Butter, Cocoa and Cinnamon Roll, for about $10 a box. Its sales skyrocketed at the beginning of the pandemic, going so far as to triple over the course of spring to fall 2020 as more people ate at home. After starting to sell on Amazon in 2021, Magic Spoon is now banking on wholesale to expand its footprint and reach customers who want an in-person grocery experience or no longer buy as many items online.
"It's really about getting Magic Spoon into as many bowls across the country as we possibly can," Lewis said. "And doing that increasingly through physical retail, in addition to our online business." At the moment, the "vast majority" of sales are still online, he explained.
Magic Spoon started out as a DTC brand because its founders — Lewis and Greg Sewitz — felt comfortable with the channel, having previously founded a cricket protein bar company. Lewis and Sewitz saw DTC as the easiest means by which to gain a customer base, and they had a network of influencers who could promote the cereal online. "But, we always intended to create this product everywhere that people buy and sell cereal," Lewis said.
According to Lewis, Magic Spoon received early interest from retailers, but the company put off expansion to fine-tune its online business. It was also finding success on Amazon, consistently clocking as one of the top cereal brands on the site.
Then, "we realized we were getting to a point where the industry and the category was maturing," Lewis said. "We were seeing other companies come out with similar products… And we were also getting to a point where every single day our online customers were asking us, when can I buy you in retail?"
Breakfast cereal has shown tremendous growth over the past several years. The global breakfast cereal market was valued at $90.9 billion in 2020 and is projected to almost double that by 2030 to hit $180.3 billion, according to Allied Market Research. Along with that growth, there's more competition in the space, and like Magic Spoon, other companies have popped up to provide an alternative to sugary cereals. Three Wishes, which was founded in 2019, is one such brand. It makes its cereals from chickpeas, so they are gluten-free and grain-free. Three Wishes is on Amazon, as well as in Wegmans, Whole Foods, Sprouts and Erewhon locations across the U.S.
For any brand, moving from online-only to wholesale can be beneficial, Rebekah Kondrat, founder of Rekon Retail, told Modern Retail. "You have increased reach. You have a physical presence," she said. For cereal, "your brand has validation through product adjacencies. So, for example, being on a shelf next to Honey Nut Cheerios kind of further confirms in the consumer's mind that the brand is this healthy cereal."
As a premium brand, Magic Spoon is more expensive than many other cereals in the cereal aisle. One box of Magic Spoon can equal two boxes of Honey Nut Cheerios. To stand out, Magic Spoon's packaging uses vivid colors like red, purple, yellow and blue — shades commonly found on boxes of sugary cereal like Fruity Pebbles or Froot Loops. This connection could work in Magic Spoon's favor, as the company wants its customers to "feel an overwhelming sense of nostalgia… like they're a kid again" when they buy a box, Lewis said. Magic Spoon hopes its bright packaging will help it stand out from other health-focused cereals with more muted designs.
Even more, "while it's true Magic Spoon is more expensive than other cereals, we find that most of our customers aren't actually doing that comparison," Lewis said. "Instead, they're substituting Magic Spoon for other healthy items like protein bars, green juices, Greek yogurts and so on. We aren't your typical cereal, a box of corn and grains. We've reimagined cereal entirely with completely differentiated ingredients and macronutrients, and our customers recognize that."
Expanding into wholesale is not without its challenges. Inventory can be a concern, as brands need to make sure they have enough product on hand to restock shelves quickly. In addition, on their own websites, DTC companies can get a better sense of how customers are interacting with their products. In stores, "it's harder to find out where that customer found out about you," Kondrat said. "Did they just walk by, or did they first see your brand online and then come into the store to buy your product? You kind of lose that first party data connection when you move into wholesale."
Being a DTC company originally, Magic Spoon had access to two to three years' of customer data to consult when planning to expand. Looking through transactions, heat maps and customer surveys, Magic Spoon could see which flavors people liked and how much value they placed in higher-protein or lower-sugar cereal. Thanks to this feedback, Magic Spoon didn't make changes to the product when going into wholesale; its cereal has remained the same in terms of packaging and ingredients, Lewis said.
For now, Magic Spoon wants to remain laser-focused on cereal, although it hasn't ruled out getting into more categories in the future.
"We view the runway as particularly large there [in cereal]. And we don't feel a need to distract ourselves with ancillary product extensions or categories," Lewis said. "That's not to say five, 10 years from now, we might not launch additional products. But in the immediate term… day in and day out, cereal is all we think about."