Healthybaby launches eco-friendly diapers at Target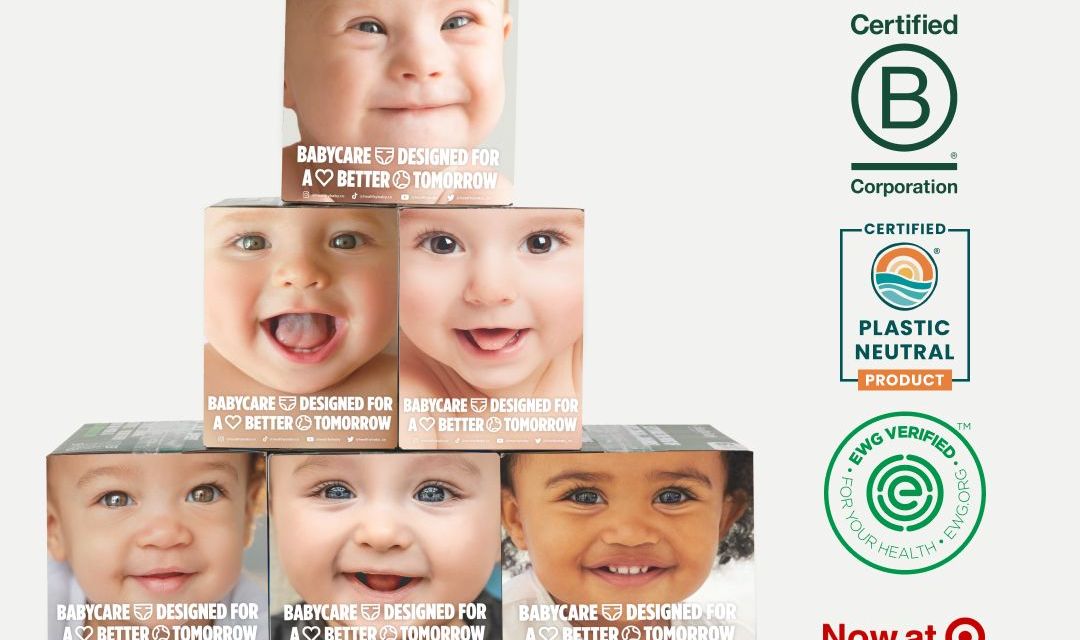 Healthybaby
A DTC diaper brand that's pioneering new production methods is expanding to Target amid growing interest in clean and natural baby products. 
Healthybaby diapers are the brainchild of Shazi Visram, who previously founded the Happy Baby Organics food and formula brand. Previously only available online, the premium-priced diapers are largely made up of plant-based materials and meet certification standards from the the Environmental Working Group for being free of more than 2,800 chemicals. Yet the success of the brand will pit finances against ethos, as the majority of disposable diaper purchases are price-driven decisions. Healthybaby will be on the shelves alongside cheaper competitors that don't share its health-focused bonafides.
The wholesale debut of the Healthybaby diapers and wipes will start at 378 Target locations across the United States as well as online. Visram told Modern Retail that Target made sense as the Healthybaby's first retail partner because of how popular it is with new families. She said the store is known for introducing products to parents "before they even know they need them," thus providing a massive scale for potential industry change.
"I actually think if you want to change American consumption, I've figured out how you do it. You change the consumption of the new families that shop at Target," she said.
The launch is indicative of a larger trend in the baby space for clean ingredients and environmentally friendly perceptions. Parenting platform What to Except found in its 2023 Diapering Survey that one-third of moms are using eco-friendly or natural disposable diapers.
More than half of moms – 53% – said they purchased eco-friendly or premium diapers brands in the past six months, a 56% increase from the number who said the same in 2017. And while Pampers and Huggies remain category leaders, the survey found that 8% of parents had purchased or received Healthybaby diapers.
Visram concedes that Healthybaby diapers "aren't perfect." They're still plastic. And they aren't biodegradable — no disposable diaper is. And while Healthybaby does sell cloth diapers as an environmentally-friendly option, disposable diapers are still the method used by nearly nine in 10 parents, according to the What to Expect survey.
That's why Visram thinks there's room for a new mainstream player that pays strict attention to ingredients and its environmental impact.
"You would never in a million years think that a product being sold and marketed to you isn't there to put your baby's health first," she said. "There are a lot of products out there because companies like to sell products. And I just know there's a better way."
Materials making the difference
Visram launched Healthybaby, which also makes other products like cleaning supplies and vitamins, in 2020. Seven years earlier, had sold her first company, Happy Family, to Danone.
She said she was motivated to get into the diaper space since the products aren't regulated by the FDA yet are in near-constant contact with a baby's skin. Like several other baby care founders who are parents, Visram said her own experiences with her children, including her son who has special needs, have fueled her mission to clean up the baby products space.
"Parents deserve transparency and they deserve peace. And I feel like I've done a lot of worrying for them," Visram said.
The biggest difference Healthybaby has from its competitors are its ingredients. It doesn't include any parabens, phthalates, fragrances or heavy metals. And an ingredients list notes that only plant-based materials, such as a plant-based polyethylene, are touching a baby's skin. For comparison, Pampers says it only uses safe ingredients and notes its products don't include a host of potentially eye-raising chemicals like parabens, latex or ethanol. But its main Baby-dry line does include ingredients like a light fragrance in its core and petrolatum — or petroleum jelly — in its lotion.
Healthybaby says it is the first diaper brand to receive verification from the Environmental Working Group, a nonprofit advocacy group that evaluates the safety of consumer products.
There are also differences in how the diapers are crafted, with air channels that help trap moisture and 15% organic cotton for extra softness. 
Notably, Healthybaby is unlike many of its competitors because it doesn't have a "wetness indicator," or a color changing strip that lets parents know when the diaper is wet. The indicators can contain chemicals like quaternary ammonium compounds that the brand says could bring developmental concerns — plus halogenated organic compounds, which carry environmental concerns.
Visram calls these compounds "chemicals of convenience," meaning they are only being used to make something easier rather than out of necessity. Besides, most parents learn tell when a diaper is full by other methods.
"I would never put that in the diaper until they find a clean way to do it. And even when they have a clean way to do it, I don't want to put it in a diaper because I want to encourage parents and caregivers to connect with their babies, and be really close," she said. "Do you really need chemicals to tell you they've peed?"
Changing consumer habits
Despite the new take on materials, Healthybaby faces stiff competition on Target shelves –especially those that beat its hefty price point: a 180-pack online runs for $105 when a competitor like Pampers or Huggies sells the same quantity for $40.
And for many new parents, price is the main deciding factor for diaper purchases, said Dominique De Lope, senior manager of trade insights at What to Expect
"They're buying in bulk. They're taking diapers from the hospital, when they go home — they're looking for sales. And I think that just speaks to the burden that diapering the category that it has on their budget."
Still, DeLope said that climate change may motivate parents to make more eco-friendly purchases. News of recalls in the baby space — like formula and baby powder — also might play a role in parents wanting extra safety assurances. These trends can fuel niche start-ups, like how the formula shortage that started in the spring of 2022 after a recall from market leader Similac boosted start-up DTC brands.
Parents may be willing to spend more for these kind of benefits – and at places like Target, they might wind up taking advantage of frequent sales like a $20 gift card bonus with a $100 baby purchase.
"It seems there's a perception that products that contain more sustainable, cleaner ingredients are not just better for the earth but by extension are better for baby as well," DeLope told Modern Retail. "So, while diapers are a strain on parents' budget, those who have the ability to make room in their budget for these pricier products are choosing to do so for the additional peace of mind."