DTC baby formula startups have temporarily stopped taking on new customers as demand spikes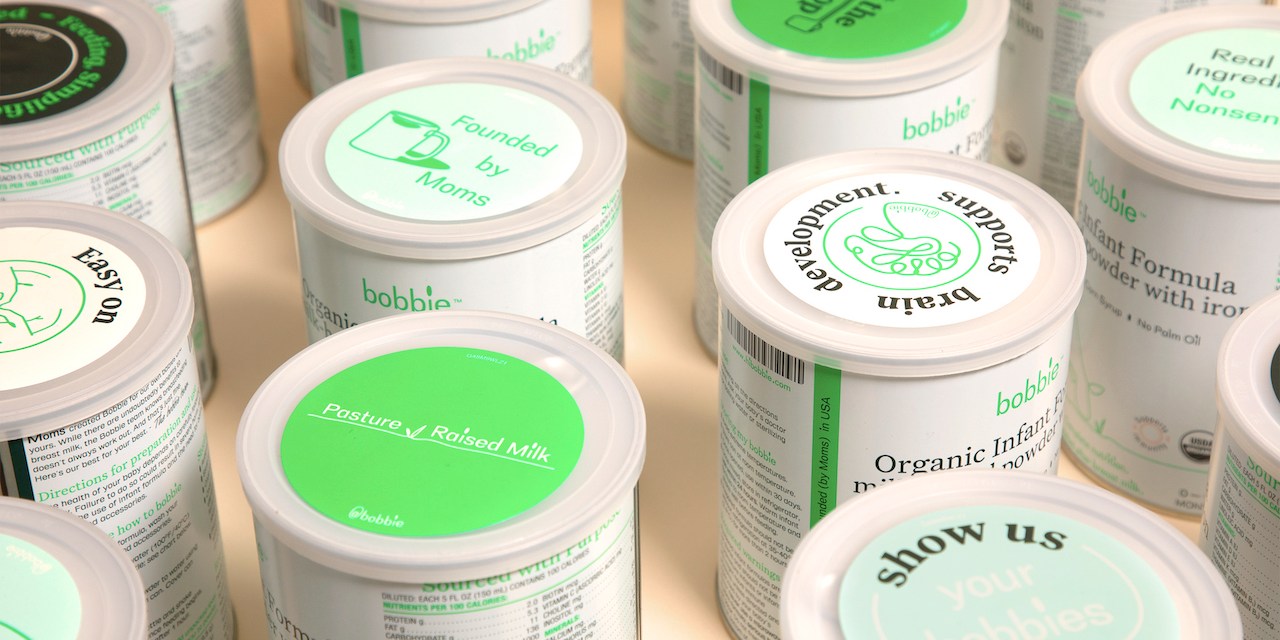 Image via Bobbie
DTC baby formula brands are experiencing a spike in demand as customers scramble to stock up.
Since Similac maker Abbott issued recalls of its products due to bacteria contamination in late February, U.S. retailers have been hit with a formula shortage. Abbott's impacted factory is set to reopen in the coming weeks, but the shortage is likely to continue for months given that the manufacturer produces about 20% of formula in the U.S. This month, formula out of stock rates climbed to over 40% and as high as 50% in certain regions, according to retail tracking group Datasembly – leading President Biden to meet with retailers about addressing the crisis. 
Amid the shortage, a number of upstart direct-to-consumer brands that specialize in organic or clean label baby formula have seen an uptick in customers — so much so, that some of them have temporarily stopped accepting new customers. DTC formula brands like Bobbie, ByHeart, Kate Farms and Aussie Bubs are all promoting their subscription delivery as a convenient way for parents to get their children food.
Laura Modi, co-founder and CEO of DTC infant formula Bobbie, told Modern Retail "we immediately saw an impact on Bobbie's business." Within a week of the recall, Modi said Bobbie's customer count doubled, resulting in an "unprecedented increase in order volume that continued for weeks following."
"Three weeks ago, I made the decision — more as a mother than a CEO — to prioritize existing customers over growth and close the Bobbie store to new customers," Modi said. At the beginning of this year, Bobbie was already in expansion mode — some of that coinciding with supply chain constraints that led to empty formula shelves across the country. 
Bobbie currently has 70,000 Bobbie customers, including subscribers, across 50 states. Modi said the company's sales reached $18 million in 2021, its first year on the market, exceeding the $4 million revenue originally projected. "In 2022, we expect to quadruple that growth," she added. In March, Bobbie raised a $50 million funding round to expand its formula line.
"We're doing everything we can to ramp up supply, but the tension in this industry means you can't just get manufacturing online at the flick of a switch," Modi said of the regulatory nature of infant formula. "It takes a long time to grow your capacity." In the meantime, Modi said that Bobbie's Vermont-based manufacturer, Perrigo, "is working 24-7" to increase production safely. 
DTC formula brand ByHeart received its FDA approval and launched in March after five years of development, arriving in time for the high demand. The company owns its own factory in Reading, Pennsylvania, and has exceeded projected demand in its first few months on the market, said ByHeart co-founder and CEO Ron Belldegrun.
"We saw incredible demand for our product starting from day one of launch, as we had already grown a substantial community and waitlist," Belldegrun said. He cited the brand's "ground-up approach" that ByHeart has built — including owning R&D, manufacturing and directly overseeing ingredient and supplier relationships — as appealing to parents at the moment. 
Since the launch, ByHeart's new customers rate approached 15X its yearly projections. "We took on three months' worth of new ByHeart babies just last week alone," said Belldegrun. "We had to make the difficult but responsible decision to temporarily pause taking on new customers to ensure that every current ByHeart customer has enough formula to feed their baby for their entire feeding journey." 
But like other e-commerce brands, ByHeart is currently experiencing carrier delays of about two to five days. "However, we as always are focused on communicating as much as possible directly with as many ByHeart parents as possible to ensure they understand when their formula will arrive," Belldegrun explained. 
The current shortage is also exposing the baby formula industry's rigid manufacturing structure.
Ben Wynkoop, an e-commerce strategist for grocery and convenience brands at Blue Yonder, said that while the formula shortage was caused by Abbott's recall, "the root of the problem is the current WIC program that has awarded a majority of the WIC [Women, Infants, Children nutrition program] contracts to single suppliers." Currently, almost every state uses Abott to supply its WIC program, resulting in lower-income households awaiting rebates for formula purchases. 
In the near term, Wynkoop said it will likely take opening up of supply from outside the U.S, or expand production from the select WIC-approved formula suppliers in the US, to relieve demand. Conglomerates like Nestlé have already begun doing this by flying in Gerber powdered formula from its European plants. 
"As far as upstarts and DTC brands go, that may fill a small gap for those customers not reliant on WIC," Wynkoop explained. The government opening WIC up to more suppliers "would create an open market much closer to other grocery items," he added.
Indeed, with the U.S. formula industry having been dominated by conglomerates for decades, these startup brands are also using this period to advocate for industry reform. 
Bobbie's Modi pointed to an initiative Bobbie launched this week, called Hungry for Change. The idea is to compile parents' thoughts and frustrations about the formula shortage into a letter to Congress ahead of a May 25 hearing on the shortage.
Similarly, ByHeart's founders are in contact with local and state governments in Pennsylvania, as well as on the federal level, to assist with the crisis. Belldegrun said "we built the brand the way we did because there has to be more competition to innovate in the industry, both on product but also to ensure more manufacturers."