Here's who's vying to buy Bed Bath & Beyond's assets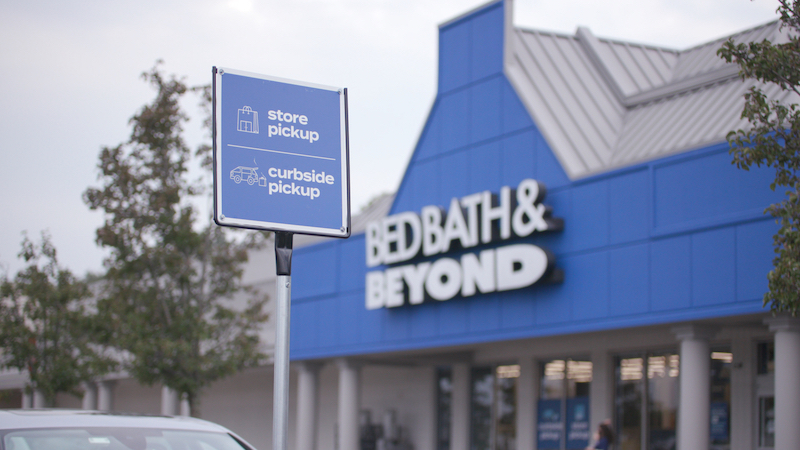 Less than two months after Bed, Bath & Beyond filed for chapter Chapter 11, the once-ubiquitous home retailer is being sold off for parts. 
Rather than a single business taking on the assets of the housewares chain, competitors like Babylist and Overstock are making moves to break off strategically valuable pieces of the operation, like its digital assets and intellectual property.
Beyond that, there appears to be little interest in taking over the lease of several hundred sprawling physical stores located in shopping plazas across the country.
Friday marked the deadline for interested parties to enter bids. An auction is scheduled for June 21, and a hearing for the court to finalize the sales is set for June 27.
Meanwhile, going-out-of-business sales at the remaining stores advertised as much as 70% off as the company looks to shed inventory and sell off store fixtures.
Here's what we know about the bidders, and the assets that are left.
Overstock
Online furniture retailer Overstock.com Inc. entered a stalking horse bid — an agreement that sets a floor for any other bids — on June 13 to purchase Bed Bath and Beyond's intellectual property for $21.5 million. 
The assets include Bed Bath & Beyond's branding materials, websites and mobile platforms, as well as a host of "business data," such as information related to vendors, suppliers and customer data. Given the extensive reach of Bed Bath and Beyond's couponing strategy, the deal could grant Overstock a wealth of information around customer shopping habits. 
The deal also includes Bed Bath and Beyond's the social media accounts, which stands to give Overstock a bigger audience. Bed Bath and Beyond has more than twice as many Instagram followers as Overstock, plus three million Facebook followers compared to Overstock's 1.9 million.
A representative for Overstock.com did not immediately return a request for comment. But CEO Jonathan Johnson, who has winnowed Overstock from a multi-sector marketplace into a furniture and home retailer, has told Modern Retail that the company is looking to regain market share that it lost out on during 2022's promotional environment.
Babylist
Online baby registry and marketplace Babylist is interested in purchasing the digital assets of BuyBuy Baby, considered one of the strongest assets in the dissolution. 
While Bed Bath & Beyond saw net sales in the third quarter of 2022 drop by 34% year-over-year, BuyBuy Baby sales dropped by less than a quarter. 
The digital assets include BuyBuy Baby's trademark and domain. If Babylist makes a successful bid, online shoppers looking for BuyBuy Baby would be redirected to Babylist, a spokesperson told Modern Retail. 
Founded by CEO Natalie Gordon over a decade ago, Babylist allows parents-to-be to register for items across multiple retailers. Gordon told Modern Retail in early June that BuyBuy Baby's digital assets would offer strategic benefits to the company as it grows its presence and builds out a physical footprint.
"Buybuy Baby is much better known with grandparents, godparents, new aunts and uncles. That's where it has the biggest brand equity," Gordon said. "So we're going to bid in the auction for the assets, trademark and domain."
Babylist has already benefited from the presumed downfall of its brick-and-mortar competitor: since the bankruptcy was announced in late April, Babylist has had nearly 200,000 new signups, a higher number of new customers than average, the spokesperson said.
Other players
The Wall Street Journal reported this week that Go Global Retail, the private equity chain that owns children's clothing line Janie and Jack, planned to bid to acquire Buybuy Baby. That deal would aim to keep the stores open, the report said.
The Go Global portfolio also includes Brums Milano, a high-end Italian children's brand that was acquired out of bankruptcy proceedings. A representative didn't immediately return Modern Retail's request for comment.
Sixth Street Partners, an investment firm and major lender to Bed Bath and Beyond, is also preparing a potential bid on some of Bed Bath and Beyond's assets, according to a story published by The Wall Street Journal on Thursday. That bid could involve debt forgiveness in exchange for the BuyBuy Baby chain or other assets, the story said. Sixth Street previously loaned Bed Bath and Beyond $375 million in September 2022.
A media representative for Sixth Street did not immediately return Modern Retail's request for comment.