Earnings
// February 24, 2022 ■ 5 min read
Why Overstock plans to focus entirely on home goods in 2022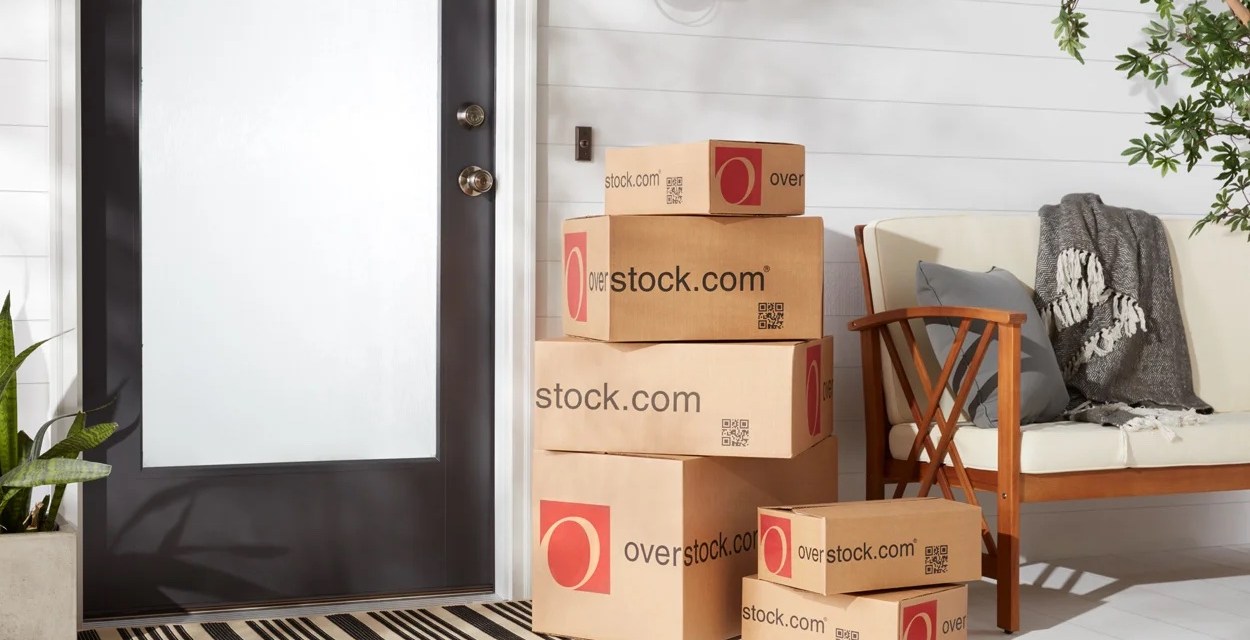 Image via Overstock
Overstock wants to be a one-stop-shop for home goods and decor. 
Over the past few years, the company offered an array of off-price products across many categories such as jewelry and pet supplies — categories that the company is now trying to get out of. By the end of 2021, 94% of Overstock's sales came from home goods, compared to 93% during the first quarter of the year, according to its latest earnings report. 
"Exiting non-home categories has been a key focus for us over the past few quarters," Overstock CEO Jonathan Johnson said on Wednesday's earnings call. "I believe increasing our brand association with home positions us favorably for 2022 and beyond."  Johnson said. At the moment, Overstock still offers some products outside of the home category. But, Johnson said the company is on track to hit its goal of 100% of home-related sales by the third quarter of this year. The company believes a more clear focus on the home category will help further revenue growth even as furniture sales slow compared to the height of the pandemic. 
Overstock's fourth-quarter revenue was $613 million, which was down 9% year-over-year. The company's 2021 full-year revenue hit $2.8 billion, an 11% year-over-year jump and nearly double pre-pandemic levels. In the last 12 months, Overstock's net revenue per active customer was $341, an increase of 26% year-over-year. Meanwhile, profit came in at $624 million, or 22.6% of total net revenue.
"Overstock has established a niche by offering competitively priced home furnishings to e-commerce consumers," Wedbush Securities analysts Michael Pachter and Ygal Arounian wrote in a note earlier this month. "The company has moved its mix of products to capitalize on outdoor furnishings, and has seen significant growth over the past two years. We expect this growth to continue, particularly as we see overall home furnishings demand growing at least at the rate of GDP growth." 
Launched in 1999 — at the beginning of e-commerce's emergence — Overstock first specialized in liquidating used office furniture. Over the years, the company started selling new merchandise and eventually strayed away from the category in an attempt to compete with major competitors like Amazon and Walmart. At one point, Overstock even considered launching a streaming service. Since taking over in 2019, Johnson's mission has been to get Overstock back on track by streamlining its offerings and marketing them to the right audience.
For example, executives credited part of Overstock's success in 2021 to the online retailer's increased marketing spend and its focus on advertising to shoppers interested in home decor. Last year, the company collaborated with Apartment Therapy on a hybrid physical-virtual pop-up to showcase its offerings and boost Overstock's brand awareness among home decor shoppers. Free shipping awareness was a big key driver of Overstock's sales this past year, said Johnson. Johnson said that Overstock plans to continue to boost these marketing efforts to increase repeat purchases.
Indeed, Overstock's popularity has increased among online shoppers in the past two years. According to digital intelligence provider Similarweb, on a two-year basis, Overstock.com's traffic was up over 50% for 2021 and 30% for the fourth quarter of 2021. Furthermore, while U.S. visits fell in the second quarter of 2021, they jumped by nearly 10% between December 2021 and January 2022. According to Similarweb, Overstock's closest competitor in terms of shared audience is wayfair.com, with a 35% overlap of traffic. 
As Johnson told Modern Retail last year, the online retailer has been improving its website to better surface products. "We're always focused on making it easier for people to navigate the site, to find what they want quickly, to have good reviews, unfiltered reviews," Johnson said last July. In the coming year, Overstock will continue to improve search accuracy to increase customers' click-through rates. 
A diverse supply chain is another advantage for Overstock's growth strategy, Johnson said on Wednesday. The company doesn't own any of its merchandise, but works with a large network of suppliers to source trending products. 
"Unlike some of our competitors, we don't pressure our partners to lock up inventory in our distribution centers," Johnson said. As a result, Overstock gives favorable rates on available inventory during high demand and low inventory periods, he explained. This approach has become important for Overstock's ambitions to take market share away from competitors amid continued supply chain issues, Johnson explained.
Despite the positive outlook, some experts believe that betting entirely on home furnishings opens up Overstock to some risk as online furniture retailers in general struggle to keep building upon the sales growth they saw in 2020.
GlobalData's managing director Neil Saunders said that as a whole, 2021 was a good year for Overstock. However, its fourth-quarter performance "was weaker, with revenue down by 9% over the prior year." Given that overall demand for home furnishings remained reasonably strong over this period, the drop suggests that Overstock is losing market share, Saunders said — meaning that the retailer is giving back some of the sales it gained during the pandemic as consumers return to physical stores. 
Digital sales of home furnishings are expected to continue dropping, especially compared to last year's boom. Wayfair is due to report fourth-quarter earnings this week, and its revenue is projected to drop by about 9.1% compared to the same period the previous year.
"This is a pattern seen at other online home players, like Wayfair," Saunders said. "It is yet more evidence that the narrative that online will dominate, which was often pushed during the pandemic, was patently false."