How Owen's Craft Mixers is building out its hospitality business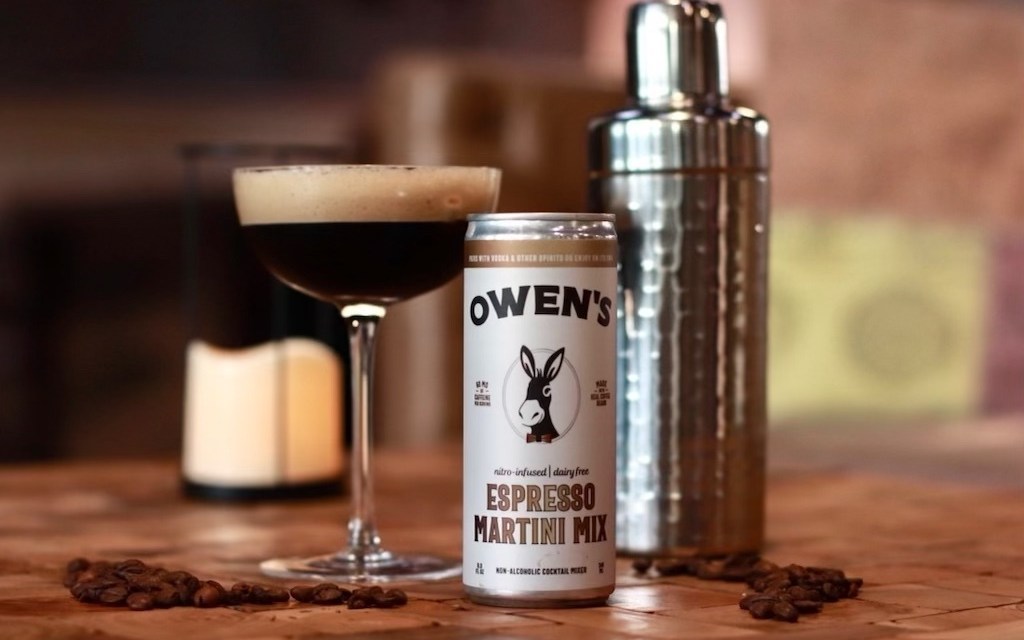 Owen's craft mixers
Owen's Craft Mixers, a beverage startup that specializes in canned cocktail mixers, is looking for new growth from hospitality partnerships.
Owen's positions its products as standalone beverages that can also pair with spirits for at-home or on-premise cocktails. The company experienced triple-digit growth year-over-year in the past five years, including by growing its retail presence during the pandemic. But now it's focusing once again on the on-premises sales channel.
For the first three years of operation after launching in 2016, Owen's was only sold to hospitality groups and stadiums. The company sells its mixers to hospitality groups by promoting them as shortcuts for bartenders making hundreds of complicated, multi-ingredient drinks throughout the night. Examples of popular mixers Owen's has sold to bars and venues include its margarita and cucumber mint mixes. But during the pandemic, the company had to pivot. It started focusing on getting its products carried at outdoor events, added new retail partners like Kroger and Walmart and tried to capitalize on the period when many Americans began making drinks at home.
Now, the company is getting back to its roots by tapping into on-premise operators' demand for quicker, easier-to-make drinks. This week Owen's Craft Mixers launched a new product, an espresso martini mixer, geared at busy bars with high demand for the trendy cocktail. 
This month, the brand is going into its next phase of growth, which will focus on Owen's' on-premise mixers supply business. Overall, Owen's Craft Mixers' on-premise accounts have quadrupled since 2020, with expansion specifically targeting live entertainment and sports stadiums across the country.
Owen's co-founder Josh Miller told Modern Retail that the company's new strategy is made up of a two-pronged approach, where hospitality-driven sales also act as a form of promotion for the brand's growing retail line. 
Currently, the brand is available at 23,000 doors — with key retailers being Publix, Kroger, CVS, Walmart and Total Wine, where Owen's is often merchandised alongside spirit brands. The company will also start promoting its line on Gopuff and is in the process of partnering with Instacart later this year.
This channel mix, Miller said, is meant to help Owen's quickly adapt to changing drinking trends. Owen's has long courted live event venues and stadiums — Citi Field, which started using Owen's mixers in 2018, is one of the company's biggest accounts. But when outdoor activities became popular at the onset of the pandemic, Miller said the company shifted to creating relevant products and offering them as quick solutions to new clients.
In 2020, Owen's launched a Transfusion Mix, made with grape juice and ginger. The product is co-branded with Barstool Sports and has become popular at golf events. "We leaned heavily into golf especially during Covid, and the Transfusion Mix is now used at PGA tours and at over 1,500 golf courses nationwide," Miller said. 
Now Owen's is swinging the focus back to bars, restaurants and arena events such as concerts and games. The espresso martini mixer is the first product the company has released under the return-to-hospitality strategy.
According to Miller, the idea came after getting R&D feedback from bartenders around the country. Making espresso martinis requires time and some equipment that bars don't always have on hand.
"We heard from bars saying they don't even have espresso machines to keep up with customer requests," Miller said. In turn, he said the Owen's team decided to create a ready-to-mix solution. "We developed the product with flavor experts from scratch, and the cans have the same caffeine volume as a Starbucks nitro brew and provide an automatic half-inch foam," Miller said.
To launch the new espresso product, the brand softly introduced the innovation to select bar and restaurant clients, resulting in a 24-hour sellout of its first production run. "We think this is going to become our top seller within the next six months," Miller said.
To meet demand, the brand also invested in a new 3PL manufacturer to triple the larger B-to-B's production runs. The investment in production will also allow the brand to focus on increasing DTC and Amazon channels in early 2023, after prioritizing in-store and on-premise accounts over the past two-plus years. 
Whether the espresso martini craze fizzles out or not, Miller said the company is betting "there will always be demand for it from bars and restaurants that have little resources to make complicated drinks," he said. 
One of the first restaurants to start using the espresso martini mixer is Bad Bunny's Miami steakhouse, Gekko. The Cafecito Con Leche cocktail quickly became the top selling drink at the restaurant. "We look to these trendy spots to help promote us, which then drives customers to find Owen's in stores," he said. "Another way we're getting back into the premise world is by collaborating with major chains," Miller said – including an upcoming paloma collaboration with Chuy's Tex-Mex.
Sean Ryan, partner of the CPG sector at Kearney, said these days beverage brands operating in the alcohol space have to drive consistent sales both at retail and through hospitality partners.
"While most volume is driven through off-premise channels, most brand value is driven through on-premise," Ryan said, referring to the fact that many drinkers discover new cocktail recipes through their favorite bar or restaurant. 
Despite the pandemic temporarily pausing dining and drinking out, hospitality remains important for suppliers. 
"People are social animals — they want to go out, be with others, socialize with social lubricants." Ryan said. He added that while people might "trade down to lower cost value brands" in light of inflation, "volume consumption will continue."
Going forward, Owen's will continue creating CPG products that can be used by both at-home mixologists and by hospitality businesses and plans to tap more into seasonal cocktail trends. At the same time, Miller said the company is trying to resist hopping on every beverage trend. 
"If we gave into the pressure we've received, we'd just do our own RTD," Miller said. "But we think our approach taps into several growing habits, like non-alcoholic and ready-to-mix drinking."