How startups like Archive and Trove are convincing more brands to launch their own resale programs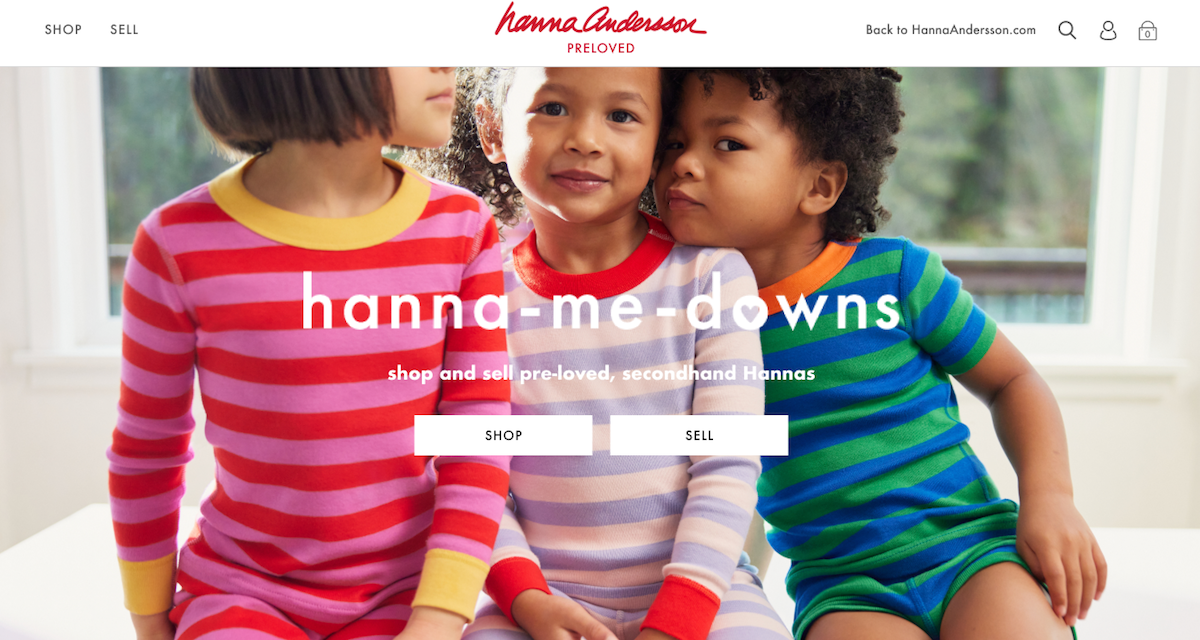 Hanna Andersson
For years, branded resale programs were limited to a small cadre of companies in categories where a commitment to sustainability was paramount, like in outdoor gear. But now, thanks to business-to-business players like Archive and Trove, launching a resale program has become a more critical component of more brands' growth strategies.
Today, more than 120 brands — including Patagonia, REI and On — have "dedicated resale channels," according to Trove's Brand Resale Index. Trove, which was founded in 2012, formed its first retail partnerships in 2017 with Patagonia, Eileen Fisher and REI. Today, it has 13 brand partners, including Lululemon and Allbirds. Archive, which launched in 2021, quadrupled its number of partners from 2021 to 2022, co-founder Emily Gittins told Modern Retail. Today, Archive works with nearly 40 brand partners, including Marimekko, Cuyana, Oscar de la Renta and The North Face. 
As Trove and Archive's growth numbers indicate, more brands are taking an interest in launching their own resale programs. However, it takes time to collect enough quality resale items to populate a site and to build awareness for such programs. As such, more brands are viewing resale programs as a data collection play. Through these programs, they can get new information about what their customers are interested in and reach new shoppers who are turning to resale in search of cheaper items.
Trove and Archive have raised millions of dollars in recent funding rounds, and their models are resonating with customers and brands alike. Trove's revenue grew more than 300% over the past three years, founder Andy Ruben told Modern Retail. Archive saw its revenue increase by nearly 10 times in the last 12 months, TechCrunch reported in December.
How the service providers work
Archive offers a few different avenues for resale, including take back programs and vintage supply. Under its peer-to-peer system, brands build a website that looks much like their normal retail one. Anyone who wants to sell an item can do so two ways: by looking up their product name or by typing out the style ID associated with their item. These options pull up pre-populated product imagery and product information to fill out the listing. Sellers can submit their own imagery, too, as well as comments about the condition of the item.
After an item sells, Archive will send the seller a pre-paid, pre-addressed shipping label via email. After the buyer receives the item, the seller can choose two methods for redemption: cash or a gift card. The payout for gift cards is typically higher than the payout for cash, which encourages customers to stay within the brand.
Meanwhile, Trove, which began as a peer-to-peer site, has adopted a trade-in model tied to brand credit. Like Archive's credit option, it encourages current customers to stick with the brand. Customers can drop off items in store or online, and Trove takes a percentage of every sale. Over the past six months, it's launched partnerships with On, Canada Goose and Carhartt. Brands that Trove has worked with have reported a 50% to 70% year-over-year growth in sales, according to Ruben.
The model "make[s] it so easy to hand items back," Ruben said. "When my daughter outgrows a jacket, it's not useless. It's just, she outgrew it. And so the ability to hand that back to Patagonia and get a gift card and use that gift card for the next size item, it's just an entirely different model."
Many people may be used to buying secondhand items via marketplaces or social media. Facebook Marketplace's numbers, for instance, soared during the pandemic. But, there's an advantage in selling and buying items directly through a brand, Ruben and Gittins argue.
"Brands have immense trust and experience that third-party marketplaces can't match," Ruben said. "There is no replacement for buying Patagonia at Patagonia or Lululemon from Lululemon. It is similar to the experience of buying a certified pre-owned Lexus directly from Lexus rather than from a used car lot."
Gittins, who co-founded Archive with Ryan Rowe, added that Archive has "found that buyers are looking for a more curated experience, and it's easier to browse and discover pieces on a branded site."
"For some customers, these resale programs offer an entry point to the brand with a more accessible price point," she added.
Resale programs as a data collection play
One of the biggest challenges brands face in building out their own resale sites is getting enough items to populate the site — though companies like Trove and Archive try to make it as easy as possible.
Hanna Andersson, a children's clothing brand, launched its own resale site with Archive earlier this month. Called Hanna-Me-Downs, the site serves as a platform for customers to buy and sell used items like pajamas, shirts and dresses. Hanna Andersson's associates posted about 1,000 items to the site before it launched. That has now grown to about 8,000 items, Jen Reed, svp of sourcing and chief sustainability officer, told Modern Retail.
Hanna Andersson had seen its clothes listed on various resale platforms and wanted to more actively participate in the process, Reed said. "Let's bring the customer and the seller together as part of Hanna and make it easy for them through our website," she explained.
Hanna Andersson's marketing emphasizes quality fabrics and long-lasting materials, and "this also reinforces it, showing our product is so well-made that it can go down… a couple of generations or several children," Reed added.
Ariat, which sells Western apparel and boots, also launched its site with Archive this month. The company already had a repair program and videos about how to care for your boots, and a resale site felt like "a natural progression," Roxanne Woodward, director of compliance and sustainability, told Modern Retail.
At the time of this writing, the site, called Reboot, had 77 pairs of women's, men's and kids' boots. Ariat says it won't judge Reboot's success on listing a certain number of boots or selling a certain amount of revenue. "Instead, we created Reboot to be an easy entry point for our customers to take meaningful action towards sustainability," Woodward explained.
Both companies told Modern Retail that they are early in the process of collecting resale data. They want to use resale to inform future product decisions and to engage with new customers who might not have heard of the brand or were deterred by original retail prices.
"I think understanding who engages on this platform is really going to drive us in what happens next," Ariat's Woodward said. Hanna Andersson's Reed said that if "we see… this type of style is coming back, and it's not something we have [in our current collection], maybe it's something we bring back for our customer… We've done that before."
Plans for growth
When Gittins and Rowe created Archive two years ago, "we had to really pitch brands on the benefits of branded resale," Gittins said. "Today, our conversations with brands are less about the 'why' of branded resale and more about 'how.'"
"We're seeing more investment into these programs and an increase in the desire to expand existing resale programs and optimize [their] success," she added. "The more brands think long-term and holistically about their resale programs, the easier it will be for consumers to shop secondhand, and ultimately, the better for the environment."
Archive now has more than 30 employees and is looking to hire its first employee in Europe. Archive operates in seven countries, with plans to further expand later this year. It expects to divert "hundreds of thousands of items from landfill in the next year," Gittins said.
Before founding Trove, Ruben held a variety of leadership roles at Walmart, including as chief sustainability officer. He wanted to improve circularity in retail and realized that "brands needed models of how to grow in this way," he said. "[They] weren't going to be figured out on whiteboards. They were going to be figured out by doing it."
Ruben believes that brands have the ability to really take ownership on resale and can even grow it to the point that it makes up 20% to 30% of their total revenue. "I actually am more convinced than ever [that] brands are the ones who have the opportunity in front of them to really change how we… get more use out of the things we've made," he said.