How startups like Puracy and Blueland are trying to get more people on board with refillable cleaning products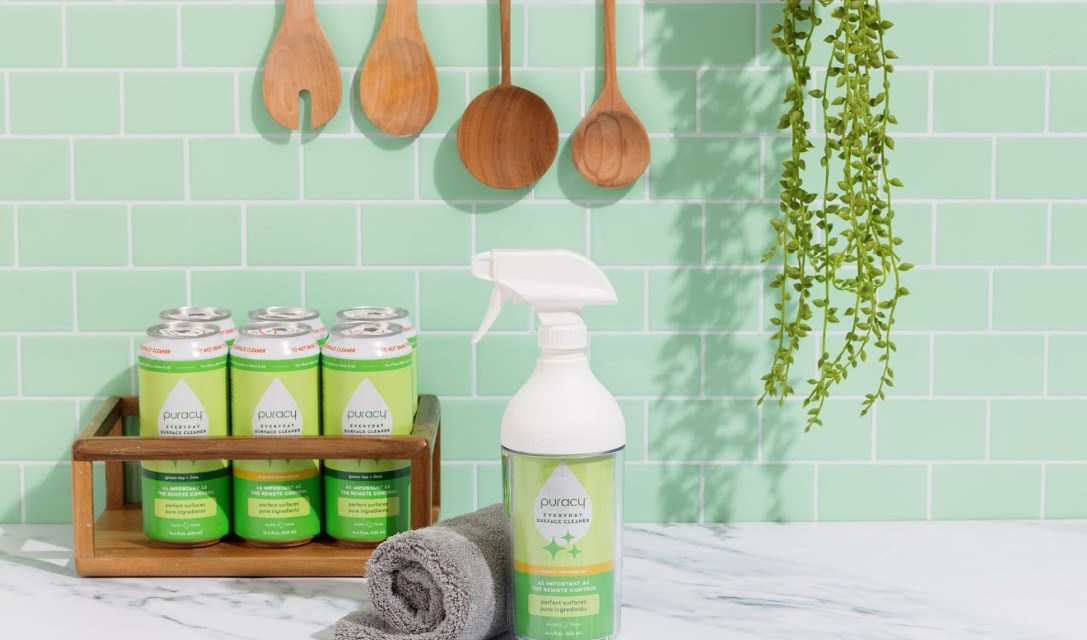 Puracy
When Puracy first launched in 2015, it sold its products in large plastic bottles that customers could use to refill their household dispensers of its plant-based laundry detergent, hand soap and dish soap. But co-founder Sean Busch quickly learned that an oversized plastic bottle of a plant-based product wasn't enough to over the eco-conscious crowd the brand was after.
"Being a digitally native brand and soliciting all this feedback, we realized that people were like, 'Well, yeah, it's cheaper, but it's still in plastic,'" he said.
Next, Puracy put its refills in large pouches in 2018. But those were made up of three kinds of plastic that prevented easy recycling. Then Puracy introduced concentrates in 2020, but many shoppers didn't want the hassle of mixing their own product. Then this spring, Puracy introduced the "Clean Can,"an aluminum can that pops into a reusable spray bottle. 
"It's really designed for years and years of use, and there's no single-use plastic waste," Busch said.
Puracy's journey is indicative of what it takes to get more people on board with refillable cleaning products. The savviest environmentally-conscious customers are demanding that companies find more ways to cut down on single-use plastics in packaging. But other customers are wary of having to mix their own laundry detergent or cleaning spray. Still others are concerned about the efficacy of natural or plant-based solutions, which many startups stick to as they court environmentally-conscious customers. In turn, startups like Puracy, Grove Collaborative and Blueland are continuously looking to evolve their refillable cleaning products to encourage wider adoption.
In the first quarter of this year, 59% of Puracy's sales came from refillables, representing more than a one-third increase from the the first quarter of 2022. The trend is also rippling across companies of all sizes. SC Johnson launched concentrated pods for Windex and Scrubbing Bubbles in April 2022, claiming they use 94% less plastic than a sprayer bottle. Clorox is committed to make 100% of its packaging recyclable, reusable or compostable by 2025. 
Going plastic-free requires brands to make sure the cleaner itself is just as effective and easy to use as a traditional product in a spray bottle. Busch said Puracy is pushing out a marketing campaign with TikTok influencers to show how the aluminum can system works. The hope is that it comes across as easier to use than something a shopper has to mix themselves. 
"Cleaning is just a part of life, you sort of have to embrace it," he said. "But let's embrace it without a lot of additional friction points around, frankly, a task that most people just don't enjoy."
Increasing popularity
Gartner found in its most recent cost of living survey that 40% of shoppers had increased spending on personal and household care products from companies that aim to reduce waste. And more than half prefer a brand to commit to using recyclable, recycled or refillable materials in packaging.
Greg Carlucci, senior director analyst of consumer goods for Gartner, said he anticipates the trend will continue given a rising interest from millennial and Gen Z consumers in sustainable shopping choices.
"As that younger consumer set grows in their purchasing power, so will the demand and expectation from consumers," he said.
Stuart Landesberg, CEO at Grove Collaborative, has been making concentrates for refillable cleaning bottles since 2013. But recent years have seen a big jump in demand: Grove's net DTC revenue from refillables has grown by more than 600% since 2018. And its products — which include soaps packaged in aluminum, laundry sheets and bamboo paper towels — can be found in more than 5,700 retail storefronts, including Kroger, Costco and Hanford locations as of this spring.  
Being in brick-and-mortar locations, he said, is "the tip of the spear" to get people interested in refillables, especially those who don't typically consider a brand's carbon footprint when deciding what products to buy. Part of that means creating attractive packing that stands out on the shelf — Grove's bottles are brightly colored and can have seasonal designs.
"If you compare it to all the plastic bottles with plastic labels on  it, this is really nice," he said, referring to Grove's aluminum container of hand soap. "And that I think that's been one of the keys for us."
Landesberg also acknowledged that historically, shoppers were more hesitant to adopt a refillable product because they don't have faith that the natural or plant-powered ingredients — featured in many refillable products — can do as good of a job as something more "chemical."
"The stigma was deserved in the 80s and to some extent the 90s," Landesberg said. "But over the last 18 years, and especially the last five or 10 years, green technology has really caught up," he said. "This is not a trade down."
Brian Sansoni, senior vice president of communications with the American Cleaning Institute, said inventions like powders, tabs and concentrates have helped the cleaning industry cut down on the amount of plastic in their packaging. He points to the advent of laundry pods as one example that's become mainstream. 
"There's just been so much on the innovation side, while at the same time, acknowledging different consumers have different preferences," he said.
Consumer adoption
The CEOs of refillable cleaning startups agreed: they key to more widespread adoption is creating efficient, easy-to-use products that work well. Puracy's Busch said for example that while the company sells concentrates that cost 58% less per ounce than a bottle of product, some people think that the product involves too much work.
"People don't want to mix, they don't want to pour, they don't want to create this whole friction," he said.
Sarah Paiji Yoo, CEO and co-founder at Blueland, also acknowledged the existing stigma around natural cleaning products as a barrier to adoption in the refillable space. It took Blueland almost two years to come up with the formula for its dissolvable tablets that launched in 2019, Paiji Yoo said, because the team wanted to ensure it worked as well or better than its competitors. 
"The most important value proposition is efficacy," she said. "Cleaning is a job to be done. It's not just a hobby. When people buy cleaning products, they need them to absolutely work."
Since then, the company has expanded its product line from soaps and sprays to 15 categories including toilet bowl cleaners, laundry tablets and a new body care line. None of the products have single-use plastic, and the dissolvable format means that Blueland and its customers aren't paying to ship water. She said the growth of the brand — as well as the introduction of refillable products from major CPG players — indicates that there is increasing adoption in the space.
Still, Paiji Yoo said Blueland is cautious about growing too fast, or expanding into new categories that it doesn't see an immediate demand for. 
"We're always stepping back and asking the question of 'Does the world uniquely need this from Blueland?'" she said. "Because regardless of what we decide to produce, there's inevitably going to be a footprint associated with it."