How troubled department stores are trying to get shoppers back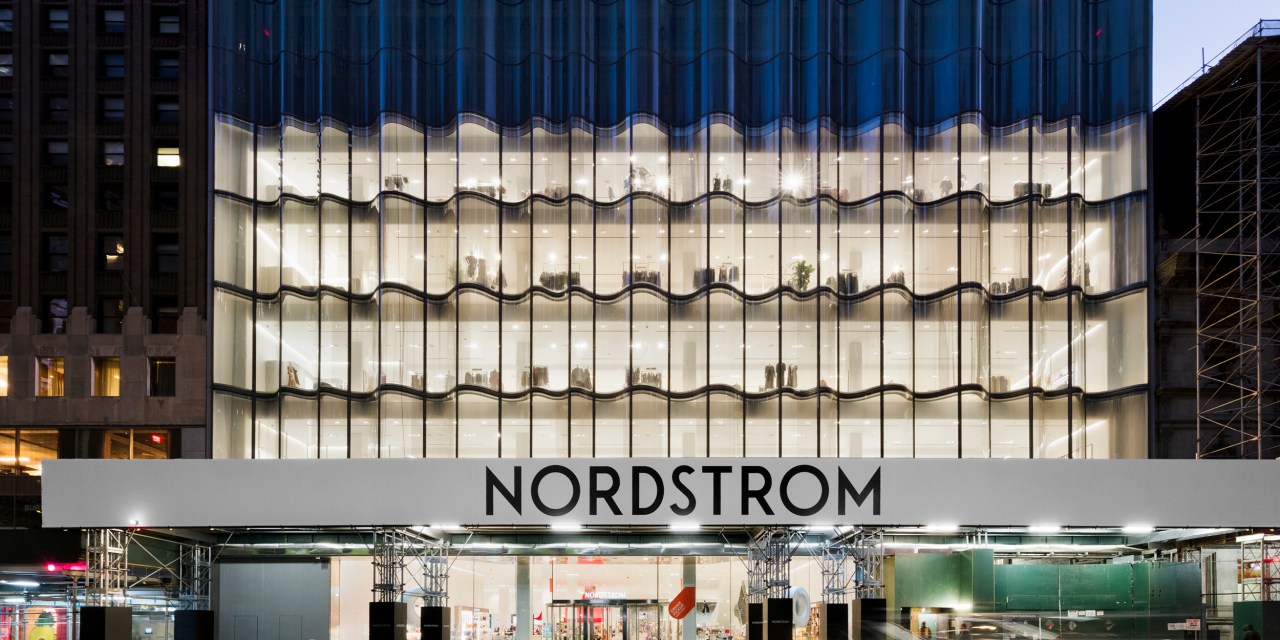 Image via Nordstrom
It's a challenging time for department stores.
Department stores — which sell many categories considered discretionary, such as furniture, electronics and games and toys — have been in a tough spot for months as consumers put more money towards essentials like food and transportation.
Adjusted department store sales in the U.S. dropped from $11.723 billion in February to $11.529 billion in March to $11.398 billion in April, according to government data. Apparel, a large component of department stores' businesses, has also taken a hit, with clothing store sales dipping from March to April.
Today, stores such as Nordstrom, Macy's and Kohl's are having to get creative about which parts of their business they want to emphasize as shoppers tighten their budgets. The three companies, all of whom reported quarterly financial results in the last week and a half, are each facing individual challenges. Kohl's, for instance, is undergoing a leadership change while Nordstrom is winding down its operations in Canada. Still, all are stressing the measures they're taking to keep customers coming back. These include focusing on value, upping promotions and inking retailer partnerships.
Here's a look at where their efforts — and their earnings — stand.
Banking on off-price brands
Nordstrom reported better-than-expected earnings last week, although its first-quarter net sales dropped 11.6% year-over-year. Some of this stems from Nordstrom's decision to wind down its Canadian business, a process it says has generated $309 million in estimated pre-tax charges. Nordstrom's e-commerce business dipped as well, in part due to the closure of Trunk Club, a personal styling service it acquired in 2014. At the same time, executives stressed that Nordstrom made progress with managing inventory and cutting costs and said they are optimistic about the rest of the year.
Nordstrom's off-price brand, Nordstrom Rack, is especially giving the company a boost. Although net sales at Nordstrom Rack fell 11.9% year-over-year, Nordstrom Rack represents "the largest source of new customers" for the business, CEO Erik Nordstrom said on an earnings call, and the company plans to open 13 more Nordstrom Rack stores later this year. April was Nordstrom Rack's "best month of the quarter," he added, and the business has "continued to see trends improve in May."
Like Nordstrom, Macy's has benefitted from its off-price brand, Macy's Backstage. Macy's Backstage locations "benefitted from a greater emphasis on seasonless product and a strong value proposition," Macy's outgoing CEO Jeff Gennette said on an earnings call. In May, Macy's announced plans to open 10 new Backstage store-within-store locations in the U.S. this spring. Bloomingdale's Outlet, which appeals to more cost-conscious luxury customers, "also continues to outperform," Gennette said.
Still, Bryan Gildenberg, founder of commerce consultancy Confluence Commerce, cautioned that off-price brands can be "a double-edged sword for retailers."
"I think with a business like Rack, what you're heavily relying on is a certain segment of shoppers to respond from an apparel point of view that may just not be actively shopping apparel as much as they were a year ago," he said.
Tiffany Hogan, director of retail insights at Kantar, agreed that she would advise against Nordstrom and Macy's "putting all their eggs in that basket."
"I think it could be helpful in the near term, the next couple of years, as shoppers maybe do pull back a little bit in these categories," she told Modern Retail. "But in the long run, that's a really competitive market. You're going up against a really established player in TJ Maxx."
"Knowing what makes Nordstrom Rack 'Nordstrom Rack' is the fact that Nordstrom exists," she added. "I think keeping those brands alive and making sure that they're evolving with the times is going to be paramount for them to really succeed in both off-price and full line."
Upping promotions
Overall, Macy's beat earnings expectations, although its financial snapshot was bleaker than analysts had hoped. Macy's ended up slashing its full-year outlook and said sales weakened in March and even more in April. The company now expects sales of $22.8 billion to $23.2 billion for the year, down from a previous range of $23.7 billion to $24.2 billion.
Macy's, like other department stores, is seeing customers pivot in terms of products. Gennette remarked that "the U.S. consumer, particularly at Macy's, pulled back more than we anticipated as they reallocated spend to food, essentials and services."
Promotions will play a big part in Macy's strategy for the second quarter. For that period, "we have accelerated the timing and depth of promotional events, markdowns and clearance at Macy's to liquidate seasonal merchandise," Gennette said. The company is leaning into personalized offers, as well, an area it tested in the first quarter, said Macy's President Tony Spring, who will replace Gennette as CEO in 2024.
Those savings could give Macy's a much-needed boost. The company has been seeing its biggest decline in its namesake brand, which traditionally caters to the lower- and middle-income consumer, according to Gennette. Gildenberg also pointed out that SNAP benefits for working families went back to pre-Covid levels in March, which reduces the money those shoppers have at their discretion.
Macy's is dealing with the mall challenge, too, Gildenberg said. "I think that Macy's in particular, of the three, is the one that's most tied to malls," he explained. "Mall occupancy rates are at an all-time low. Mall rental rates are going back up." Against this backdrop, Macy's has started focusing more on off-mall expansion and is considering accelerating efforts in 2024.
Gildenberg also pointed out, "The collection of brands that are filling the mall are the types of brands that used to introduce themselves to consumers through department stores. So in essence, the department store as a curator for brands to deliver to shoppers… is now competing with the mall way more overtly for that. And they're losing."
Embracing stores-in-stores and essentials
Kohl's, while posting a 3.3% year-over-year decrease in net sales, beat analysts' expectations and reaffirmed its full-year outlook. The company saw an increase in store traffic and higher units per transaction, its new CEO Tom Kingsbury said on an earnings call.
One of Kohl's most lucrative channels is its Sephora shops, which Kingsbury said "outperformed" expectations with a 150% sales jump since a year ago. The company is working to expand this footprint by having a Sephora in more than 900 Kohl's stores by the end of 2023.
On the product front, Kohl's is expanding into "underrepresented" categories like gifting, decor, pet and outdoor, Kinsbury added. It will place more gift items towards the front of the store in the coming months.
Kohl's has an additional benefit over Macy's and Nordstrom, Gildenberg pointed out. "Kohl's is really good at hardcore essentials like underwear," Gildenberg said. "That's a category that's way less economically sensitive than others. So I would say that if you've got Kohl's outperforming Macy's, what you've got is a story of the essentials outperforming discretionary."
Department stores will likely have to recalibrate even more as the year goes on and spending patterns shift. Ultimately, "it remains to be seen" whether consumers will come flocking back to department stores, Hogan said. Their best bet, she said, is focusing on what already works.
"As we've seen in the last six months or so, folks aren't necessarily trading down in these categories. They're just trading out," she explained. "I think that the attitude towards particularly apparel and other discretionary categories has shifted a little bit. That's why I kind of see focusing on your core business… [as] the best long-term strategy for all these retailers."