Hydro Flask owner Helen of Troy says shoppers are turning to tumblers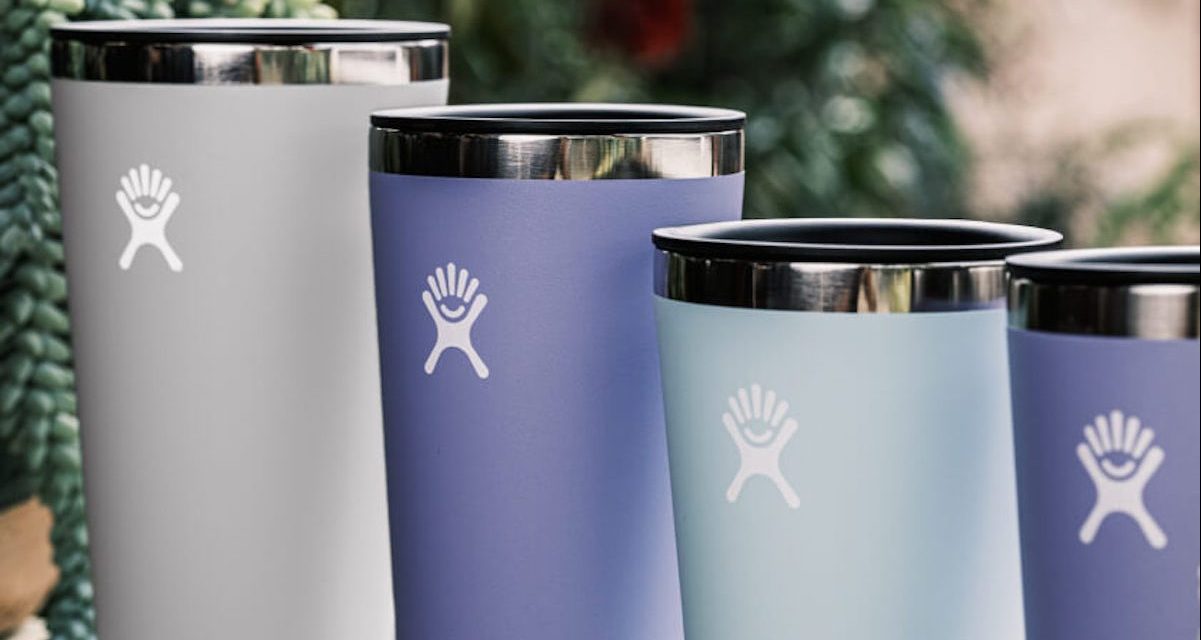 Hydro Flask
Hydro Flask's parent company Helen of Troy is shifting strategy as interest in water bottles wanes.
Helen of Troy — which owns Hydro Flask, as well as other major brands including OXO, Osprey, PUR and Drybar — pointed to "lower sales" of insulated beverages when sharing its first-quarter results on Monday. Net sales of products in Helen of Troy's Home & Outdoor category, which includes Hydro Flask, dropped 7.3% from the same time a year ago. Helen of Troy also cited a decline in sales of seasonal fans, hair appliances and air filtration and humidification products.
Hydro Flask, which was founded in 2009 in Oregon, is a major player in the water bottle category. However, in the United States, "consumer preference continues to shift away from bottles… to tumblers, where the brand has a smaller presence," Noel Geoffroy, chief operating officer of Helen of Troy, said during an earnings call. While Hydro Flask does sell some tumblers, its water bottles have historically taken up more market share. Hydro Flask products are available in physical retail stores and online, as well as through Amazon.
Demand for reusable water bottles skyrocketed in recent years, benefitting brands like Nalgene, Yeti and S'well. But now, tumblers are taking off, thanks to raving reviews from influencers, as well as viral Tik Tok videos. Now, Hydro Flask is turning more towards tumblers to keep up with the competition.
One of the most popular tumblers on the market is Stanley's 40 oz. Quencher Tumbler. According to reports, the tumbler has sold out within hours or minutes of being restocked. It even had a waitlist of 150,000 people at one point. In June (a period not included in these most recent earnings), Hydro Flask soft-launched its new Travel Tumbler, which comes in two sizes, can be customized and — like Stanley's — includes a flexible straw and handle.
While sales of the Travel Tumbler are not reflected in Helen of Troy's latest results, "we are excited by the prompt consumer response and are optimistic about growing this new addition to the Hydro Flask family," Geoffroy said. Helen of Troy expects Hydro Flask sales to be "flat to up slightly" for the year.
Susan Anderson, managing director at at Canaccord Genuity, told Modern Retail that it's likely that Hydro Flask will "follow the trend" and invest more in tumblers if sales do well. "I think they're trying to get other distribution right now," she explained. "They're mainly distributed in sporting goods… but I think distribution into other retail outlets that are not necessarily outdoor, but that would carry more of a tumbler-type product, could also help them."
Despite the decrease from Hydro Flask, many of Helen of Troy's brands are faring well. OXO, which sells items like can openers and coffee makers, "outperformed the market in core categories," Geoffroy said, with sales of kitchen gadgets and dry food storage containers "solidly ahead" of pre-pandemic levels. Osprey, which sells outdoor backpacks, also performed "very well," Geoffroy said, owing to a large interest in hiking, biking and travel.
Overall, Helen of Troy's net sales for its first fiscal quarter dipped 6.6% year-over-year. Even so, CEO Julien Mininberg said results were "better than we expected." Helen of Troy's gross profit margin improved 380 basis points, its inventory dropped nearly 30% from a year ago and it maintained its outlook for the rest of the 2024 fiscal year.
In October, Helen of Troy announced Project Pegasus, a restructuring plan targeting annualized savings of $75 million to $85 million. The goal of Project Pegasus, according to Mininberg, is to "improve operating margins, cash flow and operating and organizational efficiency, as well as provide a platform for future growth investments." Three months after launching Project Pegasus, Helen of Troy announced it would lay off 10% of its global workforce.
Under Project Pegasus, Helen of Troy is "seeing significant momentum and savings in line with the previously announced targets," Geoffroy said. She added that about 25% of the savings are scheduled for the 2024 fiscal year, with a "large portion" scheduled for 2025 and the rest for 2026.
Canaccord Genuity's Anderson told Modern Retail that the company has done "really well" in its latest results. "I think that the free cash flow that came through the inventory reduction, obviously the huge beat in earnings, showed that their Pegasus strategy is working and that it's starting to materialize," she said. "The sales were a little bit better than expected, too. So I think they really kind of hit everything that people were looking for."