More DTC brands are entering warehouse clubs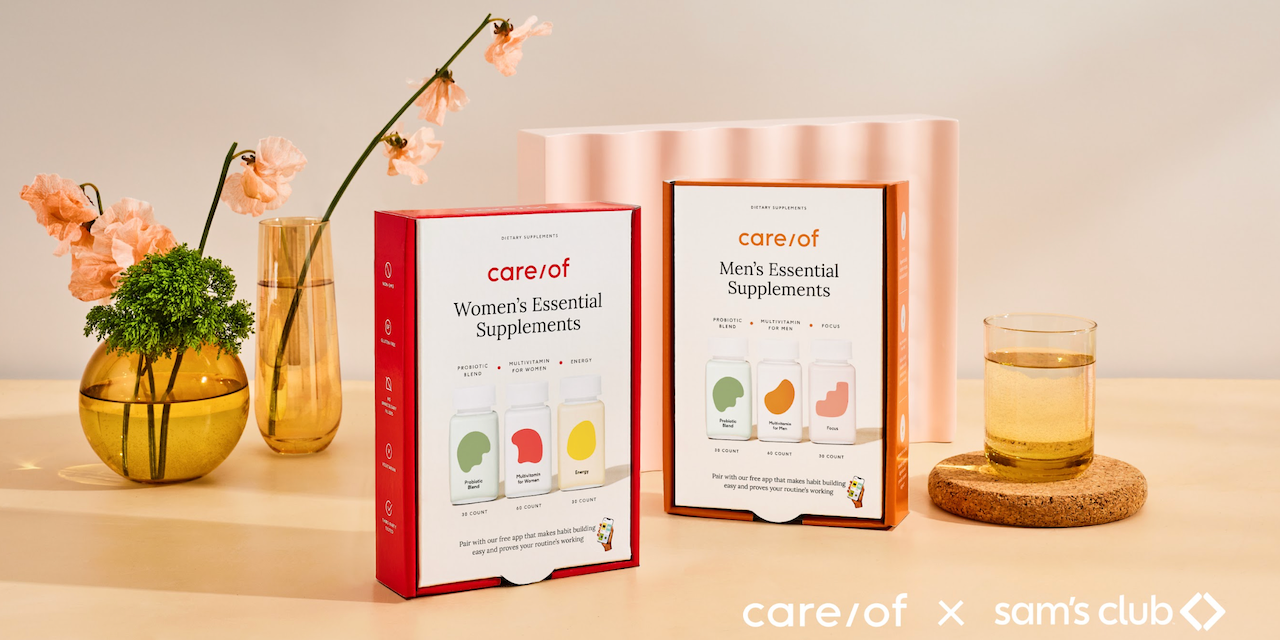 Last year Fly by Jing founder Jing Gao told Modern Retail that the condiment brand took a risk by entering Costco in early 2022, as it was only a couple of years after launching online. But after a test run in Los Angeles, Fly by Jing's two-jar Sichuan chili crisp bundle generated double the projected sales. 
The trend isn't new, but has become a bigger part of the startup CPG playbook for brands as they expand nationally in brick-and-mortar. As of 2022, Costco had 118.9 million annual members, making it the biggest wholesale club in the country. In fact, warehouse chains have fared well during inflation by attracting shoppers looking for more affordable groceries. 
Care/of, Goodles and Blueland are just a few of the DTC-first brands that have entered a number of warehouse club locations in recent months. According to executives from these companies, warehouse shoppers at retailers like Costco and Sam's Club are a unique bunch to court. Not only does this cohort seek value by buying in bulk, but they also love discovering new products as they browse the sprawling club stores. This combination creates a double-fold advantage to young companies: expanding their footprint to reach more types of customers and increase velocity through higher average orders. 
On April 5, supplement brand Care/of began rolling out at Sam's Club nationwide and online, marking the company's second wholesale launch following Target. Care/of built two custom sets for Sam's Club — for men and women — that include some of the brand's best-selling supplements. 
"Our customers include lots of parents and young families, so there is a nice customer overlap with Sam's Club," said Care/of co-founder Craig Elbert. The decision to go with a warehouse club for Care/of's second retail partnership, he said, stemmed from customer insight, such as user surveys and credit card data. "We saw a disproportionate amount of our customers shopping there, and had also received inbound interest from Sam's Club," he said. 
Care/of has also updated its mobile app to allow users to choose Sam's Club as the location where they've purchased their products. This integration also helps quickly inform the company which SKUs that user has purchased, which are then reflected in daily reminders. "So we're bringing folks to our digital product by onboarding them to the app," Elbert said.
Warehouse clubs are known for offering multi-pack or larger versions of popular products, making it appealing to families and bulk shoppers. In turn, Costco is proving to be a popular channel among young food startups. For example, protein bar maker Built launched as an online direct-to-consumer brand in 2018, and over the past year launched at select Costco, Sam's Club and BJ's locations. Similarly, overnight oats brand Mush, founded in 2015, is rolling out variety packs at select Costco regions this month. After debuting as a direct-to-consumer brand in November 2021, noodles brand Goodles entered a series of retailers over the past year, including Whole Foods and Target. In February, the company debuted an 8-pack version of its mac and cheese flavor at Costco.
Refillable cleaning brand Blueland is another company that recently entered Costco, hitting nationwide locations on April 1 following an early run in the retailer's Bay Area region. The company launched a 30-tablet bulk pack of the brand's popular toilet bowl cleaner for $18.99, about the same price as the 14-tablet refill on Blueland's website. 
Blueland founder Sarah Paiji Yoo said going into Costco was a "a natural move for our business," given the repurchase rate of cleaning products. She explained that the company made an early decision to mainly focus on DTC growth in the first three years, having launched in 2019. After reaching profitability last year, Blueland is increasing its wholesale presence with retailers like Costco and Target, following deals with The Container Store and Bed Bath & Beyond.
"Many of our DTC customers tend to buy in bulk and we already provide a discount on those purchases," Paiji said. Over 20% of Blueland's direct-to-consumer customers purchase 3-pack hand soap tablets, which create 30 bottles of soap when mixed with water. Similarly, customers tend to buy two or three pouches of the toilet bowl cleaner at a time. DTC remains an major revenue driver for Blueland, especially from a retention perspective. However, Paiji said the channel will be increasingly complemented by the new retail points that cater to customers who prefer to shop in-store.
The launch was borne out of a relationship Blueland has had with Costco buyers over a few years. But for a startup brand like Blueland, Paiji said warehouse clubs offer a different set of challenges and opportunities. 
"Even that initial order for the Bay Area stores was very large and fast-paced for us," she said. "It was a big lift for our manufacturers to fulfill." However, the company hopes the investment in bulk packaging will drive volume as more customers discover Blueland at Costco. Paiji also noted that being packaged in neutral paper pouches is also helping the brand stand out among Costco's aisles of brightly-colored, plastic containers of cleaning products.  
Blueland has already begun testing demos at select Costco locations, offering customers individually packaged tablets to try at home. "But we'll be doing a big push this Earth Day, led by many of our team members at 198 Costco locations," Paiji said. 
Care/of's Elbert said "we recognize that clubs have unique relationships with customers," adding that paying members usually have trust in that retailer's offerings. Partnerships with retailers like Sam's Club also allow Care/of to play with a new merchandising format, said Elbert. In Target, the company sells single SKUs, and on DTC customers build a unique subscription plan based on their nutritional needs. 
"This [Sam's Club packs] falls somewhere in between and at a different price point," he explained. "We'll be learning about new velocity levels because this is our first club."