'I never thought we'd go into Costco so early': Fly by Jing's founder on taking over the grocery aisle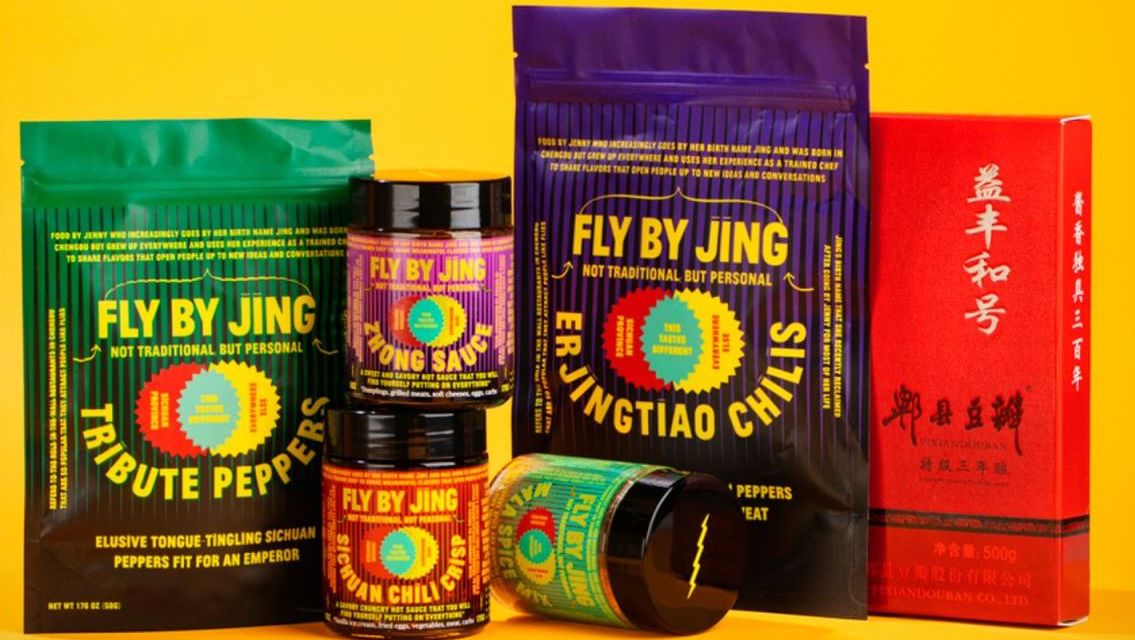 Fly by Jing
Since launching through its DTC site in 2019, Chinese condiment brand Fly By Jing has gone from a coveted online-only brand to selling at thousands of grocery stores — ranging from Sprouts to Costco.
The company began by selling a premium chili crisp sauce, but has been expanding into more food categories, such as dumplings and frozen dumplings, flavored oils and even smoked salmon in a collaboration with Fishwife. 
At this week's Modern Retail DTC Summit, Fly By Jing founder and CEO Jing Gao spoke about growing a CPG brand through strategic retail partnerships, while maintaining the brand's digital roots. Gao spoke about the upsides of selling Fly by Jing on more physical store shelves. She also highlighted some of the challenges of working with retailers, including merchandise placement and tackling in-person brand storytelling.
"I always knew that eventually we'd be in retail but in 2019, I thought DTC would be the only channel for a while," Gao explained.
The first non-DTC channel Fly by Jing went into was Amazon, which helped expose the brand to convenience-minded shoppers. The company launched on Amazon about a year ago, which began as a test, "and ended up doing really well," said Gao.
However, the brand's physical retail journey began in small specialty shops – "when a store reached out we'd send them a couple of cases," Gao said. Sometimes Fly by Jing products are even marked up by these small retailers, Gao said. This was especially the case when the jars sold out due to its emergent cult status, she said. "I don't mind it because the velocity is insane." Eventually Fly by Jing began selling through B-to-B marketplace Faire, which is geared towards small businesses. 
The company's first national retailer was Whole Foods — starting with the mid-Atlantic regions — where it launched at the end of 2021. "Very quickly, the velocities were so strong that we went global," which encapsulates the entire U.S.
The next retailer came shortly after, with Fly By Jing launching in 100 Target stores spread across the country in early 2022. Gao said the decision to add Target to the company's roster of distributors is a testament to the company's attention to DTC brands, and Target's mission to diversify their grocery offerings. For instance, Gao and Fly by Jing were featured as part of Target's recent Lunar New Year marketing campaign. 
Another mainstream retailer that Fly by Jing recently entered was Costco, which requires offering discounting or product bundling. The first test run in the Los Angeles market, which began in February, doubled projected sales. "I never thought we'd go into Costco so early," Gao said.
But with wholesale growth comes the added challenge of creating effective storytelling on a busy shelf, alongside other brands. "On DTC, we really try to show our customers what the product is," Gao said. This isn't always easy to do within crowded grocery stores, especially as a brand specializing in high-end Asian products.
For Fly by Jing, asking for flexibility on how to merchandise its products is key to grabbing offline customers' attention. For instance, being able to create a colorful endcap at a grocery store's ethnic aisle. Another example is Fly by Jing's bright orange Costco pallet display, which features educational information about its two-jar Sichuan chili crisp bundle. "People couldn't miss it," Gao said.
On the plus side, retailers also offer the ability to organize sampling sessions – helping create a touchpoint to educate customers on Fly by Jing's Chinese flavors. But being categorized within the ethnic grocery offerings has been another pain point for Fly by Jing. 
For example, Fly by Jing has struggled to convince some of its retail partners to place its sauces in the hot sauce aisle — where, she said, foot traffic is often about 4X bigger than the international aisle. Target's buyer did agree to merchandise Fly by Jing in the hot sauce aisle. Gao said this is creating more leverage for her to ask other retailers to do the same. "I really appreciated that," she said. 
Going forward, the plan is to highlight Fly by Jing's sales performance among other mainstream brands. "Hopefully we can show retailers that we can sell well alongside other hot sauce brands."