The rise and fall of 15-minute delivery startups, an oral history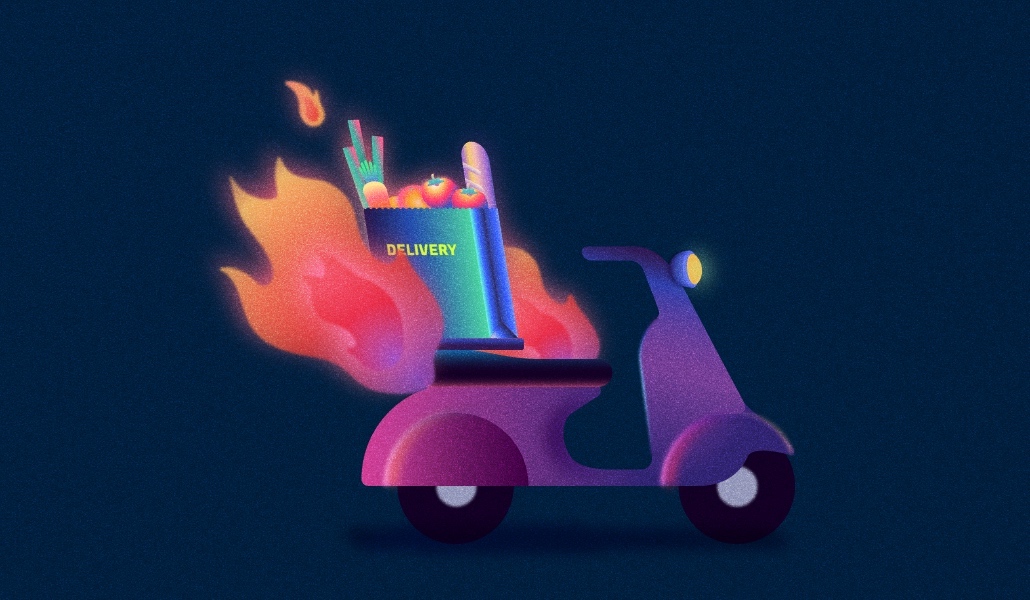 Ivy Liu
Fifteen-minute grocery delivery is proving to be a relic of 2022.
Between 2020 and 2021, there was an explosion of new startups — Fridge No More, Buyk, Jokr and Gorillas, to name a few — promising grocery delivery in less than 30 or even 15 minutes, with no order minimums and no delivery fees. Fueled by record levels of venture capital funding, they quickly blanketed New York City with their delivery bikes. The bet was that, in densely populated metropolitan areas, ultra-fast delivery would be more financially feasible to pull off. 
But just as quickly as some of these 15-minute delivery startups burst onto the scene, they flamed out. During one particularly chaotic week in March, both Buyk and Fridge No More filed for bankruptcy. Buyk, a spin-off of Russia's Samokat, filed for bankruptcy after Buyk's access to funding was interrupted due to Russia's invasion of Ukraine. Meanwhile, Fridge No More ran out of cash after acquisition talks with DoorDash fell apart. 
Hundreds of people signed up to work for these ultra-fast delivery companies, only to suddenly find themselves out of a job overnight. To get a better sense of what the rise and fall was like for the people entangled in these businesses, Modern Retail spoke with six former employees at two of the ultra-fast delivery startups that went out of business this year – Fridge No More and Buyk. 
The collapse of these two companies provides a good frame through which to view the state of quick delivery in 2022. Press releases trumpeting new rounds of funding — Fridge No More raised $15 million in 2021, while Buyk secured $46 million in capital — combined with busy warehouses made it appear that things were good. Until, suddenly, they weren't. The year ended with more cost-cutting and consolidation in the ultra-fast delivery space, as Getir acquired Gorillas for a reported $1.2 billion.
Many of the former employees expressed similar sentiments– that they were happy that they took the risk, working for a fast-growing startup. Still, they were divided on whether ultra-fast delivery can feasibly work. Their responses have been slightly edited for clarity and length. 
The elevator pitch 
Many of the employees who joined Buyk and Fridge No more were recruited for their experience in delivery, grocery, logistics or similar fields. For many of them, the calculus in joining Fridge No More or Buyk, was simple: working for a VC-backed startup could pay dividends in the long run. Plus, who wouldn't want grocery delivery in less than 15 minutes? 
Jacob Olasov, former vp of global purchasing and logistics, Buyk: Initially, I bought into the idea that this [15-minute grocery delivery] was a viable business model. That went away pretty quickly while I was there… [still] it just seemed like something interesting to add to my experience. And if it worked out well, I was going to get in on the ground floor, and there'd be stock options down the road – of course that didn't happen to come to fruition – but it was a measured gamble. 
Alejandro Viera, former operations manager, Fridge No More: One day, I was walking around Park Slope. I was looking for a job. I was working for a restaurant back then. But with the pandemic, everything was shutting down. So I was walking down the street, and I happened to walk past the store where I saw a lot of bikes and scooters. I always ride [bikes] so I figured, 'maybe I can get a job here doing delivery.'
Early success 
Fridge No More launched in October 2020 with a warehouse in Williamsburg. In March, the company said it was averaging 200 orders per day at an average cart size of $40 — stats that were good enough to help the company secure a $15.4 million Series A. That capital helped Fridge No More grow to more than 30 locations by fall of 2021. 
Kerry Springer, former operations manager, Fridge No More: When we opened up the [first] store, we only had about 500 to 1,000 SKUs. Most of it was just random products, because obviously we did not know what customers' needs were at that point. But we did notice the hysteria during the pandemic. [Customers] were just excited about the 15-minute grocery delivery, because they didn't want to go to supermarkets, etc. 
By late 2021 our flagship store in Williamsburg was up to like about 300 orders a day, [300 to 400]. And then on the weekend, on Saturdays, we would touch somewhere close to [500]. And when we had snow storms, anything like six inches of snow or rainstorms…we would do like 500, 600 that day. 
Buyk, meanwhile, launched in New York City in September 2021, and went into expansion mode even more quickly: the company added 20 locations within just two months of launching, aided by $46 million in cash. By November, it was averaging 1,350 orders a day across all its locations. 
Sean Griffith, former store manager, Buyk: I think one of the reasons why I was hired was because I had an understanding [from my previous jobs] of what high volume deliveries are like, and what that looks like, and how you manage that.
They [Buyk] were seeing great orders — just like consistent; [a delivery guy] came in and he's right back out. He's got multiple things [in an order] it's like, let's go guys, and really turning that wheel constantly. But [it came with] its peaks and its valleys. Compared to, like, Whole Foods — you don't even understand high volume until you go there. 
They [Buyk] understood that and wanted more of that talent that would help them grow.
Making plans to scale 
At Fridge No More, expanding the produce selection was a big focus; the bet was that if Fridge No More could offer fresher produce than its competitors, it could drive more repeat purchases. Meanwhile at Buyk, the goal was to add as many stores as quickly as possible, and expand to more cities. 
Anonymous former employee, Fridge No More: I was hired as a packer…they immediately trained me on produce because that was one of the main, important things that Fridge No More had over all the other companies…as produce is a very sensitive product, right? This is one of the things I learned as time went by, how you gain trust with your customers when it comes to the food industry. When selling sensitive items, we want to make sure everything is up to quality. Everything is perfectly picked out. Nothing is spoiling, nothing is expiring — no aberrations, no cuts, stuff like that. 
Olasov, Buyk: Originally, I had an expansion expectation of 120 stores by the end of 2021. And then in 2022, they decided they wanted to make it another 500. The supply chain issues that were already very apparent…that made it very difficult to find the manufacturers, the shelving, or refrigeration or [even] the uniforms was very difficult. And a lot of those things, if you go to a traditional business, those are 12 month, 24 month projects. And we were trying to do it in two. 
Growing pains
From the outside, business appeared to be booming as couriers zipped around New York City. But 15-minute delivery startups had to contend with rotting produce, break-ins and other accumulating costs. Some employees questioned whether 15-minute delivery could be feasible at all, given grocery's razor thin margins, while others chalked it up to being a high burn rate that was typical for a fast-growing startup.
Springer, Fridge No More: What makes it challenging — obviously, we have a lot of individuals who just don't know food… going through the produce, going through the refrigerators, selecting what's adequate as a packer — sometimes if you're not properly trained, you can get confused. And that, in turn, is putting bad product out. So that raises your customer complaints just a little bit, but nothing you cannot control. 
Olasov, Buyk: If you take a standard grocery store set up, like Key Food or Pathmark or Public or whatever, across the country their profit margin is generally between 1.5% and 2%. Adding in a dynamic where you're delivering it, now requires extreme focus… the profit margins aren't high, and you're going to add a whole functionality of it being delivered. You have to charge a lot more money, or a membership fee or — something has to offset it. 
Viera, Fridge No More: I think it's just the nature of a startup, the fact that a new issue arises every day… we had a lot of issues with security, we had a lot of break-ins. People were taking our bikes and our stuff – that was unpleasant to deal with. 
A potential DoorDash acquisition
Meanwhile, concerns about the viability of ultra-fast delivery continued to rise in the media. In January, the Wall Street Journal reported that Fridge No More lost $78 on the average customer when costs like advertising, storage and courier expenses were taken into account. Around that same time, Fridge No More began exploring acquisition talks with DoorDash. But those talks halted in March. On March 10, Fridge No More permanently shut down as it ran out of cash.
Viera, Fridge No More: We were running out of the funds — we had no idea about any of that, at least, me and my team [didn't] up until January of 2022. That's when the news broke that we were in conversations with DoorDash. At that point, the news was kind of shocking. But at the same time, it didn't feel that bad. Because what we understood is that we were all going to basically keep our positions and we were going to keep the same structure, just under DoorDash… We went to interviews with DoorDash, and it all seemed to be coming along well. Then… I personally found out from my boss that [DoorDash] had pulled back on a deal. So yeah, that was a big shock, from like one day to another, we were completely shut down.
Anonymous former employee, Fridge No More: I literally just got home from work, sit down in the house. Somebody from the operations team called me…she was in tears, at first I couldn't understand what she was saying, and then I was like 'wait what's going on?' And she was like, 'DoorDash, they fucked us last minute.' So all 600 of us lost our jobs. 
Russia-Ukraine conflict throws Buyk into disarray 
One day after Fridge No More shut down, Buyk was foiled by geopolitical issues. In early March, Buyk furloughed 98% of employees as it struggled to access funding. On Friday, March 11, CEO James Walker officially laid off employees and told them the company would be filing for bankruptcy, according to reporting from the Washington Post. He said the issue wasn't that Buyk's investors were sanctioned. Rather, it was the banking restrictions imposed by President Vladimir Putin on Feb. 28. Residents could not send money to bank accounts abroad, impeding Buyk's ability to access funding from Russian investors.
Yusuff Alabi-Ajidagba, former svp, U.S. head of retail operations, Buyk: I wasn't privy to a lot of the fundraising conversations — I was in Russia [in January]. I got more clarity on it when myself and the founder had a conversation about funding. And he explained some of the roadblocks; they had secured the investors, but the impending war was slowing things down… and then, I think the development or the postponement of future launches is when I suppose I identified the smoke in the air. The directive was: don't open up any locations; keep sourcing, but don't launch anything. 
Griffith, Buyk: We were all getting paid, that seemed to be fine. There was no sense of anything being wrong in that regard. Now, from the outside looking in, I did realize 'oh this brand is Russian.'
It was like on Wednesday [we got a directive], 'there's a call on Thursday — be prepared, managers and up be prepared.' We're all on it, and we're like ohhhhkay it's here. What is it? What is it? This feels bad. It certainly doesn't feel right. But we still didn't know what, that's for sure. 
So suddenly you were on like a group call, and it was like everyone in the world on this call. And we're told what was happening [that employees were being furloughed]. just like, verbatim. Genuinely, they wanted to be able to fix it. And they couldn't fix it from the American side. 
The aftermath 
The layoffs proved to be a gut punch; most Buyk employees had just joined the company only a few months prior, since the service only publicly launched in September. Still, many of the employees who spoke with Modern Retail they were happy they took a chance working for Buyk or Fridge No More. Especially for those who came from the restaurant or grocery industries, having experience working for a tech startup has proven valuable in helping them secure more lucrative jobs. But others are still searching for a job months later.
Anonymous former employee, Fridge No More: It was the best ride of my life. I learned so much from that job, I was able to train a lot of people, I was able to achieve a thing [management] that I never thought I could do.
[After the company closed] we had a little party. We ended up at some place in Manhattan. Everybody had drinks, we took pictures, we celebrated, we were all happy, because we all left there not just saying, 'oh we lost our jobs.' But we were leaving with something, we were all leaving with a new type of experience. 
Alabi-Ajidagba, Buyk: I was taken aback by [the layoffs]. But then I figured, 'hey, you know what, I'll land a job sooner.' And here we are nine months later, I'm still unemployed. And there's a lot of us that are unemployed. In retrospect, I think I would still say that it was definitely a good opportunity. But if I knew it would have been this difficult…I probably would have stayed at my last employer.
The future of ultra-fast delivery 
The former Fridge No More and Buyk employees were divided on whether or not 15-minute grocery delivery could still feasibly work. For the store managers, packers and other employees who worked in stores and could see how busy the couriers were, it appeared to be a service that people loved — and still do. However, some who were higher up in the companies have a more skeptical view. 
Viera, Fridge No More: I think it depends on where. I think one of the biggest problems here in New York is we had high costs for a lot of things that wouldn't necessarily be as expensive in other cities. We had the crime, the security problem where we were robbed all the time, that was expensive to take care of as well. 
I don't know — I do think it's a good idea. I really like groceries delivered in very little time. You just have some nuts to crack to make it profitable.  
Alabi-Ajidagba, Buyk: It's like any other initiative — it is going to be very costly in the very beginning. I think our founders knew that, the CEO knew that, I knew that. Having a large cash injection would have kept the company afloat for X amount of years until the company went public.
But to answer your question: is it sustainable, would it work? I think it will work. I don't think that it will work in every part of the world, but in those high density locations, it could definitely work, and [especially] if it's not just food.