'They're just very discretionary': Why customers may be turning away from clothing rental subscriptions like Rent the Runway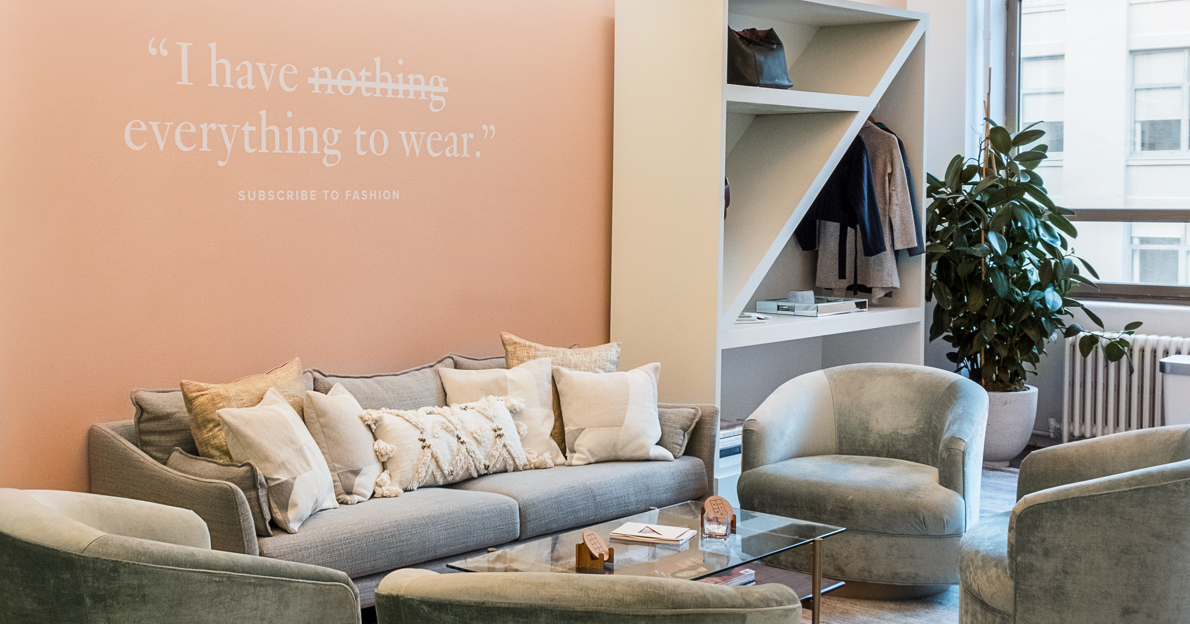 Rent the Runway
The clothing rental market is "solid," according to experts, but subscription service companies like Rent the Runway may have a harder time resonating with consumers as more shoppers adjust their budgets amid high inflation.
Renting apparel, rather than buying it, remains a popular route for consumers looking to curb their environmental footprint, update their wardrobes and tap into designer clothing for a fraction of the sales price. Globally, the clothing rental market is projected to grow 11% from 2021 to 2031, according to Future Market Insights.
Still, clothing rental subscriptions are facing roadblocks. Industry standout Rent the Runway says it lost some 10,000 active subscribers for its most recent quarter, compared to the previous three months. To cut costs, the company plans to lay off 24% of its workforce by the fourth quarter, a process it says will cost about $2.5 million upfront but later save $25 million to $27 million in expenses. Fashion Pass is a private company that doesn't report revenue but recently upped the price of its plans, citing "the rising costs of shipping + materials and maintaining ethical production standards." And Stitch Fix, while not a rental company, is also struggling with subscribers, in what could be a bellwether for the larger apparel subscriptions space. It lost 370,000 customers in its fourth quarter.
More DTC brands are introducing subscription boxes to appeal to consumers looking to save time and money. But, as Brian Ehrig, partner in the consumer practice at Kearney, said, unless the memberships are for a "compelling need" like food delivery for families and pets, "when it comes to these other subscriptions, they're just very discretionary."
"At a time when consumers have pulled back on apparel and footwear pretty broadly across the industry, other than luxury, this is a very easy thing to just let go," Ehrig told Modern Retail.
Inflation is leading more consumers to evaluate how many subscription services they want to maintain. According to PYMNTS' 2022 Subscription Commerce Conversion Index, a collaboration with sticky.io, the percent of customers citing cost as a reason for stopping their subscriptions increased more than tenfold from October 2021 to March 2022. This is especially true for younger consumers, the report found. Out of all age groups, Gen Z exhibited the highest rates of subscription cancellations in the past year, at 17%.
Rent the Runway CEO Jennifer Hyman said in an earnings call last month that starting in mid-June, the company "noticed an increase in subscriber pause rates and a decrease in retention along with the delay in former subscribers rejoining versus history. This, combined with seasonally lower acquisitions, resulted in ending active subscriber count that was lower than expected for the quarter."
The timing may have something to do with the rising price of necessities. The cost of a gallon of gas, for instance, was at an all-time high in June, according to AAA. And, as Gabriella Santaniello, founder at A Line Partners, told Modern Retail, after years of wearing the same pandemic wardrobe, customers may want to buy, not rent, when it comes to dressing for a special occasion, like a summer wedding. For instance, sales of women's dresses grew 42% year-over-year, from January through May 2022, according to The NPD Group. Customers may have decided to "make the investment at this point," Santaniello said.
Rent the Runway itself has acknowledged that preferences are shifting. "It is becoming clear to us that our customers live, work, socialize and travel differently in 2022 than they did prior to the pandemic," Hyman said in the call. "This influences what they wear. We are still learning how these types of changes in customer behavior impact the business, particularly in a challenging macro environment."
Rent the Runway was forced to switch gears and adapt over the course of the pandemic. Like most businesses, Rent the Runway shut all of its brick-and-mortar stores in March 2020. In August 2020, it announced its locations would stay closed permanently. In September 2020, Rent the Runway overhauled its membership plan and got rid of its unlimited rental option. It currently offers three types of plans, starting at $69 a month for two months. In its quest to make a profit, Rent the Runway also added in more casual pieces, invested in brand ambassadors and affiliate marketing and launched an at-home pickup service.
Notably, Rent the Runway honed in on resale, an area it expanded this past August via a partnership with Saks Off 5th. For a limited time in 2020, the company sold pre-worn items at select Nordstrom Rack locations. Last summer, Rent the Runway sold pre-worn clothes on its site that customers, even those who didn't have an existing subscription, could buy. In 2021, Hyman told CNBC that resale offered "another engine of growth and a fuller realization of our value proposition."
Rent the Runway is seeing its changes pay off. Its second-quarter revenue hit a record level and it had its first positive adjusted EBITDA since going public. But, the company is still plugging holes due to shifting spending patterns. Its net losses, while stronger than a year ago, totaled $33.9 million for the most recent quarter. 
The company's shares are down 90% year-on-year, but as Ehrig explained, it's not because Rent the Runway has major flaws. "It's more than investors might be seeing this as more of a fad and not a long-term enduring standalone type of entity," he said.
Indeed, more brands are exploring launching their own rental subscription boxes, rather than being part of a larger framework. Ralph Lauren has "The Lauren Look" program, which allows members to rent out four items at a time for $125 a month. Scotch & Soda offers "Scotch Collect" memberships, which allows for three items at a time for $99 a month. This week, Marks & Spencer announced it will begin renting out themed capsule wardrobes of up to seven items. The collections can be rented from five days to 30 days and start at £39 ($45) on Hirestreet.
Subscription models, "from a long-term perspective, might be better executed as part of an overall piece of a retail brand… as opposed to a standalone business," Ehrig said. "I think that the jury's still out on all of this. And just because investors aren't that excited today, it doesn't mean that they won't be later. But, I think that there's going to be a lot of learnings from this that other big brands are going to take away."