Unpacked
// October 11, 2022 ■ 8 min read
Unpacked: Why public retailers are gathering up emissions data ahead of SEC rules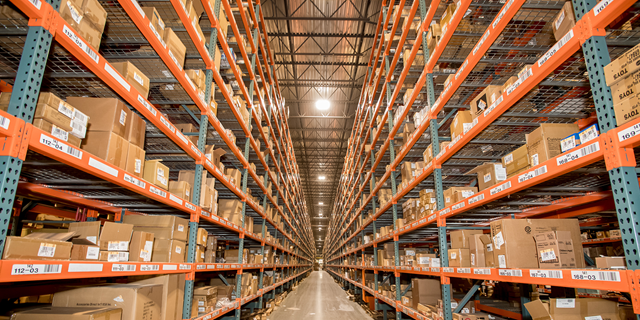 Target
Public companies are waiting to see what may happen with proposed U.S. regulations to disclose how their operations impact the environment — which could even include the mammoth task of tallying up greenhouse gas emissions from throughout the supply chain.
And while some onlookers are applauding the move for shining a light on how companies impact the environment, the rules are almost certain to draw legal action from businesses that see it as both onerous and an overreach.
The SEC in March announced a proposal that would require all public companies to provide specific climate-related disclosures in their reporting documents. The proposed rules would mark a major turning point in how environmental effects are considered alongside a company's financial value as they would require businesses to provide investors with information about a company's emissions and climate risks.
But for retailers, the proposal generates uncertainty and potential scrambling. While some companies may already carefully track the emissions generated throughout a supply chain, many others may not have even begun to quantify such data.
Frank Zambrelli, executive director of the Responsible Business Coalition at Fordham University, a collective that aims to find ways businesses can combat climate change, said many retailers may already be on track to file the reporting requirements, especially if they've been doing so to meet European standards. Meanwhile, others may be just starting to consider what needs to be done to comply.
"Of course, it creates a terrific amount of pressure," Zambrelli said. "But it's a very validating moment. When the SEC says this information is financially material, it changes the game of how we all start to measure and manage our business through the lens of environmental impact."
Public comment periods yielded hundreds of comments from business owners, lawmakers, investment interests and environmentalists, who are waiting to hear what the SEC will do next.
Here's a breakdown of the ESG disclosure proposal and where it stands.
What is the SEC proposing?
The SEC's 490-page proposal for public companies includes multiple new elements that would have to be provided in statements and reports. But a major piece is the disclosure of greenhouse gas (GHG) emissions.
Companies would report emissions based on the GHG Protocol, a voluntary framework companies can use to outline which "scope" emissions come from. Scope 1 includes direct emissions, such as what is caused by a company's facilities and vehicles. Scope 2 includes indirect emissions from electricity, heat or other utilities. And Scope 3 includes all other indirect emissions, such as transportation, waste and employee commuting.
The proposal would first require Scope 1 and 2 regulations, then phase in scope 3 over time.
The new rules also ask companies to disclose any climate-related risks and how those financially impact the company. The company also has to identify how climate-related events like severe weather could affect its business.
Additionally, in May the SEC put out another proposal that would require more environmental, social and governance rules for investment funds. These disclosure requirements will apply to investment funds, such as BlackRock and Vanguard, as well as business development companies that invest in privately-owned companies or corporations.
Why is the SEC proposing this now?
The proposal lands as ESG initiatives within companies become more mainstream, and as consumers and investors alike become wary of "greenwashing" — or companies overstating sustainability practices.
SEC Chair Gary Gensler said when announcing the proposal that investors need more information about climate risks.
"Today, investors representing literally tens of trillions of dollars support climate-related disclosures because they recognize that climate risks can pose significant financial risks to companies, and investors need reliable information about climate risks to make informed investment decisions," Gensler said.
And the SEC isn't the only regulatory agency looking to require more climate-related disclosure. The European Union released disclosure rules as part of the Corporate Sustainability Reporting Directive. And the International Sustainability Standards Board also released a proposal for a global baseline for disclosure rules.
Investment managers and asset funds, for their part, have lined up to support the SEC's proposal, pointing to a need to incorporate climate risk information into investment-making decisions.
For example, the California Public Employees' Retirement System, which manages more than $450 billion in assets, called the proposal "a giant step in the right direction" as part of a larger global movement on climate risk management.
"We believe that companies should disclose consistent, comparable, and reliable information in regulatory reports so that shareowners can more easily identify, assess, and manage climate risk and opportunity," wrote CalPERS CEO Marcie Frost.
How are retailers preparing for the proposal?
Zambrelli said companies must keep in mind that data collection comes from the entire organization. And even if the rules are final yet, companies are already starting to build systems and figure out what information needs to be recorded.
Some global retailers are already ahead of the curve by tallying up emissions based on the GHG Protocol as part of environmental impact reports, such as Nike, Apple and REI.
"In general, the larger players, the well-resourced players have been actioning internally for a few years, not knowing specifically that the SEC, regulatory push would be coming in this moment, but expecting (U.S. action) based on what was happening globally," Zambrelli said.
Moving forward, Zambrelli said the Scope 3 emissions reporting is likely to be the most challenging – especially for companies in apparel that might have multiple suppliers around the world — because it goes all the way down the supply chain. It will be incumbent upon companies to build the data collection into operating structures in order to keep the reporting going.
"It has to be incorporated throughout many of the verticals of the company, the same way, a very broad scope of the departments have budget impact and have to roll up to finance," he said.
A major hurdle for retailers will be collecting the emissions data itself. Jason Anderman is the head of legal and compliance at Certa, a vendor management software company that specializes in ESG disclosures, and he said that many companies are already scrambling to come up with emissions data.
"Think about a complex organization, especially one in the manufacturing arena that has factories," he said. "What is happening in terms of your emissions across all your different facilities? It's quite the question, especially if you have facilities globally in different countries."
Emissions data comes down to tracking all elements of how a facility operates, including the HVAC process and water systems.
In order to get the data together, a company may hire a new internal expert to handle the data collection and reporting. Or it could also hire a consulting firm to help. That might look like creating a system for a company's suppliers to input information about emissions where the data can be collected and checked.
"You're going to need that kind of advice, whether it's from a law firm, or if it is going to be from a major management consulting firm," Anderman said.
Why are some groups opposing the proposal or urging the SEC to make adjustments?
The ESG disclosures, should they be finalized, are almost certain to draw a lawsuit. Multiple interest groups have spoken out against them, citing issues from cost of compliance to a lack of SEC authority.
A cohort of 24 attorneys generals in July, led by West Virgnia's Patrick Morrisey and Arizona's Mark Brnovich, compared the proposal to the EPA's Clean Air Act that was overturned this summer by the Supreme Court. That decision, they wrote, affirms that Congress — not an administrative agency — has the power "to decide major issues of the day."
"Environmental regulation is outside the Commission's area of expertise; if anything, the Commission is even less equipped to regulate in areas concerning climate change than EPA," the letter said.
The American Chemistry Council, which represents the chemical manufacturing industry, also wrote in with concerns, including that the proposal puts climate risks in its own category above any other category of risk. And there's the cost factor, with billions of dollars to be spent on meeting the new requirements.
"​​Considering the scope and detail of the expansive new narrative and quantitative reporting requirements proposed, the SEC's estimate of only $6.4 billion in cost increases understates the financial impact on regulated companies from recordkeeping, compliance, and legal costs," the council wrote.
For its part, the National Retail Federation said while it supports climate-related reporting that "is useful for investors," the proposal may be unworkable for many companies. Not only is it too broad, the NRF wrote, but there isn't a single methodology for climate-related disclosures — which would make it difficult to make consistent comparisons between climate risks.
"We believe that a key problem is as follows: even if the proposal were to have attempted to create uniform standards for reporting, it is not clear that any such standards have received a critical mass of acceptance at this point in time," the NRF wrote.
What's the timeline for the final rulemaking?
The SEC hasn't officially said when it will publish a final rule and declined to provide additional information to Modern Retail. As written, the proposal calls for data for Scope 1 and 2 to be collected throughout 2023, Zambrelli said.
But even when it is finalized, the amount of opposition to the proposal indicates that there would likely be litigation that would put implementation on hold. Anderman from Certa said that even if the courts wind up curtailing the SEC's authority, companies may keep moving ahead toward getting more emissions data anyway as they seek to become more transparent about operations.
"A lot of people are feeling like they are at the bottom of the mountain, and they're just starting to climb it," Anderman said.
Zambrelli said that investors are interested in seeing ESG data regardless of what happens with the SEC proposal.
"We're finally at this moment where the industry is is, I think awakening, to this idea that ESG data … is rising to the level of business management with other traditional datasets, the same way I have to look at my revenue and my margins, and my inventory," he said.