Why Cotopaxi is making retail a cornerstone of its growth strategy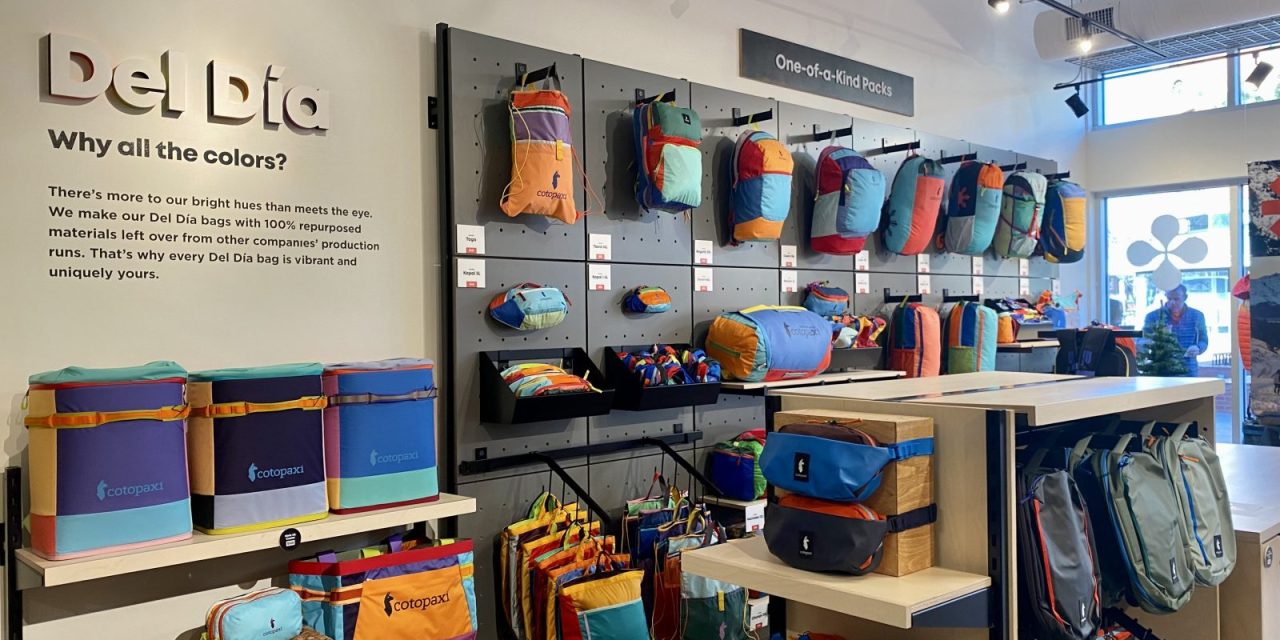 Outdoors brand Cotopaxi is growing from a niche outdoors B-corp into a nine-figure brand as it expands its retail footprint across the country. 
Founded in 2014, Cotopaxi may be best known for its colorful, patchwork-style backpacks made of recycled fabric scraps. And while it has primarily operated as a DTC business with a wholesale presence in retailers like REI, the brand is set to double its physical footprint this year from 10 to 20 amid a surge in popularity. 
Total sales hit $104 million in 2022, up from $55 million in 2021 and $29 million in 2020. 
Damien Huang joined Cotopaxi as president a year ago after helming Eddie Bauer, in addition to stints at The North Face and Patagonia. He said while the plan is to stick with a predominantly online DTC strategy, retail is Cotopaxi's fastest-growing channel. Brick-and-mortar sales accounted for 6% of all sales in 2022 and are on pace to hit 11% this year and 15% by 2024. 
"The brand really grew up as a DTC e-com brand… but it's not a brand that we want to keep in the digital sphere," Huang said. "We're hands-on, we're people-focused, we want people engaged with the store in their communities." 
While consumers are increasingly shopping online, roughly 85% of retail spending still happens in person, per Census Bureau data. In response, brands like Cotopaxi — as well as younger DTC start-ups like M.M. LaFleur and Away — are diving deep into location data and brand messaging in help the stores succeed.
So far, the investments are paying off: while Cotopaxi made $80,000 in e-commerce sales from Park City residents in 2021, a new retail location there generated $1.2 million in annual sales.
"We feel the brand really benefits from having a strong physical presence," Huang said. "The retail component becomes incredibly important for us as as we as we grow."
Data-driven location selection
Locations for Cotopaxi's shops include outdoor destinations like Bend, Oregon, and North Conway, New Hampshire. It's also testing out a warmer climate with a presence at large regional malls like The Galleria in Dallas. It ended 2022 with 10 stores, and is on track to open 10 more this year, with six to 10 new stores each year after that.
Kris Nelson, vice president of retail, said Cotopaxi started to expand its retail presence as stores reopened following Covid-19-related shutdown orders and commercial leases were affordable. 
"We knew that there was a lot of demand out there, we knew that our consumer was out there shopping brick and mortar," he said. "Those test stores kind of helped pave the way and we've since been re-upping those leases and then started to expand additional stores over the last year."
But the strategy has involved increasing the brand's own headcount and a data-driven approach. Nelson said that Cotopaxi uses Placer.ai to help inform location selections. By looking at stats like unique visitors, tourists versus locals and competitor traffic to figure out where stores could see the most foot traffic.  
"These data points are really 95% of our site selection strategy," he said.
Brandon Ball, CEO at Starch Creative, helps DTC brands establish a brick-and-mortar presence. Picking the right location is an increasingly data-driven enterprise, Ball said, with brands looking at the overall interests of shoppers in the area as well as their average retail spend.
"It's not necessarily the obvious key cities," he said. While in the past brands might have concentrated efforts on major metros like New York or San Francisco, DTC brands are cropping up in neighborhoods like Georgetown in Washington, D.C., or commercial stretches like South Congress Avenue in Austin. The trend not only aims to maximize tourist foot traffic but help a brand gain national recognition between the coasts.
Ball said inside the store, brands are served best by not jam-packing the store with merchandise, and having moments that educate the shopper to the brand. 
"You don't want to create a blanket store that fits anybody," he said. "You've got to figure out how you take all the best out of the brand you've created, and make this an ownable environment."
Cotopaxi's stores, designed by Gensler, are decorated with vivid outdoor imagery and locally-focused murals. A "Build Your Own Adventure" wall invites shoppers on a scavenger hunt that can win them a discount. Shoppers can also take home "impact pins" that are emblematic of the causes Cotopaxi supports. 
Nelson said it plans on launching heat mapping camera system to track dwell time, impressions, and engagement within the stores. It also hopes to create a tool that shows the impact of their purchase — for example, how much of a $100 backpack purchase will be directed toward Cotopaxi's impact programs, and how many yards of recycled fabric it uses. 
"Everything that we do in terms of scaling the brand is really to help propel the mission forward," Nelson said.
Part of a larger strategy
Despite the growth trajectory, Huang said the team will likely keep experimenting with the store strategy. For example, the brand is picking a local charity to give a donation to in each market where it opens, rather than pick a national organization.
"We haven't got a firm model for community engagement yet, and we still have a lots of tests. We're doing it very locally," he said.
He's also clear that the physical presence is just part of the overall growth strategy. A loyalty program is in the works, as well as an international sales play.
Huang said he believes there's room for Cotopaxi to grow within the outdoor space because many younger shoppers want to support sustainable and philanthropic companies. Cotopaxi, at nearly 10, is younger than other outdoor brands that may have more of an athletic brand presence than eco-friendly. With the tagline "Gear for Good," Cotopaxi has given away proceeds to causes around the world since its founding.
"We feel very strongly that that's the path forward in the outdoor industry," he said. "And we know at a macro level, the consumers are becoming much more conscious. You put those two things together, this kind of global movement towards conscious capitalism with what we see in our own data, the engagement we have with our customers and our dealers, and I feel very confident about the course of the business."