With a new NYC storefront, M.M. LaFleur changes its brick-and-mortar strategy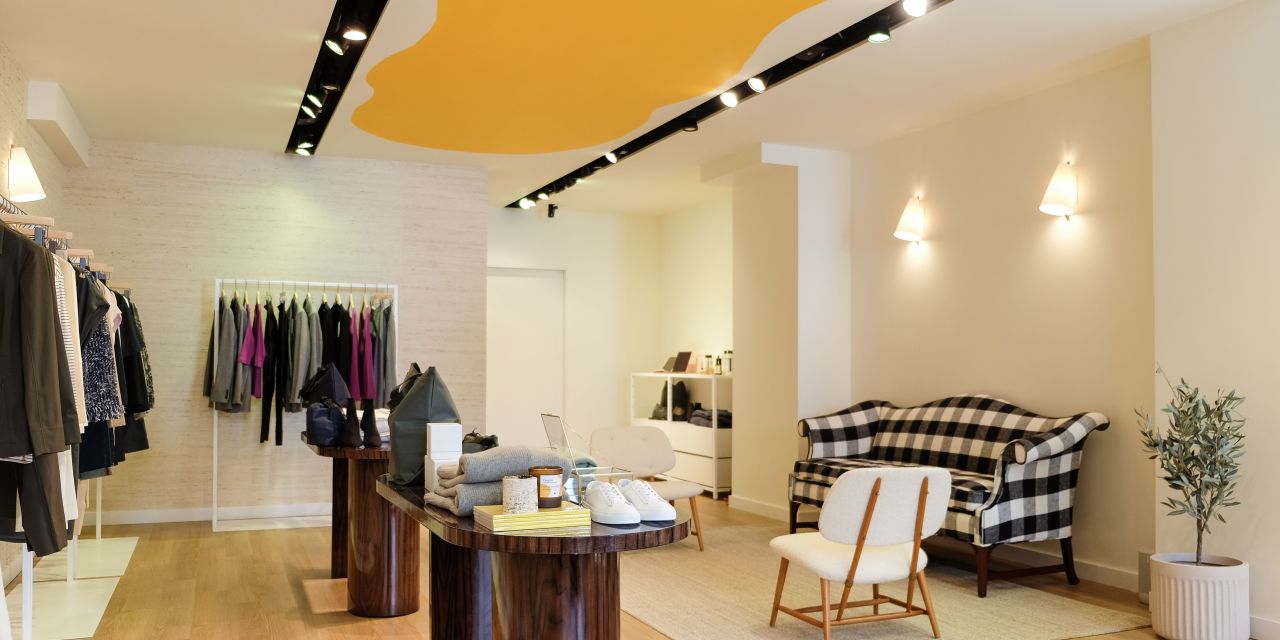 M.M. LaFleur
Upscale women's apparel company M.M. LaFleur opened a new retail operation in New York City this past weekend, marking the start of what the brand hopes will be a continued foray into brick-and-mortar and an opportunity to expand its customer base.
Founder and CEO Sarah LaFleur told Modern Retail that ultimately, she'd like to see physical retail channels be as big as e-commerce which currently make up 90% of sales for the 10-year-old brand. Another New York store is planned for 2023, along with three to four others in major metros.
Since 2016, the brand has operated showrooms in cities like New York and Washington, D.C., where customers could make appointments to get sized and styled before placing their order. And it's also held seasonal pop-ups in other major metros. But at the new ground-level storefront on retail-rich Madison Avenue in the Upper East Side, customers will now be able to buy items off the rack.
"As we really look to grow, I didn't really see a way we could grow without introducing the brand to new customers by getting them to touch it and feel it," she said.
U.S. Census Bureau figures show e-commerce accounts for 14.5% of total retail sales, meaning shoppers are still spending heavily in person. And for M.M. LaFleur, in-person shopping could be a way to woo new customers are the brand looks to climb back to pre-COVID figures — 2020 saw revenues cut in half, LaFleur said. Recovery has been slow but steady with revenues going up 30% in 2021, and another 29% so far in 2022; the goal is to be back to pre-Covid figures by the second half of this year, La Fleur said.
LaFleur said the success of the already-open showrooms, which did about $3 million in sales before the pandemic, proved that in-store could be a viable next step for the brand. But the expansion plans also reflect lessons learned from a decade in digital direct-to-consumer retail: LeFleur said the brand poured "way too much money" into digital marketing five to six years ago. Now, she sees more power in introducing the brand to customers in person.
"When I think about how I want to use my dollars and allocate those dollars, I've really decided I want to spend more of my marketing dollars in retail," she said. "I really see it as a powerful advertising channel."
The 550-square-foot store aims to be a comfortable atmosphere where a shopper can "put her feet up," LaFleur said, with plush couches and ottomans. To advertise the store opening, M.M. La Fleur held a week of activations, including a floral-patterned bus that toured the city, a dance performance from New York City Ballet's Tiler Peck, and giveaways.
Still, owning physical space new learning curve to master. While she didn't share the exact terms of the store lease, LaFleur said it took several tries before scoring a lease that could be terminated before a typical 10-year term. Having that flexibility was an important consideration, she said, especially after the uncertainty of the COVID-19 lockdown era.
"I do sense a little bit of a disconnect to what brands like us are looking for, versus what landlords are looking for," she said. 
Polly Wong, president of direct-to-consumer marketing agency Belardi Wong, said high-end apparel brands may begin to expand into physical retail because it helps with customer acquisition. Not only is it important to shoppers to try on items at a high price point, but it can help with brand credibility even to those that aren't buying in person, Wong said.
"You're seeing DTC brands, especially high-ticket fashion, especially in A-markets, especially where there may be strong real estate value, you're seeing them begin to cautiously open up a handful of stores a year," Wong said.
Another example in recent months is Frances Valentine, which plans to open its sixth and seventh store in Atlanta and Birmingham, Alabama, this year. Basics clothing brand Buck Mason planned to expand its retail presence with six more store openings this year, focusing on areas in the East Coast and the South. Other brands like Allbirds to Vuori have plans to operate more than one hundred stores within the next several years. Overall, DTC brands are also expanding into different cities and can be found clustered in upscale shopping districts like Austin's South Congress Avenue or 12 South in Nashville, with brands eyeing markets based on data about customer foot traffic.
Roland Figueredo, director of business development at King Retail Solutions, said while it doesn't make sense for every DTC brand to open a physical store, it's particularly beneficial in apparel. Stores become "an extension of the brand," he said, and might be able to offer additional experiences to engage the customer — such as on-site customization, special events or sneak peaks at seasonal collections.
"Those types of brands need to have a little more face to face interaction with the customer," he said.
The new M.M. La Fleur space will focus on selling M.M. LaFleur's "Power Casual" line, which features items like stretchy knit pants and pima cotton dresses meant to provide versatility. LaFleur said the line was a niche area for the brand prior to pandemic lockdowns. But it's since become a majority of their sales as women look for clothes they can wear all day.
Overall, LaFleur said while the brand's items may be at a high price point, shoppers who are introduced in person to the items may be won over faster than those online.
"A lot of the clothing we sell is understated. The colors are more muted. You almost don't appreciate it fully until you wear it for yourself, and then you understand why you're paying the prices we ask you to," she said. "Those things are so much more easily communicated in person than online."