Earnings
// November 26, 2021 ■ 4 min read
'Two wardrobes': Atheisure and party wear drive sales growth for apparel retailers during the third quarter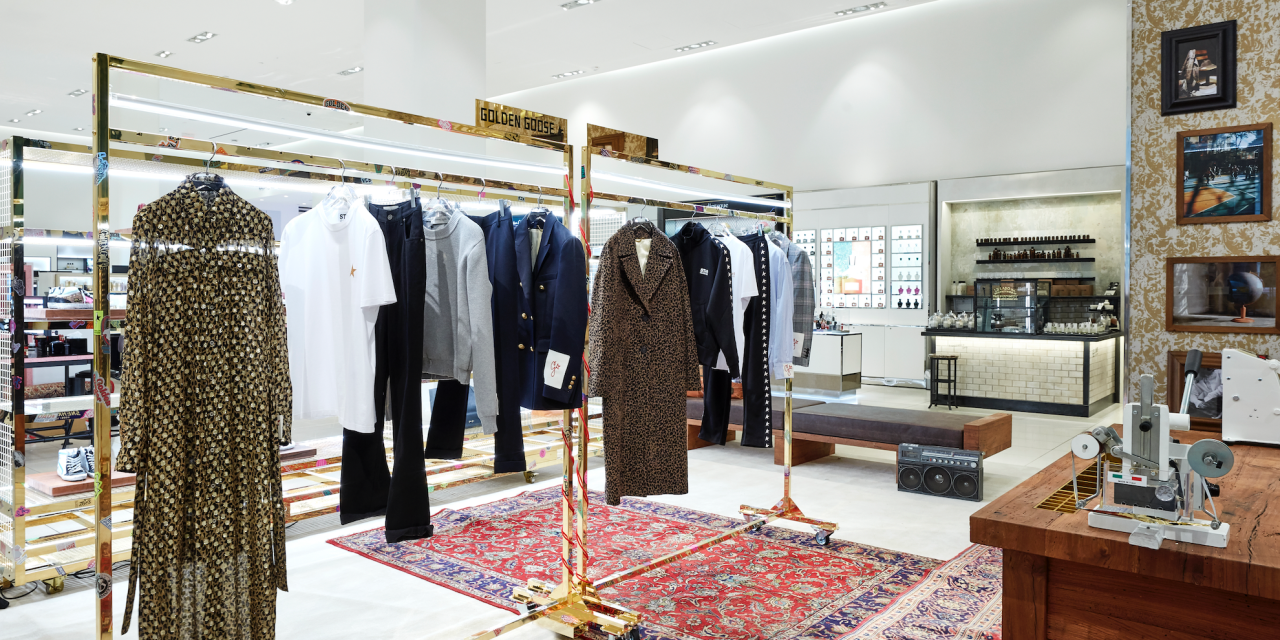 Nordstrom
After a tough two years, apparel retailers are finally starting to see signs that shoppers are ready to refresh their wardrobes.
For most apparel retailers, third-quarter 2021 sales were high. Year-over-year, revenues at Macy's, Abercrombie & Fitch, Tapestry, Kontoor, Kohl's, Boot Barn and Farfetch grew between 10% and 33% this quarter. Moreover, retailers were also surpassing 2019 pre-pandemic revenues, with executives citing a return to in-store shopping combined with continued digital sales as key to their success. Many retailers also saw sales growth in a greater variety of categories, ranging from athleisure to formalwear to childrenswear.
"Our 16% sales increase was the result of strong performance across both stores and digital," said Kohl's CEO Michelle Gass.
"We acquired approximately 1.6 million new customers across our direct channels in North America, an increase of 20% with growth in both stores and online," said Tapestry CEO Joanne Crevoiserat.
"We see spending levels higher, we see demand is higher, traffic being up 5.7% in the quarter is an encouraging sign, said Walmart U.S. CEO John Furner. "And [so is] having categories like apparel lead the business, which is discretionary."
Alongside sales success, apparel companies are beginning to find their footing amid continued supply chain issues that have hampered inventory availability as well as production and shipping costs.
Boot Barn, for example, has been investing in new technology and processes to fulfill online orders via store inventory and placing holiday orders as early as summer to meet upcoming demand. Tapestry, meanwhile is focused on managing consumer's expectations and sending messaging out to shop early for the holidays and prioritize value over discounts. Ross COO Michael Hartshorn said the company was "in good shape" on inventory. Indeed, as inventory issues delay shipments Ross CEO Barbara Rentler believes the company is in good shape to receive closeout inventory the following year as well.
To get a better sense of what subcategories are driving this sales success, Modern Retail rounded up recent earnings call comments from apparel retailers. 
A tale of two wardrobes
Casualization — or the pandemic push towards comfort — continued into the third quarter. Even so, consumers are also beginning to return to more formal styles and categories.
Alongside denim posting "record-breaking Q3 sales" at Abercrombie & Fitch, customers were also flocking to "occasion dressing," said CEO Fran Horowitz. At Anthropologie, "sales of occasion and party dresses surged toward the end of the quarter" and are continuing to drive sales in November, said Urban Outfitters COO and co-president Frank Conforti. At Nordstrom, "dresses, men's suiting, dress shirts [and] dress shoes… all showed sequential improvement during the third quarter," said president and chief brand office Pete Nordstrom.
At the same time, sales of athletic clothing, athleisure and comfortable basics are still growing. At Free People Movement, the brand's athletic offshoot, sales were up 300% year over year and the brand opened six new stand-alone Movement stores in the quarter. At Nordstrom, active category sales were up 57% compared to 2019. At Gilly Hicks, the Abercrombie & Fitch-owned brand's "Go Active" collection grew to 20% of the brand's total sales.
"We might see the consumer have two wardrobes," said Jessica Ramirez, a retail analyst at investment research firm Jane Hali & Associates. "For a long time we have seen the consumer really be comfortable… but I think that to some extent there is an excitement around getting dressed up to go out."
Children are the future
Kids' and teen apparel and shoes were also a bright spot across retailers more traditionally focused on menswear and womenswear.
At Children's Place, net sales rose 31.2% year-over-year to $558.2 million, as the company expanded into the tween market and drove continued sales success in youth apparel. At Target, where apparel comps grew low double digits, young contemporary was one of the top performers. At Kohl's, kids' apparel and toys were "doing well," according to CEO Gass.
Footwear retailers saw similar trends. At Foot Locker, children's shoes and apparel sales grew more quickly than men's and women's. Moreover, children's sales this quarter grew both year-over-year, and on a two-year-basis.
"Kids are going back outside… and it seems that retailers are betting we might have a bit of a baby boom," said Ramirez.
Shine bright like a diamond
Mastercard's retail analytics arm SpendingPulse predicts that jewelry will grow 59% year-over-year between November 1 and December 24 this year, significantly outpacing average retail growth. Indeed, as we ramp up into the holidays, jewelry brands are reporting banner sales this quarter.
In its earnings call this past quarter, Brilliant Earth announced sales rose 33% year-over-year to $95.2 million. While the brand traditionally has focused on design-your-own wedding rings, its "fine jewelry" collection of necklaces, earrings and bracelets grew "100% year-over-year for the third quarter in a row," according to CFO Jeff Kuo. At Russian diamond mining company Alarosa, third-quarter sales were the highest they've been in a decade.
Multi-category retailers are also ramping up sales in the jewelry space this quarter.
Macy's chairman and CEO Jeff Gennette said jewelry was a top performer at Macy's and fine jewelry drove "strong sales" at Bloomingdale's. Kate Spade's jewelry selection "outperformed our expectations," said Tapestry's Crevoiserat. At LVMH, watch and jewelry organic revenue was up 49% year-over-year this quarter. The company's latest acquisition, Tiffany & Co, was a particular standout.
"Jewelry has been doing very well," said Ramirez. "That's an emotional buy, as well as [driven by] people going out again."