Why more beverage brands are now foregoing DTC entirely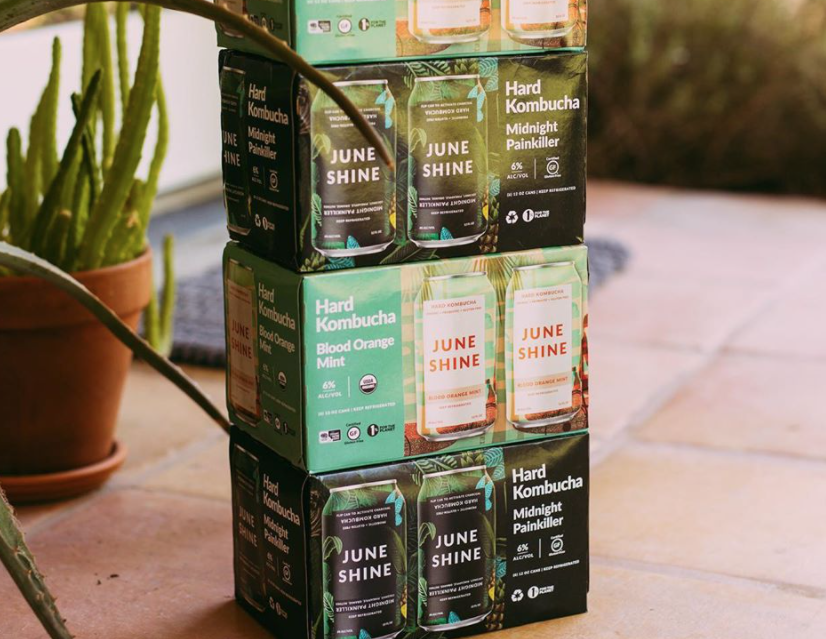 Juneshine
The DTC beverage brand is gradually dwindling. 
As more digitally-native beverages enter national retailers, executives are coming to terms with winding down their website's fulfillment.  
This week, hard kombucha brand JuneShine announced it will shutter its home delivery option. It will now direct online customers to nearby stores selling JuneShine. The brand's latest distribution move follows in the footsteps of other beverage brands, such as Swoon and Prime, which have given other channels precedence over their own websites' sales. The trend points to the challenges of operating an online beverage business, especially at a time when emerging brands are putting their limited resources into growing their physical presence.
JuneShine launched online shipping in January 2021, offering nationwide direct-to-consumer delivery for the past year and a half. Originally, JuneShine launched the DTC program to be able to sell its hard kombucha to customers all over the country, especially to those who didn't live near a store that sold it. That was also at the height of the pandemic, when many brands were launching online delivery to offer customers a way to buy their products virtually.
However, in the past year the DTC channel has become less viable as the San Diego-based company, founded in 2018, quickly expanded its canned products into more retailers across the country. 
Annie Atwell, director of marketing at JuneShine, said that post-pandemic, most of JuneShine's customers are buying its packs via same-day delivery services or at stores as opposed to ordering it from the brand's website.
"They're buying it closer to the time of consumption and as part of their weekly grocery shop, so we're investing in those channels appropriately," she said. 
Atwell also added that part of JuneShine's growth strategy will include launching the brand's new canned cocktails in new markets, alongside growing JuneShine's digital sales via third-party digital channels. "We're definitely investing more into retail chains, but overall I think the more interesting point here is that we're investing more into e-commerce channels like Instacart, Drizly, among others," she said.
While the JuneShine decision makes sense for an alcoholic canned beverage, even soft drink makers are scaling back their DTC investments. 
Zero-sugar beverage brand Swoon also began rerouting customers to its Amazon store. Co-founder Jennifer Ross previously told Modern Retail that the decision was primarily driven by the rising costs of DTC fulfillment. "Selling a beverage and shipping it is very expensive because of the weight," Ross said. "So it was hard to continue to make that [DTC] channel profitable while meeting consumer expectations and how quickly they want the product." And in turn, Swoon has focused its efforts on driving Amazon sales, which increased by 18% within three months of the FBA switch.
The decision to abandon website sales to chase retail growth has become more widespread among beverage brands in particular because shipping heavy cases of bottles and cans is an expensive and complicated process. "It's a completely unfeasible way to scale a beverage company, given the low ticket prices and high shipping costs," Selva Ventures co-founder Kiva Dickinson previously told Modern Retail.
During the pandemic, many beverage brands had to scale their DTC businesses to reach customers who weren't visiting stores. That's now less of a priority as more people have resumed their pre-pandemic shopping habits of buying groceries in person. As a result, more beverage brands are moving to scale back or shut down their DTC online sales entirely.
Some beverage brands are opting to keep their DTC sites, but to only sell exclusive products or items that are easier to ship through their own website. Logan Paul-founded beverage brand Prime — which launched online through its website last January — now sells its drinks through several retailers, including Walmart and GNC. However, the company currently only has its powdered mixes available for sale on its website.
Liquid Death, meanwhile primarily uses its website to sell its branded merchandise, while directing customers to Amazon to buy cases of its still or sparkling water.
As other DTC-first brands like Ugly Drinks have shuttered, some brands have been steadfast in foregoing DTC altogether. Soda brand Poppi is one such brand; it decided to launch in 2020 without a DTC website. Co-founder Allison Ellsworth said that while launching DTC-first has become an expected part of the CPG playbook, seeing other beverage brands struggle to run the channel profitably drove her team's decision to forego website sales. 
Instead, the company focused on its Amazon storefront for online fulfillment, which today accounts for the majority of Poppi's total revenue. 
CPG consultant Nate Rosen said that he expects more brands deprioritizing DTC. "I think it's that more brands are focusing on retail and wholesale," Rosen said, with more alcohol brands targeting liquor stores and other beverage startups clamoring to get into mass retail. 
Indeed, the trend is likely to continue as these brands compete for retail distribution — where customers are already shopping for beverages. "It seems to be a widespread pattern among similar businesses," Atwell said of the trend to shutter DTC operations.