Why over-the-counter medicine is poised to be the next hot CPG category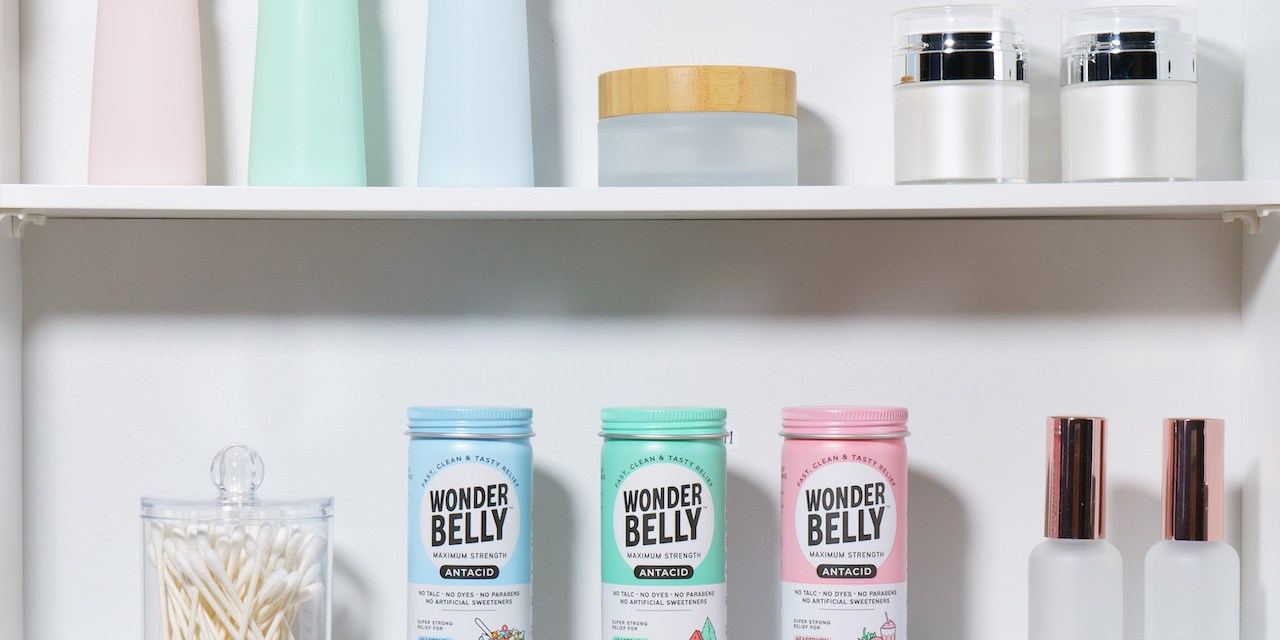 Wonderbelly
Over-the-counter (OTC) medicine is getting the VC-backed startup branding treatment. 
Over the past few years, categories like beauty, food and personal care and household have seen an overhaul from direct-to-consumer brands like Harry's and Quip. These days, clean-label, sustainably-packaged over-the-counter medicine startups are attracting investors and helping big box retailers and drugstore chains reinvent their OTC aisles. The interest in the category has especially been boosted by a similar wave in the vitamins and supplements segment, which led to some high profile acquisitions in the past few years; examples include Bayer buying a majority stake in DTC supplement brand Care/of and Nestlé acquiring vitamin subscription startup Persona.
Both VCs and larger retailers are turning their attention to smaller players. Brands like Wonderbelly, Cabinet Health and the kids-geared KinderFarms, among others, have made big moves — and raised millions of dollars — over the last few months. This week, for example, new entrant Wonderbelly, a digestive health medicine startup that launched in November, is entering Target this week. Cabinet Health is ready for a similar expansion following a $17 million funding round, which closed in late 2022. Meanwhile, KinderFarms launched two years ago by holding company Venice Brands, whose consumer brands include Joolies medjool dates and men's skincare Only Skin.
Big-box retailers take notice
Wonderbelly's line of chewable antacid tablets will roll out to over 650 Target locations and on Target.com on March 27, marking the company's first major retail partnership. The brand doesn't sell through a DTC channel, but has an Amazon store for online sales. Wonderbelly products will sit in Target's OTC aisle, next to legacy antacids like Alka-Seltzer and Tums. 
According to the company, its digestive health medicine contains no unnecessary additives and no plastic packaging. Wonderbelly uses the same active ingredients found in national products like Tums, including calcium carbonate, but says its version formulated without talc, dyes and artificial sweeteners.
The brand's origins were inspired by co-founder Lucas Kraft's struggles with gastric issues from a young age. He and his brother Noah Kraft, Wonderbelly's CEO, were further motivated to build the company when antacid maker Zantac was recalled in 2020, due to claims that it contains an alleged cancer-causing compound. "I had an entire shelf dedicated to Zantac, so that pushed me even more into looking at big brand labels," co-founder Lucas Kraft said. 
Now, the company has its first chance to sit alongside the big players. Ahead of the Target launch, Wonderbelly redesigned packaging from minimalist all-white tins to colored versions that reflect flavors like strawberry milkshake, watermelon mint, and the new, Target-exclusive fruity cereal flavor.
"Historically, medicine packaging has been sterile, so we wanted to liven it up and add humor," Lucas Kraft said. "[Target has] given us side caps and end caps to get creative with merchandising." 
The company's goal is to have 90% brick-and-mortar retail distribution, supplemented by Amazon for the online business. The company has plans to eventually add adjacent products, like laxatives and gas relief. 
Investor interest
Despite the longer timeline for return investments, OTC remains a hot category among venture capitalists, even as they pull back from other product categories.  
"CPG investors are catching up to the category now that they see it as a big opportunity," Noah said. Last summer, Wonderbelly raised a $3.375 million seed round to support its launch, which included participation from Casper's Luke Sherwin, the founders of Magic Spoon and Justin Gold of nut butter company Justin's. Once Wonderbelly inked the Target deal, Noah Kraft said one of the first things the founders did was get more cash from investors to fund the needed inventory. 
Mike Duda, managing partner at Bullish, an early investor in supplements brand Care/of, said that for years, obvious CPG categories like beauty and personal care were being disrupted by digitally-native brands. "But now there is a shift to more sleepy categories that are filled with old-school brands," Duda explained. This includes over-the-counter medications that most Americans pick up at their local drugstore chains. 
"On top of that, the retailers got smart about new brands creating excitement in this aisle, because it also means they're not at the mercy of the dominant players," he said. Duda added that there is a similar wave of VC interest in other FDA-regulated categories, like infant formula. Target is the leader in bringing these new brands into the fold, Duda. However, pharmacy chain CVS has also become prominent for its startup partnerships, as it positions itself as a modern health destination. 
Startups try to scale
Cabinet Health, an online over-the-counter and prescription medication startup that launched in 2020, is also trying to grow amid this category's boom. The company sells OTC mainstays like cold and flu, allergy relief and pain relief medicine packs. 
Cabinet Health raised $17 million in December, followed by its founders appearing on "Shark Tank" in January. That boost resulted in an increase of brand awareness; Cabinet Health is currently selling two limited-edition "Shark Tank" bundles of discounted assortments of its best-selling medications. 
In 2022, Cabinet Health launched on Grove Collaborative, its first national distribution partner, and will be using the new funding to further grow its retail presence along with the prescription business. The products were previously only available for purchase on the company's direct-to-consumer website. 
Russell Gong, Cabinet Health co-founder and president, said it's been somewhat of a bumpy road trying to build a sustainably-packaged medication brand."The process to create our patented compostable medicine pouches took about four years, to go from ideation," Gong said. The R&D included sourcing and testing different variations for each Cabinet, requiring a major upfront investment. Gong declined to name Cabinet's upcoming retail partnerships, but said "we're excited to say that Cabinet will be available to purchase through physical retail stores starting this year."
Over-the-counter pain relief, in particular, has become a big area of opportunity for young companies trying to modernize the formulations and branding. Even subcategories like kids' medications are seeing disruption from startups.
KinderFarms, a children's OTC company, was co-founded by actress Jessica Biel in 2021. The company began with selling medical-grade oral electrolyte and plant-based protein shakes. Last fall, KinderFarms launched KinderMed, a line of children's pain relief medications created without artificial sweeteners, flavors or colors. In its first year, KinderMed entered 19,000 stores nationwide, including major retailers like Walmart, CVS and Walgreens.
As they enter mainstream retail, the value propositions presented by this new class of OTC companies will be tested. "It's still unclear whether the clean ingredients and sustainability aspects are a big deal to the consumer buying into these brands," Duda said. For example, The Honest Company coming under fire in 2015 for selling eco-friendly sunscreen that left customers sunburnt. 
Still, interest fueling OTC companies is expected to continue. "We're currently open to OTC pitches, but we will scrutinize them before investing," Duda said. "I think we'll see more OTC brands popping up, especially in long-ignored areas like women's health." 
For Cabinet Health's Gong, he hopes medication can follow the disruption that's occurred in beauty, fashion and food. Until recently, he said, "it felt as though the healthcare industry was not even starting to have these conversations."