What Care/of got right leading up to its acquisition by Bayer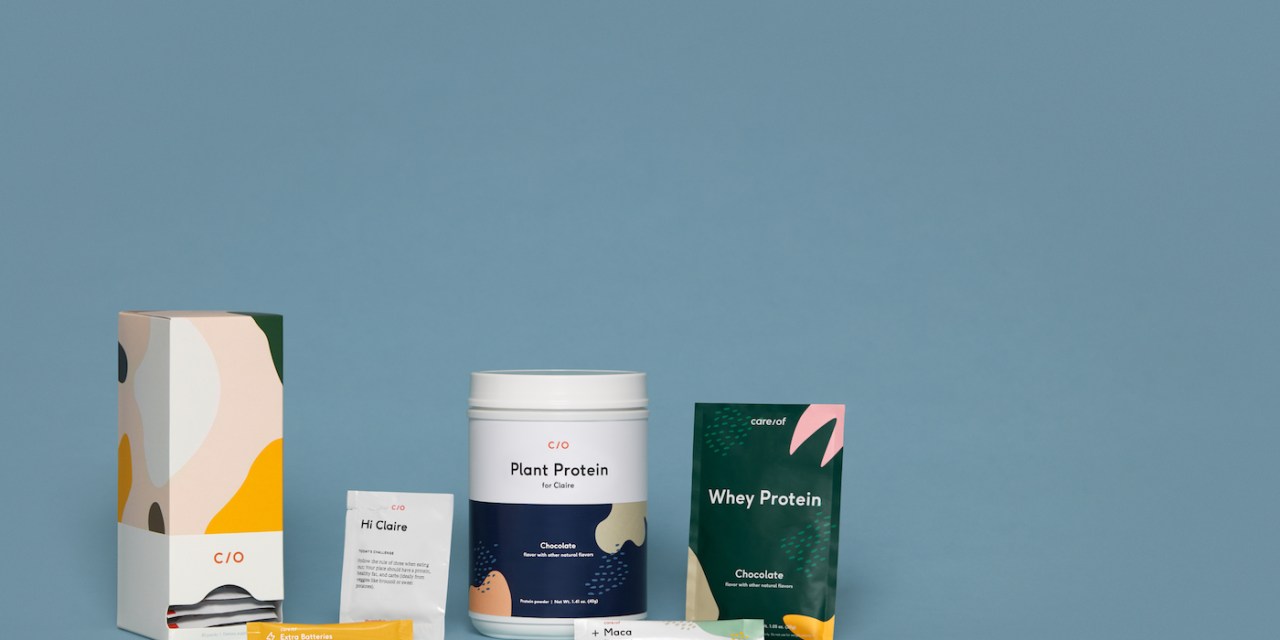 The direct-to-consumer health space has quickly become a hot area for investment, particularly as wellness is top-of-mind for people thanks to the coronavirus pandemic.
On Monday, Bloomberg reported that German pharmaceutical company Bayer is acquiring a majority stake in vitamin and supplement startup Care/of. "Together we plan to grow the Care/of business across new channels, new categories and new markets to deliver even more personalized nutrition," a Bayer spokeswoman said in a statement. Bloomberg, citing a source familiar with the matter, reported Bayer took a 70% stake in Care/of, which valued the startup at $225 million. Bayer said it would not disclose the terms of the deal until it closes, which is expected to happen in the fourth quarter.
Health and wellness is a popular space for investment because, increasingly, that's where people are spending their money. But even DTC startups that don't operate in the health and wellness space can take a page or two from Care/of's playbook. By acquiring Care/of, Bayer won't just get access to a new revenue stream, but also unique data on consumer behavior that Bayer couldn't acquire through its existing products or marketing efforts. This is what other startups can learn from what Care/of did right.
Increased interest during the coronavirus pandemic
The Care/of acquisition comes on a the heels of a spate of other successful exits and fundraises in the consumer health space. GoodRX, which helps people find deals on prescriptions, filed to go public last week and revealed that it has been profitable since 2016. Telehealth startup Thirty Madison recently announced it had raised $47 million in funding from investors including Johnson & Johnson's innovation arm, while competitors Ro and Hims are now valued at more than $1 billion each.
Funding to wellness startups is actually down 24%, to $4.6 billion in the first half of 2020, compared to $6.1 billion in the first half of 2019, according to CB Insights. But, analysts expect that investments in both health care and wellness startups will increase because of the coronavirus.
"We expect to see supplements to still gain traction just because overall I think more people are taking and inside out approach to wellness. They are seeing wellness as a reflection of overall health, and are wanting to get to root issues and tackling them with supplements," said Kenya Watson, intelligence analyst at CB Insights.
A brick-and-mortar opportunity
Many brick-and-mortar retailers are struggling right now, but particularly so in the vitamin and nutritional space. Two of the former market leaders, GNC and the Vitamin Shoppe, were hurt by opening too many stores too quickly.
GNC, which previously had 8,800 stores in the U.S., filed for bankruptcy in June. and said it would close roughly 800 of its remaining 1,200 stores. The Vitamin Shoppe, which went public in 2009 at a roughly $470 million valuation, was resold and taken private last year at valuation of $208 million. The last time the Vitamin Shoppe reported earnings during the third quarter of 2019, the company reported that sales were $253 million, down $8.5% year-over-year. 
While GNC and Vitamin Shoppe have been on the decline, there's no one clear winner that's taken over a significant portion of their market share. "Vitamins is one of those unique spaces where private label plays a big role," said Brian Owens, vice president of retail insights for Kantar Consulting. Owens also cited Nature's Bounty and Bayer's one-a-day multivitamin line as other big players in the space. In addition to Care/of, another startup that has found success in the vitamin and supplements space is Olly, which was acquired by Unilever in 2019 for an undisclosed amount.
And given that there's no one clear market leader in vitamins, that means that there's also a lot of retailers who Care/of could strike up a partnership with, who don't already have significant deals with competing companies.
Owens think that Care/of could be attractive as a shop-in-shop insider brick-and-mortar retailers looking to cater to a younger demographic, like Target or even Whole Foods. Given that it's a subscription service, Care/of could bring more repeat traffic to brick-and-mortar retailers, if these customers visit stores to replenish their subscriptions.
"Think of Smile Direct Club as an example with CVS, of how a subscription service like dental goes into stores," said Owens.
Unique data collection
Direct-to-consumer brands have long tried to sell investors on the idea that their business are valuable because they have more data on their customers than traditional brick-and-mortar retailers. When retailers were still primarily selling offline, DTC startups' ability to collect emails and addresses for every customer put them at a huge advantage. But now, as many brick-and-mortar retailers have become better at e-commerce, some of the data that DTC startups are able to collect is no longer unique to just them.
Because Care/of asks users to take a quiz before signing up for its subscription service, it's still able to get access to valuable data like customer behavior that incumbents still aren't able to get access to easily. Care/of asks new users for demographic information, like their age and gender, as well as for information on their lifestyle habits, like how often they typically take vitamins, and what health issues they are looking to mitigate with the help of supplements, like trouble sleeping or anxiety. Care/of then uses that information to recommend which vitamins and supplements users take.
"Across the supplements level, we are just seeing this greater level of personalization with new technology, said Watson.
Care/of CEO Craig Elbert told Glossy in February that since Care/of's launch in 2016, 5 million people have taken its core quiz. Care/of has also created new quizzes for subsequent product launches, like beauty ingestibles. Care/Of has also developed an app that users can download to record when they've taken their vitamins, receive messages of encouragement, and read articles on wellness and nutrition.
"This gives [Bayer] access to a lot more information about behavior, and from someone who is very loyal," said Owens. "It's a lot of data that you might not get from a survey."