'A bigger audience than ever': Power sellers are making six figures off of resale apps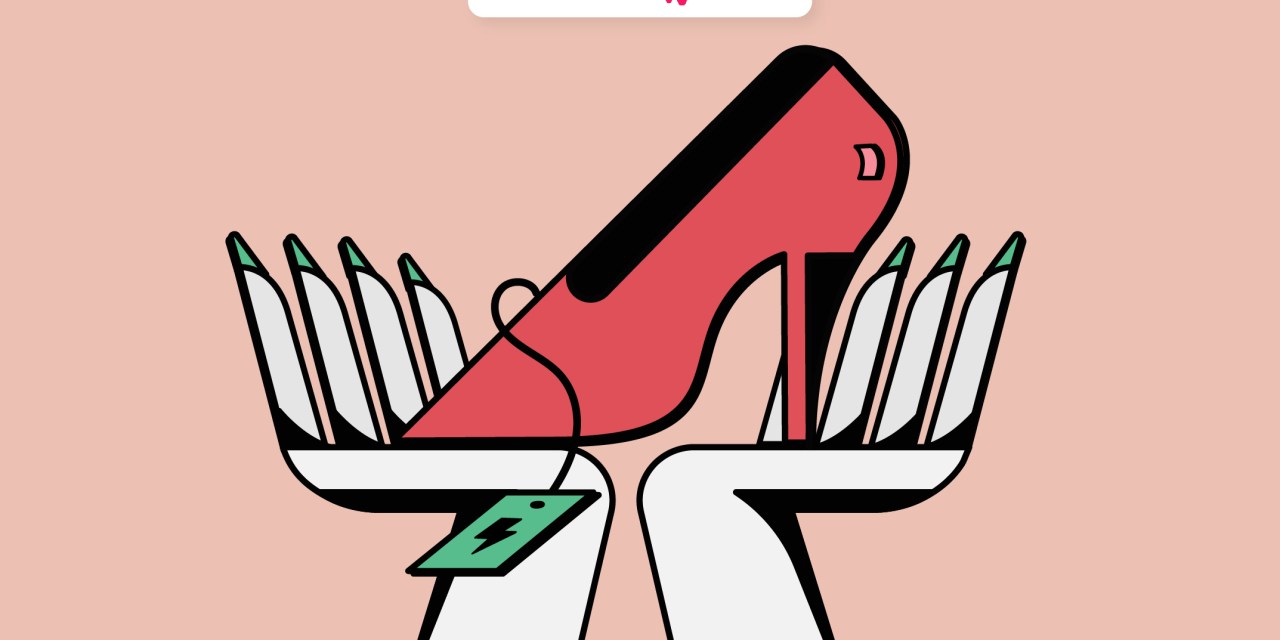 Theresa Cox has been an eBay seller since the mid-'90s. "My license plate is 'eBay Girl,'" said Cox. But today, Cox is no longer exclusively selling on eBay — she now generates over $200,000 in sales annually across seven resale platforms.  
In the past few years, Cox began selling on newer resale apps, such as Mercari, Poshmark and Depop. "There is a bigger audience than ever for secondhand goods," she said. Indeed, she's part of a growing sub-universe of resale power sellers — people who began small, selling individual items from their homes, and have since grown six-figure businesses on multiple online marketplaces.
A slew of startup resale apps have popped up in the past few years to capture a slice of the growing secondhand market. These include San Francisco-based Poshmark, which launched in 2011 as a peer-to-peer resale site and went public in January. During the second quarter of 2021, Poshmark reached 7 million users, a 16% year-over-year jump. Meanwhile, ThredUp was founded in 2009 and went public this past March; the company saw record quarterly earnings in August — with 27% year-over-year revenue growth. Another growing newcomer is Japan-based Mercari, which launched in 2013 and went public in 2018; as of September, Mercari's mobile app reached 20 million users globally.
The rising popularity of resale means that power resellers — defined as those who sell regularly across multiple sites — are now able to make a living off of running storefronts full time. With this, a cottage industry has formed — and competition has become intense. Resale sites have begun to put more emphasis on building features that keep sellers listing merchandise on their respective platforms, rather than defecting to one of their many competitors. Meanwhile, other businesses have popped up to cater to these power resellers' day-to-day operations.
The rise of full-time resale seller
At the beginning, Cox was sourcing her merchandise from her own home and local thrift stores. Since then, she's added other sources, such as other sellers or wholesale liquidators. "The biggest bulk of my business comes from what we call retail arbitrage," Cox said.
According to Cox, she has a different strategy for each resale site. EBay, she said, remains her biggest storefront, and is still "the model for the seller community." This is because from early on, eBay has hosted seller events and offered community message boards for sellers to exchange advice, Cox said. Earlier this year, eBay unveiled new seller tools building out listing tools for vintage and collectable items.
Cox consistently has 5,500 eBay listings, some of which she cross-lists to Amazon and more niche platforms — like Poshmark, Mercari and Etsy. "I list some sneakers and vintage T-Shirts on Depop and Grailed because that's what that audience is interested in," Cox said. This is mostly dictated by trending items and the related merchandise she has in stock. Cox also "dabbles" in Tradesy when she has luxury items on hand. 
She also relies on staggering listings. For instance, Cox lists an item on Amazon for three months, then moves it to other apps if it doesn't sell within that time period. This type of cross-posting is key to constantly moving merchandise, said Cox. "On average, I make $2,200 more sales per month by cross-posting listings." 
Like Cox, Victoria Eagan began selling used items on eBay in 1998. But in the past four years, she has added several other storefronts on platforms such as Mercari, Poshmark and Etsy. Across all platforms, Eagan generates over $150,000 in annual revenue. Today, the operation is primarily run by Eagan, but she also has a part-time employee helping with product listings and photography. 
Eagan, who organizes conferences for experienced volume sellers, said there is a big learning curve in running a full-time operation. Not only does it require attention to details, but also a knack for customer service. (Eagan also runs a Facebook group and YouTube channel where she shares advice and connects with other sellers, she said.) "A lot of new sellers don't understand the fees and commission cuts associated with different sites," she said. "You have to learn to increase profit margins across your entire business, not just per item." 
Tijana Milenkovic, who only sells on Poshmark and focuses on vintage fashion and apparel listings, began using the app in 2014 to downsize her wardrobe. Since attending her first PoshFest in 2016, she has grown her storefront to be a full-time job. 
Milenkovic said doesn't consider herself a traditional volume seller, per se. "I focus on selling unique, one-off pieces as opposed to large quantities of an item," she explained. Milenkovic has between 250 and 350 items for sale at any given time, which she mostly sources through thrifting. "Ideally, I try to sell between 60 to 80 items a week," she said. While she operates the store day-to-day, Milenkovic outsources some tasks, such as photography.
Resellers have different strategies and priorities depending upon how many platforms they use. Cox said that not all resale platforms lend themselves as easily to volume sales, "and every seller has to figure out what works for them," she said.
For example, the types of photos buyers gravitate toward may vary depending on the platform.  "I've found that the Depop audience likes to see clothing on a person while Poshmark leans toward mannequin displays," Eagan explained. Even the pricing might be different on different platforms, depending on its fee structure and customer base's spending patterns, she said.
Because she's exclusively a Poshmark seller, Milenkovic said she pays close attention to staying on top of new Poshmark features as they're released. "I like to focus on tried-and-true features, like sending discounts to listing likers and offering weekly bundle discounts," she said. This year she began using Poshmark's new video-sharing tool to model her listings. "I think of it as a way to incorporate social selling into my business." 
Milenkovic also tries to consistently post Poshmark Stories, a TikTok-like video feature that debuted in April 2020, to help surface items for her followers. "I'm excited for the new My Shoppers feature, which will give us more buyer and closet insights." 
Additionally, buyers also keep a keen eye on what's popular outside of their resale app of choice. "It's important to stay on top of trends, not just in fashion but also with what's happening on different resale platforms," Eagan said.
How businesses are courting sellers
These marketplaces are taking notice of these power sellers. Their growing presence has some resale platforms tweaking features to cater to these sellers' needs. With that, there is also an emerging cottage industry dedicated to large-volume sellers, which includes digital agencies and vendors.
Tracy Sun, Poshmark co-founder and senior vp of seller experience, told Modern Retail that "we [Poshmark] want to become the number one destination for sellers around the world." In order to achieve this goal, Poshmark continuously adds new services for sellers. 
Earlier this year, Poshmark launched its Heart & Hustle Community Fund, which awards more than 100 sellers quarterly with a grant to grow their business. In early October, Poshmark debuted new tools, such as My Shoppers, at its annual sellers conference PoshFest. The tool helps sellers suggest relevant products to personalizing style recommendations. The company also announced Bulk Listing Actions, which allows sellers to share multiple listings twice as fast, cutting the average time spent editing prices by 91%, Sun said. 
Still, not every seller takes advantage of the growing suite of social tools. "A lot of tools are made by engineers who don't always get what sellers need," said Cox. "I feel like there is a lot of glitz and glam around social tools, but personally I don't have time to post and re-share all day."  
Similarly, Eagan said "you only have so many hours in the day, so I have to focus on the platforms that work best for me." For Eagan's inventory, which primarily consists of vintage fashion, Ebay is still her best-selling platform followed by Poshmark and Mercari, she said. 
With the growth of resale also comes a burgeoning industry dedicated to power resellers, similar to Amazon's community of third-party sellers. 
There's List Perfectly, a platform that allows sellers to automate item listings across multiple resale sites. As former eBay sellers themselves, co-founders Amanda Morse and Clara Albornoz were inspired to start the company after finding it challenging to keep listings up to date. "I was spending all day making changes across different websites, which wasn't sustainable," Albornoz said.
Some of List Perfectly's tools include language autofill listing description and taking down a listing that's been sold on a different platform.  
List Perfectly's first integrations were with Mercari, Poshmark, eBay and Etsy. Today, the service allows for listings across 12 platforms, including Shopify stores and social feeds like Facebook and Instagram. Today, the service has 30,000 sign-ups and 12,000 active users, including sellers with multiple accounts for separate storefronts. 
The growing resale wars
Despite the growing popularity of resale, many of the popular platforms are still working on becoming profitable. Poshmark, which first turned a profit in mid-2020, recorded a $2.9 million loss during its most recent quarter. In the second quarter of 2021, ThredUp's net losses totaled $14.4 million, or 24% of its revenue, compared to $6.7 million during the same period last year.
In order to turn a consistent profit, these apps are looking for ways to get sellers to list more inventory on the platform — and thus drive more sales. Some apps, like luxury resale platform Tradesy, are building out tools to help users sell items faster and more efficiently. As founder and CEO Tracy DiNunzio told Modern Retail earlier this year, investing in features — like designer authentication and smart pricing guidance — gets sellers to list more often. "We have everyone from casual sellers to power listers, and everything in between," DiNunzio said. Educating sellers about the pricing has been the biggest key to the platform's success, she explained. "The items that sell the fastest are typically 16% less expensive than items sold on other platforms."
Another tactic some resale platforms have settled on is partnering with retail companies — who have access to far more inventory than the average power reseller — to get more clothes on their apps and hopefully, get more people buying.
ThredUp, for example, has been focusing less on peer-to-peer sales and more on retail partnerships. In the past few years, ThredUp has offered what it calls resale-as-a-service (RaaS) technology to brands like Reebok, Adidas and Madewell. The platform is betting that this B-to-B white label service can grow revenue in the long run, rather than only focusing on individual sellers. According to a new Wells Fargo report, ThredUp has increased its retail clients by 30% in the past year; revenue from this portion of ThredUp's business is projected to hit $300 million by 2025, $2 million this year.
Other resale platforms are also starting to take a look at this approach. This month, Poshmark announced a new brand boutique program, which allows brands — starting with Free People and Lucky Brand — to operate their own storefronts on the platform. 
The move is meant to create a wider assortment across the platform to help it become "a one-stop-shop," said a Poshmark spokesperson. With this, Poshmark is being designed to eventually evolve into a marketplace "for all sellers," the spokesperson said. By expanding the inventory available on Poshmark hopes it will attract a bigger audience — who in turn will drive more sales to all sellers.
For sellers, the big brand partnerships aren't a threat to their peer-to-peer sales. Rather, the power resellers think that in general, the growing popularity of resale means the industry will continue to take market share away from traditional retailers.
"There is plenty of business out there for everybody, and the sellers who pivot with trends will end up doing best," said Eagan.
Similarly, Cox said the more resale the better. "I'm not afraid of competition," said Cox. "There is enough pie to go around."