Q&A
// June 29, 2021 ■ 4 min read
'A place to express your brand': Shopify's Vanessa Lee on adding more customization tools for merchants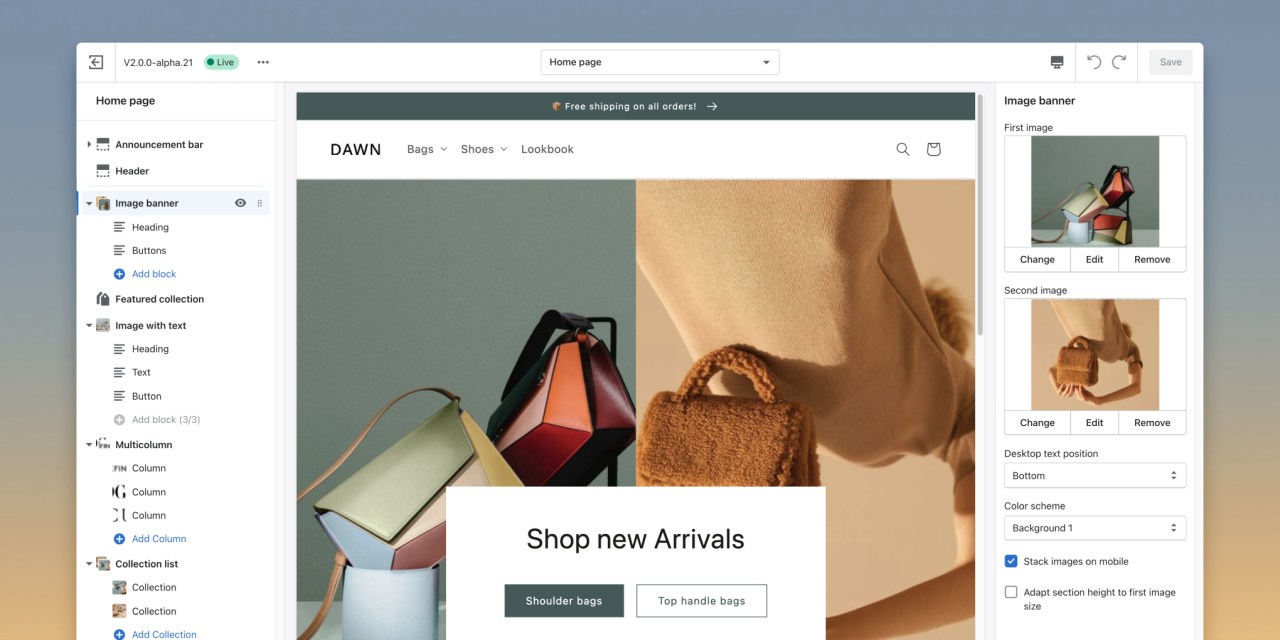 Image via Shopify
After a year of record e-commerce sales, Shopify is trying to get more e-commerce brands to stick with its platform by offering more customization and flexibility. On Tuesday, Shopify held its annual developer conference, Unite, where it unveiled its overhauled merchant platform — dubbed Online Store 2.0.
In the past, Shopify faced criticism over its platform's lacking customization options. For example, for years Shopify's merchants were very limited in terms of how they could customize the checkout process, and didn't offer native support to set up subscriptions within checkout. Now, with its Selling Plans tool, part of the platform's updated Checkout Extensions, Shopify will enable merchants to set up subscriptions and pre-orders. Also featured in Online Store 2.0 is Metafields, which will let sellers add more product details to product listings; custom content will allow them to store the content in Shopify's content management platform.
Put together, all of these updates are designed to help Shopify pitch itself to merchants as a more flexible and customizable platform.
Many of Shopify's template language updates build on existing tools, but offer more of these customization and third-party app integrations, according to the company's announcement. Shopify's director of product for storefronts, Vanessa Lee, spoke to Modern Retail about the overhauled platforms, including the tools merchants and brands can expect from the new Online Store 2.0. This interview has been edited for length and clarity.
Online Store 2.0 arrives following a major year for your e-commerce retail clients. What kind of merchant-focused updates have you made?
The pandemic has pushed us at Shopify to accelerate the support for merchants' storefront capabilities. And a lot of these features have been there all along, but it's taken Covid to crystalize them and build on them. You'll see that in the Online Store 2.0 updates, a lot of them have to do with how a brand appears to its customers. There are innovations across check-out and customizable storefronts. I would say, the big theme of Unite this year is the empowerment of developers to make the online shopping experience more creative than ever.
Tell us about some of the biggest storefront updates.
Our new theme store's overhaul is a nod to the big platform change. As a merchant, you can expect to see more theme variety later this summer. International pricing and contextual pricing is another interesting addition. It's not necessarily new for us, but we are bringing it to the storefront API. I think one of the most underrated new features is Metafields and Custom Content. Metafields will extend [to] any object within the store. For example, a winter jacket seller can now store and showcase filters like the garment's temperature or warmth rating. We'll continue building on this feature for the foreseeable future.
What updates have you made to localization tools?
We began adding these features, such as buy online, pickup in store, at the beginning of Covid. These have been especially useful for brands with physical presence, or local brick and mortar businesses. Now, we're looking to launch tools that can be useful for every type of merchant on the platform, such as the aforementioned Metafields and content. 
Many of the overhauled API features are going to be especially useful for developers. But even smaller merchants, who may not have access to developers or an agency, can expect to be able to use the online storefront and underlying data a lot more efficiently. They'll be increasingly able to customize their store quickly, and with no code.
How will Checkout Extensions impact merchants and customers' checkout experience?
Over the years, checkout has been focused to be as fast as possible while handling large loads. The new Checkout Extensions will be a place to express your brand. Whether it be post-purchase upsell or cart add-ons, or age verification, for example. We've opened up deliberate touch points for developers to plug-in any of these features.
One company that's utilizing these updates is Netflix, who you granted early Online Store 2.0 access to, correct?
Netflix is a really interesting use case of how they want to apply Online Store 2.0. Because they want their shop to reflect each title's own rich branding. For example, they'll have their Bridgerton show's shop, or the Lupin shop, etc.
When we were talking to them earlier in the process, they wanted to leverage the features to create a bespoke, storytelling experience to allow each series' page to feel very different. They want to lend texture to these product pages without code — because they have so many different teams, including marketers and developers, to configure it. And all of the tools used will be available to all merchants on our platform.