Academy Sports + Outdoors bets on store expansions for growth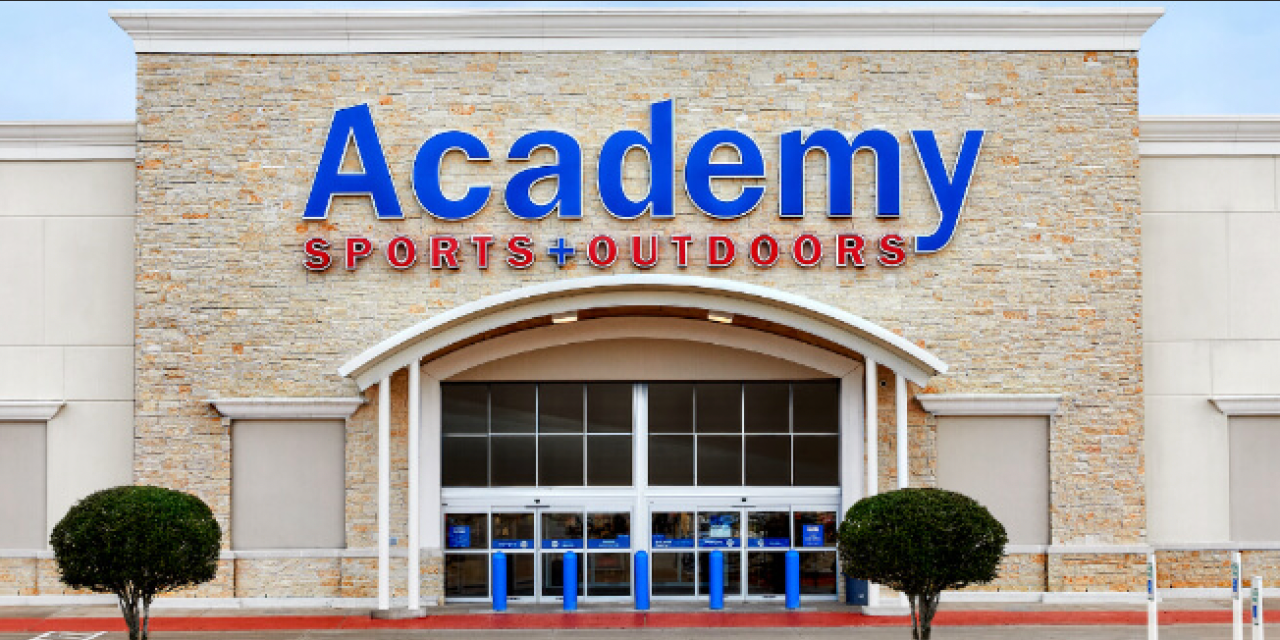 Academy Sports + Outdoors
Sporting goods chain Academy Sports + Outdoors is betting on its new stores to drive long-term growth for the company.
After two years of not opening new stores, the company is expanding its physical presence, with plans to open at least eight new stores this year. Academy said it plans to open 80 to 100 stores over the next five years. Currently, the company, which was originally founded as a tire shop in 1938, has 260 stores in 16 states. 
Despite tough comparisons from the previous year, partially due to the lack of stimulus payments, executives expressed optimism for the Academy's growth strategy. Net sales in the first quarter were down 7.1% year-over-year to $1.47 billion compared to $1.58 billion in 2021, and comp sales declined 7.5%. Experts said that although executives were upbeat, opening stores in an operating environment plagued with supply chain challenges and labor shortages comes with risks.
"Customers are drawn to our broad assortment of top national brands and high-quality private labels and an everyday great value," CEO Ken C. Hicks, said during the call. "We have an exceptional model with the highest store productivity in our peer group, making new stores our best investment for a high return on invested capital." 
The new stores will allow Academy to enter new markets and expand its presence in existing ones, executives said. For example, the company plans to open its first stores in Virginia and West Virginia later this year. The new stores will offer buy online pickup in-store and curbside pickup as well as in-store services like the free assembly of grills and bikes. 
Last year, the company was a beneficiary of increased demand for recreational and outdoor activities. In the first quarter of 2021, the company's net sales increased 39.1% from the previous years. That quarter Academy also recorded the highest quarterly gross profit in its history, with a gross margin increase of 89.2% to $563.7 million.
Academy's footprint expansion signals the untapped potential the company sees in different markets, said Charles Lewis Sizemore, chief investment officer of Sizemore Capital. 
"In a lot of the country, you know, there may not be a dedicated sporting goods store," he said. "There's definitely sporting goods for sale, but there may not be this specialized retailer. And so there's a lot of room for growth there and they're just they're seizing that opportunity."
In April, Academy opened its first new store since 2019 located in Conyers, Georgia. It features the company's new store format, which includes elevated category sidelines, a more efficient checkout and more localized inventory. 
Ethan Chernofsky, vp of marketing at Placer.ai, said that the pandemic was a "stress test" for the strength of brick-and-mortar locations. While the pandemic in its early days brought a lot of uncertainty for the future of physical stores, its benefits eventually proved fruitful, especially from an omnichannel perspective, he said.
"Stores are an increasingly important part of the retail mix," Chernofsky said. "If I have a wider network of stores, I can leverage those locations to bring down my logistics costs my operational expenses, [and] improve my operational efficiency."
Executives said that they plan to continually invest in technology to ramp up Academy's omnichannel growth, but did not dive into specific details. E-commerce sales in the first quarter rose 18.8%, which experts say is surprising given the return of in-store shopping. Executives expect its e-commerce business to continue growing as Academy continues to transform its website and make the customer online shopping experience more seamless. 
Like many retailers, however, Academy is operating in a challenging environment, which could rain on its growth plans. The company's gross margin rate of $521.4 million or 35.5% was down slightly from last year's 35.7%. Executives said the back half of the year could potentially be more promotional. 
Its big-box peers have plans to roll out more promotions in an attempt to liquidate excess inventory. Target on Tuesday said it plans to take a more aggressive approach to markdowns to make room for more timely merchandise such as groceries and back-to-school supplies. Walmart, on the other hand, said it has begun "being aggressive with rollbacks" in apparel.
Academy said the company has been making structural changes to its business, which helped it navigate industry-wide challenges. Due to efforts from its supply chain team, executives said freight expense as a percentage of sales was down from around the same time last year.
Even in a more benign environment, significant store footprint expansions like that of Academy's are already difficult, said Sizemore. But coupled with the labor shortage, increased wages and supply chain issues, he said that makes Academy's growth plans even more difficult to execute.   
"There are two main risks are finding manpower at an at a reasonable price," said Sizemore. "The second risk is just the logistics of adding that many new stores at a time when supply chains are stretched."
Given the macroeconomic headwinds, Academy has revised its fiscal year outlook. It now expects net sales to be $6.43 billion to $6.63 billion compared to its previous $6.6 billion to $6.8 billion expectations. It also expects comp sales to be down 6% on the low end versus its previous 4% guidance.