After a tumultuous two years, restaurants are refashioning themselves as DTC brands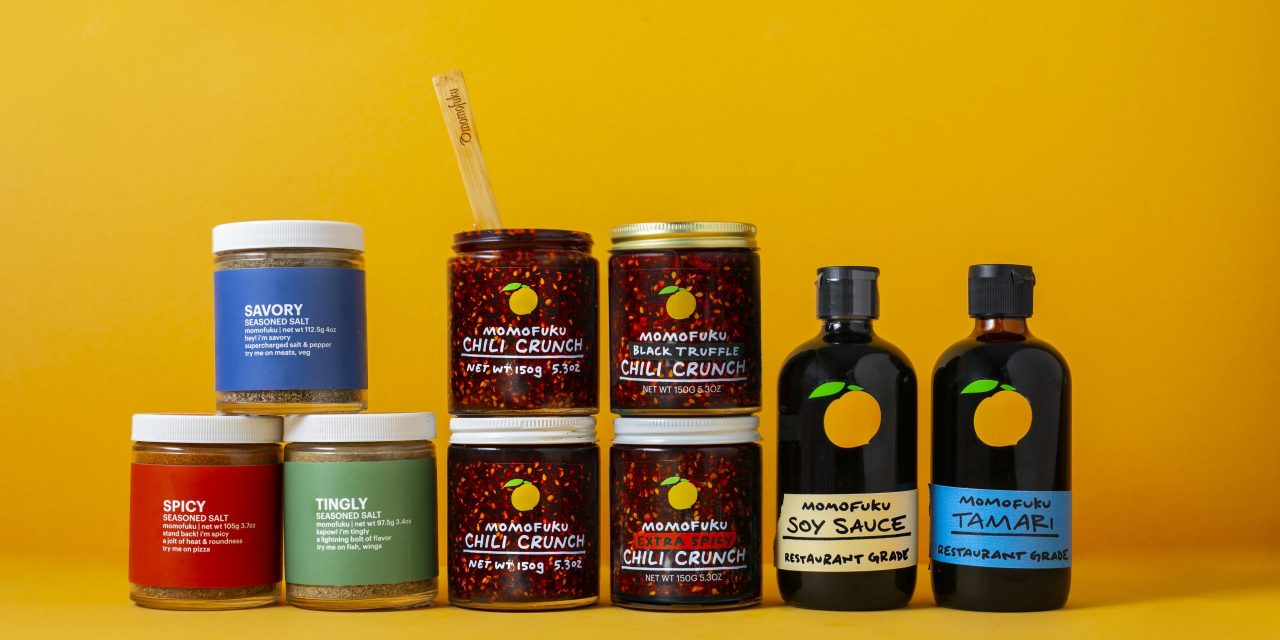 Image via Momofuku
In March 2020, Momofuku saw its restaurants close and sales drop overnight. These losses catalyzed a new strategic direction: the restaurant group decided to become a cooking brand, with the goal of having 50% of business coming from outside its restaurants' four walls.
Momofuku wasn't the only one. Over the past year, a slew of restaurants with cult followings have launched new consumer packaged goods. These include Carbone, Bubby's and Blue Stripes, which all added packaged products to complement their dine-in services. Even frozen hot chocolate mainstay Serendipity launched ice cream pints this past summer. The strategy has long been popular among restaurant chains, but is becoming more prominent with restaurants that have dedicated followings that are trying to branch out beyond in-restaurant revenue.
The move toward at-home products comes as many restaurants still grapple with the hit they took during the coronavirus outbreak. By the end of 2020, a National Restaurant Association survey of 6,000 restaurant operators found that more than 110,000 establishments closed permanently or long-term by the end of last year. While the industry was able to rebound since the vaccine rollouts, sales are still down by $110 billion compared to pre-pandemic levels. 
Restaurant group Momofuku — which operates well-known restaurants like Momofuku Noodle Bar and Momofuku Ssäm Bar — launched its first line of direct-to-consumer sauces in the fall of 2020. Since then, it's added seasoned salts, soy sauce, tamari, sesame oil and dried noodle products. Momofuku's line was first sold through its website, but it has launched at Whole Foods in recent weeks and hit the shelves of 1,300 Target stores in early October. 
"One thing founder David [Chang] says is that we never want to be as vulnerable as we were in March 2020," Momofuku CEO Marguerite Mariscal told Modern Retail. So, the company decided to seek out customers beyond its restaurants' walls. "We know that 90% of our social audience live in cities where we don't have restaurants," she said. The initial launch went well: Momofuku's website accrued a 70,000-person waitlist for its new noodles, which sold out within two days of launching in August. 
The majority of its restaurants operate in major cities that implemented strict quarantine measures, including New York, Los Angeles and Las Vegas. As a result, Momofuku's dining business was shuttered for a large portion of 2020. Even when it was able to reopen doors, the restaurants were still operating at limited capacity, explained Mariscal. This gave rise to a big strategic shift. The restaurant group permanently closed two locations last year, Momofuku Nishi in Manhattan and Momofuku CCDC in Washington D.C. And, after taking it up out of necessity at the start of the pandemic, Momofuku stopped offering local takeout this year.
According to Mariscal, the goal of building a CPG segment — which includes retail partnerships and distribution via Momofuku's own website — is to move away from being perceived solely as a restaurant group. "We'd be happy if more people knew us from the grocery aisles," Mariscal said. 
The packaged goods also cater to price-conscious customers who may want to recreate Momofuku's recipes at home, said Mariscal. At grocery stores, Momofuku's sauce jars retail for $9.99 each while the noodles cost $7.99 per pack. The company also sells bundles at various price points on its website. Later this fall, Momofuku will debut new packages in time for the holidays. 
Similarly, dessert restaurant Milk Bar — which makes well-known sugary treats such as its 'garbage cookie' and 'crack pie' — also launched ready-to-eat goods in the past year, including cookies and ice cream. The dessert line is currently available at Target, CVS, Wegmans and Whole Foods. 
In September, New York City-based restaurant Bubby's, which specializes in brunch fare, officially began selling its packaged pancake mix through its website. The pancake pouches are the restaurant's first foray into CPG; Bubby's has been offering its pies via mail-order for years. 
Owner and chef Ron Silver said that in the couple of years preceding the pandemic, Bubby's sold the pancake mix in limited batches, "which had a small but loyal following." Then during lockdown, he said, "we had people ordering 20 bags at a time." The increased demand prompted the restaurant to figure out how to become a consumer packaged goods brand, "which is very different from a restaurant," said Silver.
Silver said the company is going to begin working with a co-manufacturer and fulfillment center in the first quarter of 2022, in order to ramp up production. As for more products, he said the team is exploring adding roll-your-own pie kits. 
An opportunity to pivot a restaurant business
For restaurant operators, CPG presents a set of challenges that differ from dining service. There's not a staff of cooks or servers to manage, but there's more of an emphasis placed on developing eye-catching packaging, and securing the right retail connections.
Chocolate brand Blue Stripes, which opened its first cafe in New York City in 2018, was hit hard when the pandemic first began. At that point, founder Oded Brenner, who also founded beloved chocolate retailer Max Brenner, had plans to open franchises in Washington D.C., Louisville and Toronto, among other cities. Those plans were halted when the reality of the pandemic set in.
Now, the focus is on growing the retail business. The Manhattan location, which heavily relied on tourist and nearby NYU campus traffic, is now primarily used as an events space and a showroom for investors. 
During the fall of 2020, Blue Stripes launched a DTC business, where it began selling its cacao fruit-based beverages and snacks. The team had to quickly develop a shoppable website for its DTC line, which required a "heavy shift to a packaging and shipping operation," said Brenner. He stressed that the pivot is no easy feat, especially for a new name with little brand awareness. CPG development and distribution also requires a different hiring strategy and retail connections, he said. 
Now, said Brenner, "the business has totally shifted." Earlier this year Blue Stripes launched at California's Erewhon and Bristol Farms stores. It recently entered Whole Foods Market's Southern California region, which includes nearly 60 locations. 
"The business couldn't be better," Brenner said. He likened the new strategy to cafe chains like Blue Bottle and La Colombe, that have also been building out at-home products.
A long-term investment
Restaurants around the country have been dabbling with off-premises sales and national delivery. The online platform Goldbelly, which allows at-home consumers to shop products from dining establishments around the country, saw major growth during the coronavirus. As of May 2021, Goldbelly had 850 merchants on the platform, with nearly half joining at the start of the pandemic in 2020, according to the company. There are some trade-offs, however, when working with such a middleman. For example, the sellers are still responsible for order fulfillment and logistics costs, including shipping perishable dishes overnight.
Some of the restaurants launching their own lines, such as Momofuku, sell meals on Goldbelly. But, for many businesses, those types of delivery products acted as a temporary solution to make up for lost in-store revenue.
Indeed, some restaurants are spinning off their own standalone CPG companies. Carbone, known for its specialty pasta dishes, recently launched jarred sauces, which went on sale in March 2021, and are now sold via Amazon and at 3,000 retail locations. In preparation for the sauces' launch, the restaurant group decided to spin out a new business, Carbone Fine Food — a separate entity from Major Food Group, which operates Carbone's New York City, Miami and Hong Kong restaurants. During the pre-launch phase, Carbone Fine Food brought on CEO Eric Skae last November, who previously led Rao's Specialty Foods Group. 
Skae said that the restaurant's founders have been wanting to enter the consumer goods space for quite some time. "To shape the long-term strategic vision for the company, I was brought on as CEO," said Skae. With his background, he said he learned some lessons for restaurants taking the grocery plunge. "For a restaurant to be successful in the CPG space, there has to be authenticity, whether it's the history, reputation, source of ingredients or an accredited chef," he said. 
The brand's newest product, Roasted Garlic, was added in September. "There is a lot of room in this category for us to grow, so we'll get our sauces done right and then look at where we want to go next," said Skae.
With the labor shortage and the challenges of outdoor dining, a grocery product component helps supplement sales while dining is in flux, noted Momofuku's Mariscal. "We can ramp up each piece of the business when required." 
What the past 18 months have proven is that "restaurants have to evolve," said Mariscal — whether it's through renting their spaces through events or adding pickup and delivery. "CPG is one more piece of that puzzle."