Amazon Briefing: 3 trends to watch on Prime Day 2021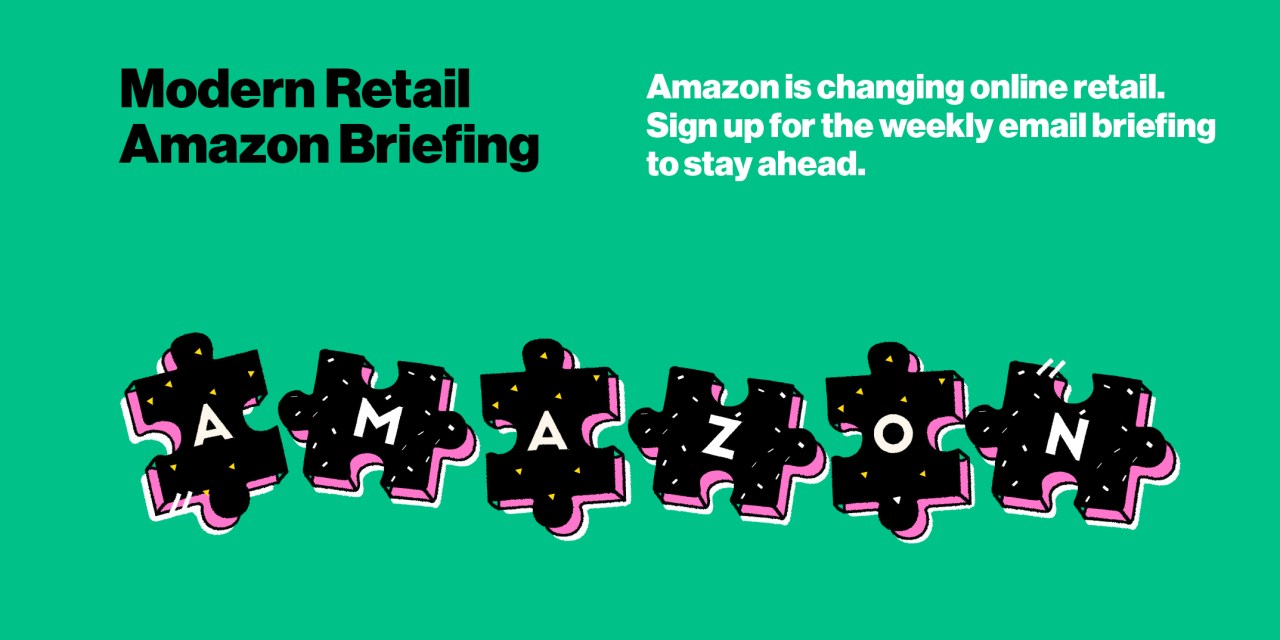 This is the latest installment of the Amazon Briefing, a weekly Modern Retail+ column about the ever-changing Amazon ecosystem. More from the series →
This is the latest installment of the Amazon Briefing, a weekly Modern Retail column about the ever-changing Amazon ecosystem. To receive it in your inbox every week, sign up here. 
After months of speculation, Amazon confirmed this week that Prime Day is less than three weeks away. The company's sales event — rivaled in size only by Alibaba's Singles' Day — is officially scheduled for June 21 and June 22.
That date is a departure from most previous years, when Prime Day was consistently a mid-July event (with 2020 being an exception). It also caps off a period of rampant activity for Amazon sellers, many of whom were surprised by the earlier-than-usual Prime Day date and had to scramble to prepare their inventory for the sales event.
Amazon has not clarified why it chose to move Prime Day to June instead of July, but Prime Day is timed to a moment in which many Americans are visiting physical stores again at pre-pandemic levels. Retailers are expecting a lot of pent-up spending, especially on goods most people haven't bought in a year, like swimsuits, apparel and beauty products — and Amazon's sales bonanza could potentially pry some consumer spending money away from them.
As the event approaches, here are a few Prime Day storylines worth watching.
Inventory challenges could hurt sellers
One of the biggest storylines of this year's Prime Day is inventory problems.
Toward the end of May, third-party sellers began reporting that their inventory maximums had dropped suddenly — meaning, essentially, that Amazon would only accept a reduced amount of inventory into its warehouses. Amy Shea, director of brand management at SupplyKick, which handles supply management for clients and also controls its own inventory through its wholesale side, told me that her inventory maximum for items over 20 pounds fell 57% at the end of last month.
Many others reported similar drops. It's unclear exactly how many sellers these changes impacted, but complaints are blanketing seller forums and Facebook groups. One wrote, according to Forbes, "What happened? We drop from 76k to 34k, nothing can be sent to Amazon." Shea said that more than half of SupplyKick's clients have seen their inventory maximums drop.
Inventory maximums usually only fall when a seller isn't in good standing with Fulfillment by Amazon, as measured by what is called an IPI (Inventory Performance Index) score. But many of the sellers who reported the sudden inventory drops claim to have IPI scores well into the green. (When I reached out to Amazon, the company said, "We continually assess and update restock limits based on many factors, including past and future sales, current inventory levels, new selection, and the capacity available in our fulfillment centers.")
That means that many sellers cannot do as much on Prime Day as expected. If they aren't allowed to send as much inventory to Amazon warehouses in advance of the shopping event, they might need to limit the deals they run and — to Amazon's own detriment — the amount of advertising they buy on the Amazon marketplace.
"To not be able to have any of that additional inventory go in, it's pretty debilitating from an account perspective," Shea said. "It's going to mean that you don't have the ability to capitalize on all of the traffic that's going to be on the platform."
Prime Day could move up the back-to-school shopping season
Up until 2020, Prime Day had become intertwined with retail's second-biggest season, the back-to-school shopping season. Prime Day — both because it was timed to mid-July, and because Amazon's deals in turn inspired deals at other major retailers — has tended to usher in the back-to-school shopping season.
Last year briefly severed that connection. According to a survey conducted by the discount finder RetailMeNot, 66% of retailers felt the shift of Prime Day to October last year hurt their back-to-school sales (although it is difficult to separate the Prime Day change from the pandemic generally).
The new Prime Day date might change that back, however. Lauren Cooley, svp of retailer and brand solutions at RetailMeNot, speculated that the new date might mean that back-to-school shopping lasts for longer — and is bigger — than in years past. "People do really associate Prime Day with that back to school," she said. "Prime Day starting earlier this year will be the official kickoff of that."
According to the survey from RetailMeNot, 92% of consumers reported that they expected to begin their back-to-school shopping during this year's Prime Day — which might make mid-June, usually a lull in the shopping calendar, the beginning of an unprecedented back-to-school season.
How other retailers respond
On Wednesday, just hours after Amazon confirmed the new Prime Day dates, Walmart announced its own shopping event, which would last for two days longer than Amazon's. The company said it was planning a "Deals for Days" event to unfold June 20 to 23. Target, meanwhile, announced a three-day "Deal Day" from June 20 to 22.
These defensive moves against Amazon seem to have worked in the past — though not enough to fend off Amazon entirely. In 2019, foot traffic analytics firm Placer.ai reported that in-store traffic at Walmart, Target and Best Buy was above their respective baselines during Prime Week, as they all hosted their own sales to rival Amazon last year.
And according to a recent study from Numerator, last year on Prime Day, Amazon accounted for 14.8% of all CPG sales made that day — but overall, Amazon saw its share of CPG sales that month (October) increase by just .7%.
Instead, small and medium-sized retailers are the ones that reported the highest drop in sales following Prime Day. Last year, throughout October, small and mid-sized retailers saw their share of CPG purchases drop 1.6%, right as Amazon and Walmart climbed.
Amazon news to know:
According to the Occupational Safety and Health Administration, a government agency overseeing working conditions, Amazon warehouse workers experience injuries at nearly double the rate of other warehouse workers.
In India, Amazon is getting into news, sort of: It's filling its shopping app with magazine stories sourced from outside publications.
Amazon has long shunted customers unhappy with Alexa's data collection practices to arbitration. But after 75,000 customers inundated the company's arbitration system with complaints about Alexa, Amazon is now letting them sue openly in court.
What we covered:
The SoftBank Vision Fund led a $775 million investment round for the Amazon rollup company Perch. I spoke to Perch CEO Chris Bell about how he is dealing with the crowded rollup market and his plans around launching Perch-original products.
Amazon is facing its first major antitrust challenge in the U.S. We broke down what sellers should know about the case, including highlighting possible future antitrust challenges from other states.
Becca Sawyer, TikTok's head of small business, shared how the nascent video-sharing platform is reaching out to small and mid-sized retailers and marketplace sellers. In an interview, she outlined some of the practical challenges with the new model of sudden sales virality that TikTok has ushered in.