Amazon Briefing: How Amazon pushed its own products on Prime Day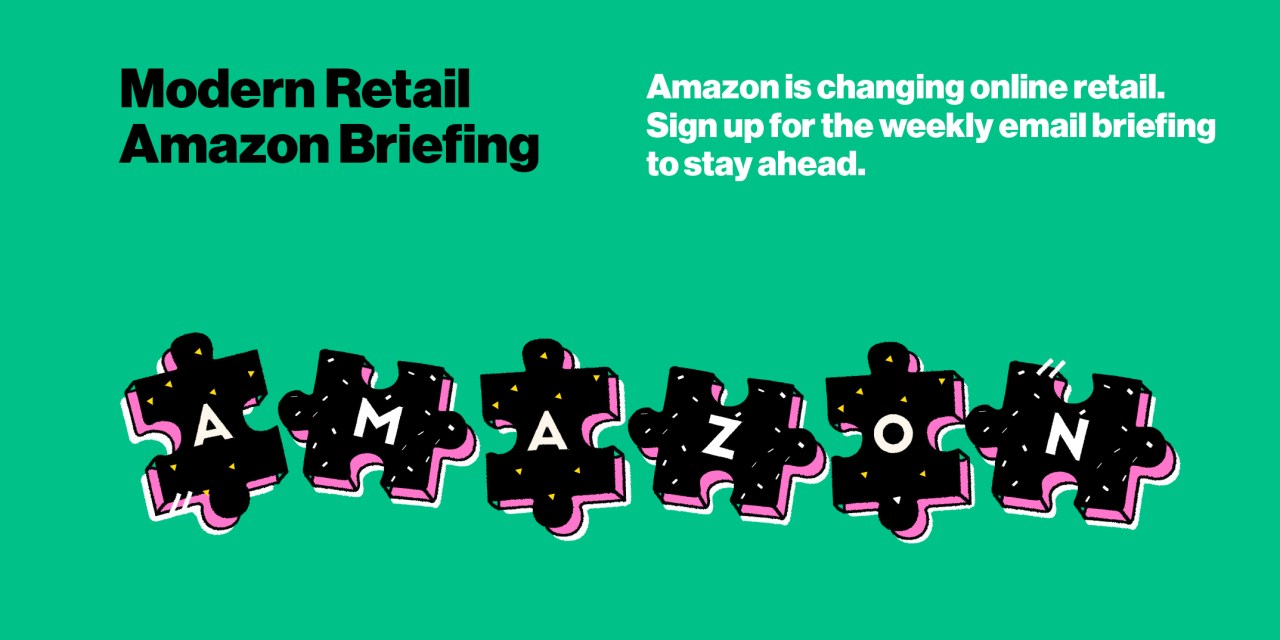 This is the latest installment of the Amazon Briefing, a weekly Modern Retail+ column about the ever-changing Amazon ecosystem. More from the series →
This is the latest installment of the Amazon Briefing, a weekly Modern Retail column about the ever-changing Amazon ecosystem. To receive it in your inbox every week, sign up here. 
Amazon used Prime Day to push a broader array of its private-label products — beyond just its traditional strength with lower-priced tech products.
For years, Amazon has built its early reputation on its suite of electronics, flooding the market with its own tech products, from the Kindle to Alexa to Ring and much more. Amazon now has over 100 private label brands, compared to just 30 brands in 2017, and many of the newest additions are in new categories like pet or fashion, rather than just tech — suggesting that Amazon is increasingly prioritize its non-tech offerings. That shift was particularly evident on this year's Prime Day, as Amazon's other private label lines like pet brand Wag or Presto kitchen products started to become more prominent in promotions.
"Historically it's always been an event where Amazon showcases its electronics and products," Mike Black, CMO of Profitero, said of Prime Day. In 2019, for instance, Marketplace Pulse found that while seven out of the 48 top deals that Amazon promoted most heavily were Amazon-branded products, almost all of those (five) were Amazon-branded electronics products.
But this year, on the main Prime Deals dashboard that the company heavily promoted across its site, Amazon made a point to separate its electronics categories from its other in-house brands, distinguishing between "Amazon Brands" and "Amazon Devices." Outside of the dashboard, in each product category page, like fashion, Amazon also surfaced an "Our Brands" or "Amazon Brands" tab. As a result, Amazon private-label products saw big increases in their sales ranking in two key expansion categories for the company, namely the home & kitchen and pet categories. That underscores the extent to which Amazon is pushing specifically its non-electronics products — which, unlike electronics, might inspire more frequent repeat purchases — into consumers' lives.
This year during Prime Day, "there seemed to be a little bit more of a concerted effort to promote non-electronics brands," said Black. Amazon ran ads for — and offered 40% discounts on — pet products in its Wag brand, for instance. "It's them saying in the market, hey, you know us for our devices, but that's not just what we're about."
Amazon's own brands might have caught on, in part, because they have had an outsized influence this year. Before Prime Day, many sellers reported that they would not be offering discounts — or those that were, offered fewer products than expected — thanks to sudden inventory limits that kept third-party sellers unable to warehouse as many products as they expected.
The end result is that, across several categories, Amazon's own brands saw large increases in their sales rank on Prime Day. According to Profitero, during the two-day event:
In the electronics category, nine of the 25 products that gained the most in their sales ranking were Amazon-branded electronics.
In the home and kitchen category, five of the 25 biggest gainers were from AmazonBasics.
In the pet category, specifically during the first 24 hours of Prime Day, three of the top five gainers belonged to Amazon's Wag brand.
Additionally, according to Numerator, 36% of buyers reported purchasing an Amazon-branded household item, compared to 47% who bought from other brands and 17% who weren't sure. Still, despite the focus on its newer categories, Amazon's electronics brands remained top sellers. A report from Numerator found that three of the top five most-purchased items on Amazon during Prime Day were Amazon electronics: the Fire TV Stick, the Echo Dot 4th Generation and the Fire HD Tablet.
Amazon's focus on non-electronics categories this week showcases the rising importance of its private-label brands in non-tech categories. Black pointed to pet food as one specific example — while he said that few people think of Amazon as a pet brand, the company's Wag brand is rapidly gaining market share among pet food. For Amazon, "electronics can be very transactional," but categories like baby or pets "can drive more long-term loyalty," said Black. "If they can get you buying your dog food and pet food, there's a lot of loyalty to that."
While Prime Day is only a 48-hour event, it can signal where Amazon is hoping to take both its third-party marketplace and its own products. "When you look at Prime Day, it's not just another deal event. For Amazon, it's the major expression of their entire brand," said Black. And if this year's event is any indication, Amazon is pushing to make its brands into household names — to get people to buy Amazon products not just when they need a smart speaker or doorbell, but also for a larger share of their everyday needs.
Amazon Live gets a primetime slot, again
Anyone browsing the main Prime Day deals page may have noticed that, throughout the 48-hour sales event, Amazon promoted livestreams starring a cast of celebrities and influencers trying to sell discounted products. At one point, Katy Perry showed up to pitch her flip flops. "In true Amazon fashion, they've vertically integrated the product and content discovery experiences," Luigi Ferguson, a digital marketing analyst who works at McAfee, told me.
Viewer counts for the promoted livestreams hovered anywhere from 30k to 70k when I checked, far above the average for Amazon Live. (The average is usually in the low hundreds of concurrent viewers for the top streams.) That extra focus on livestreaming isn't new. As Amazon watchers pointed out, Amazon has done this for several years in the past, and it hasn't exactly jumpstarted interest in Amazon Live before. Plus, those high viewer counts might also benefit from the fact that Amazon auto-played each livestream.
But there is some evidence that the influencer-led livestreams that got prominent placement on Amazon were able to drive sales. A Sunday Riley face oil brand jumped from #7,721 to #60 in rank in the Beauty category after its livestream, while a Nespresso espresso maker leapt from #89,692 to #21 in Home & Kitchen. It's also worth noting, however that these brands ran other promotions, in addition to featuring their products on Amazon Live.
Amazon news to know:
The FTC is expected to review Amazon's acquisition of MGM — that comes just a week after the Senate confirmed Lina Khan, an Amazon critic, as the new FTC chair, potentially marking the beginning of a tougher approach to Amazon.
Amazon is considering taking a 20% stake in the autonomous trucking company Plus, the latest example of Amazon looking to invest more heavily in transportation. (It bought autonomous car maker Zoox last year.)
After the failed warehouse unionization vote in Alabama, the Teamsters are voting on whether to launch a national blitz to unionize Amazon workers.
What we covered:
Amazon has long dominated the world of affiliate commissions — click any affiliate link, and there's a good chance it directs you to a product on Amazon. But Instagram and Shopify are mounting challenges to Amazon's affiliate dominance.
When customers order groceries for delivery or pickup from Whole Foods, a network of Amazon contractors are tasked with finding and bagging those items in a highly time-sensitive environment. One worker spoke to me about what it's like.
OpenStore is the latest holding company to pitch itself as a Thrasio for DTC brands, focusing on acquiring brands with robust Shopify store presences.