Amazon Briefing: Lawyers are helping brands crack down on Amazon sellers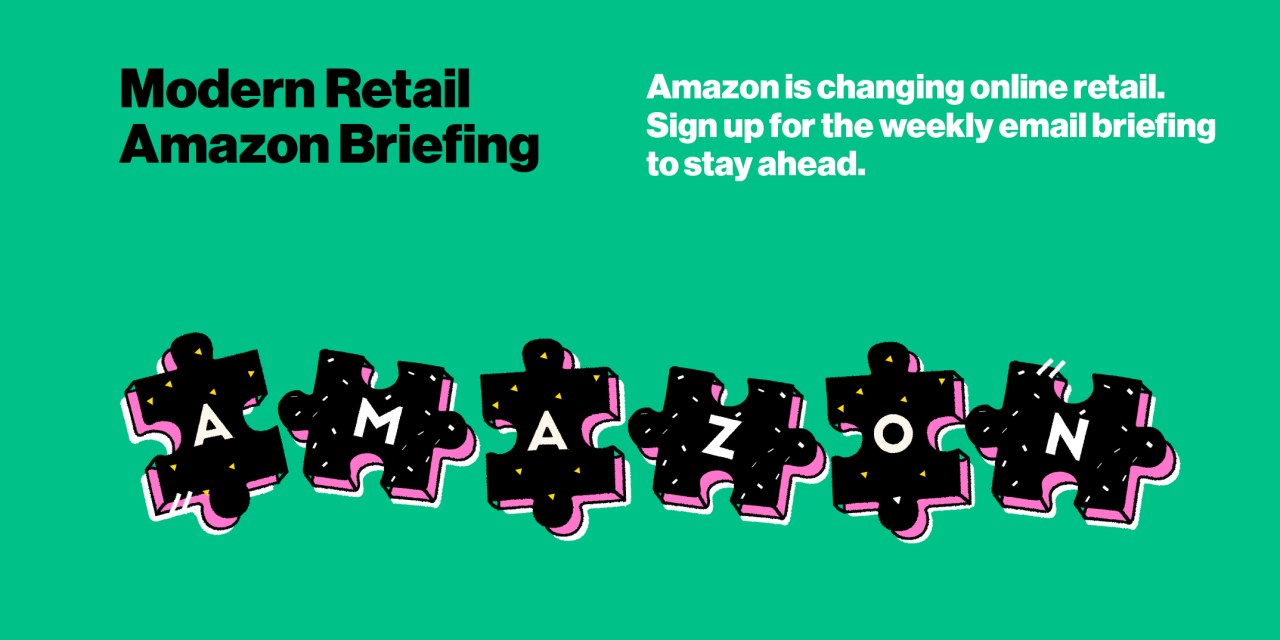 This is the latest installment of the Amazon Briefing, a weekly Modern Retail+ column about the ever-changing Amazon ecosystem. More from the series →
This is the latest installment of the Amazon Briefing, a weekly Modern Retail column about the ever-changing Amazon ecosystem. To receive it in your inbox every week, sign up here. 
Law firms are offering brands a new way to crack down on unauthorized sellers on platforms like Amazon.
A small set of law firms are offering a service called "e-control," which uses legal maneuvering to limit the pool of people who can sell, say, a given brand's product on Amazon. E-control designates certain vendors as authorized sellers on online marketplaces, by requiring them to meet certain criteria, and removes undesired listings.
For brands, e-control presents a way to control where — and by whom — their products get sold. Right now, on a platform like Amazon, any seller can list a new pair of sneakers or a new paperback on that brand's main product page. That means a third-party seller who bought copies of a book, for example, from a wholesaler can potentially win the buy box over the book's actual publisher. In the book world, one 2018 estimate found that third parties won the buy box on about 5% of books on any given day.
As competition ramps up on e-commerce marketplaces, brands that have wholesale channels are trying to figure out how to walk the delicate tightrope of growing their presences online without forfeiting control of how their products are sold and who gets to sell them. While Amazon offers some services to help sellers control who gets to sell their products, a small group of lawyers are popping up to fill in other gaps.
Lawyers are offering services to fight back against these non-authorized sellers. "They become commercially disruptive to the brand's sales, the brand's quality, you start to see bad reviews," said Daren Garcia, a brand protection & e-commerce lawyer at the firm Vorys, Sater, Seymour and Pease. Garcia said that his firm has worked with over 500 manufacturers and brands, including a number of multinational and Fortune 500 companies.  
There are other reasons that brands opt for e-control. Some only want their products available in very specific locations. For a brand like Tupperware, the relative inaccessibility of the product — and the need to go through a salesperson — is part of the sales pitch. A third-party seller putting up Tupperware on the Amazon marketplace threatens to siphon off business. E-control is how they get it taken down — and it's the latest frontier for brands attempting to control their product sales in an increasingly sprawling e-commerce landscape.
What counts as an authorized sale?
For brands, the concern isn't reselling itself. A t-shirt that winds up in a vintage store, or on a resale platform like Poshmark, doesn't compete with original maker of the shirt. The problems arise when third parties are able to list a new t-shirt on Amazon's main product page for the brand — and therefore, directly compete with the original brand.
Amazon lets brands crack down on counterfeit items, but when it comes to outsiders selling legitimate products purchased wholesale, Amazon has taken a hands-off approach — in part because consumers do have some legal rights to resell products. But there are exceptions — including when a third party doesn't offer the same warranties or customer service access as the authorized product. That's where a law degree comes in handy.
"Nike has been doing this for the past several years," said Joe Cicman, an e-commerce analyst at Forrester. "They're reducing the number of wholesalers they work with, reducing the number of resellers they work with."
Cicman noted that some of this isn't new, and, he said, "there is a pretty big population of agencies that will issue takedown orders and patrol resale." The difference is that many of them "don't have the teeth," because brands haven't written clear distribution agreements to outline who is and isn't allowed to sell their products. What's new is the crop of brands drawing up these authorization agreements, and becoming more and more savvy about enforcing them.
What is the role of Amazon?
Amazon has increasingly been cracking down on counterfeits on its platform, including through the introduction of the Brand Registry, a service offered by Amazon that lets brands protect their own product IP and more easily take down dupes. Joining the registry has become a minimum necessity for any brand that wants to exert even a small amount of control over how its brand name is used — but now, to push it further, lawyers are coming up with yet more programs and fees.
The Brand Registry, said Garcia, focuses only on knockoffs or counterfeits, whereas e-control mostly deals with products that are bought legitimately but are being sold — without authorization — either in direct competition with the original brand or on channels the brand doesn't want to be listed. "Brand Registry does not and is not intended to address unauthorized sales, which for most brands is the biggest problem that they have," he said. (The closest thing Amazon offers to this service is Sold by Amazon, a program that helps sellers enrolled in Brand Registry win the buy box over grey-market sellers of their own products.)
Amazon does offer some limited ways to restrict the number of authorized sellers. At the end of March, for instance, the company started removing NFL-branded merchandise from unauthorized third-party sellers from its platform. That practice is called brand gating, but "this is very rarely granted in our experience," said Garcia.
The rise of e-control services only underscores the growing number of auxiliary services that a brand has to incur in order to protect their products on a platform like Amazon. As e-commerce balloons, in order to fight counterfeits, unauthorized sellers and meet strict shipping standards, the services economy is growing ever more vast — and more costly.
Amazon news to know:
Amazon has considered opening up discount outlet stores, focused on home goods and electronics, as a way to offload unsold products languishing in their warehouses.
It's not just malls: Amazon is building delivery hubs out of former mill sites, printing plants and Kmart stores. It's planning to open 180 more delivery stations before the end of 2021.
A coalition of small business groups, including the National Grocers Association and the American Booksellers Association, are calling for Amazon to be broken up. That follows more aggressive campaigning this summer by the American Booksellers Association, which targeted the company in its #BoxedOut campaign.
What we covered:
Privacy changes are coming for the ad world — and Amazon's advertising division, especially its offsite Amazon DSP program, looks likely to thrive.
On the topic of ads: the number of paid search ads on the Walmart platform more than doubled over the past year, suggesting Walmart is also getting serious about turning advertising into a revenue driver.
More sustainable packaging is coming for e-commerce — a trend that Amazon has also promised to be part of.