Amazon Briefing: The limits of Amazon's new customer engagement tool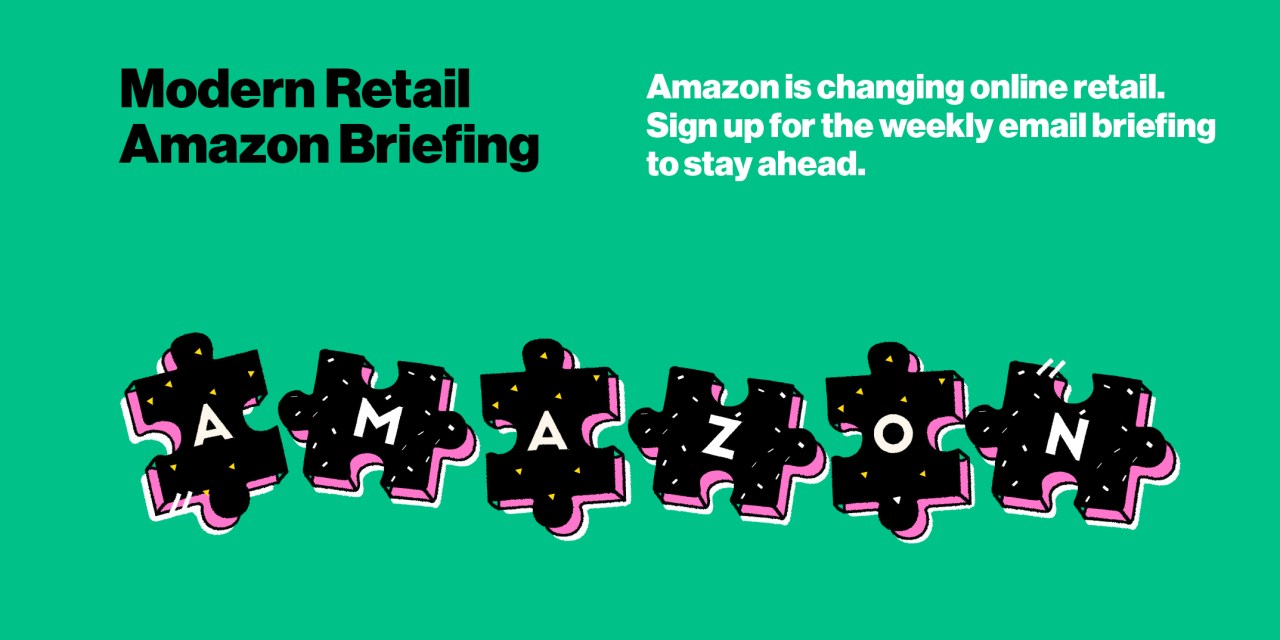 This is the latest installment of the Amazon Briefing, a weekly Modern Retail+ column about the ever-changing Amazon ecosystem. More from the series →
This is the latest installment of the Amazon Briefing, a weekly Modern Retail column about the ever-changing Amazon ecosystem. To receive it in your inbox every week, sign up here. 
Earlier this month, Amazon quietly rolled out a tool called Manage Your Customer Engagement that lets sellers send messages — through Amazon — to certain customers.
That tool, which Amazon is still keeping in pilot mode, could represent a significant change for some sellers, many of whom have expressed frustrations over the limited ways they can interact with customers. Right now, many messages that sellers send to their customers are scripted by Amazon, and Amazon lets users opt out of messages from sellers altogether. Dan Hunnewell, associate director of strategy and analytics at Pattern, said "the majority of customers from what I've seen have that [opt-out] option selected." Amazon also does not give sellers access to customer email addresses — and still won't, even with this new customer engagement tool. And in December, it removed the ability for sellers to comment on reviews, one of the last remaining ways sellers could interact with customers.
Offering sellers the ability to send campaigns and product updates to their customers is one step toward allaying those concerns. Yet the new tool comes with a number of important limitations. Sellers, for instance, will not know anything more about their customers than they already do. Hunnewell said that sellers will only see their total number of followers, and nothing specific in the aggregate about their customers (though they will receive some analytics data about how their campaigns are received, according to Amazon). All emails will be sent through Amazon, not the seller. Right now, as a seller, "you have very little control of communications with the customer," said Hunnewell. "I think that's one reason they're doing this."
An Amazon spokesperson told me that "brands will be able to initiate email campaigns about new product announcements and offers that Amazon will send to shoppers who choose to follow the brand."
To be eligible for Manage Your Customer Engagement, all sellers have to be in the Brand Registry, a program to help protect sellers who have their own branded products from counterfeits. That means the tool isn't open to resellers — but most actual brands do appear to be Brand Registry members.
For customers to receive messages from brands, they have to click the "follow" button for that brand. That could represent a potentially large hurdle — "Follow" buttons only appear in certain parts of the Amazon platform: namely, next to Amazon's Brand Stores feature, on Amazon Live or on Amazon's Instagram-like feature Amazon Posts. Hunnewell said that Amazon is likely trying to use this new feature to draw more attention to Live, Brand Stores and Posts, noting that "they're tying this to the push that they're making to increase the [number] of sellers using the Brand Stores as well as their new Posts program."  
But exactly how active Amazon can make Posts, Live and Brand Stores might be the determining factor in how successful this new tool becomes. As Brian Gioia, director of product strategy at Scrum50, told me in an email, "if Amazon makes a big push to encourage this behavior, it could succeed." But he said that, as is, few customers seem to be visiting these tools. Brand Stores in particular "usually require paid media for shoppers to find," he wrote. Unless Amazon is able to make Brand Stores or Posts into real destinations, he explained, then sellers won't build a significant following, and "this could be another one of Amazon's short-lived experiments."
Even beyond promoting features like Posts, the new tool could potentially solve other persistent problems for Amazon. Giving sellers the ability to accrue followers and push out news about product launches — even if it is mediated through Amazon — seems to be largely a response to the increasing concerns that DTC brands have expressed about the platform.
Many brands, even those that do also sell on Amazon, have encouraged customers to visit their websites instead of Amazon. "I think Amazon's doing this because they want to have people think less about pushing their priorities to DTC and customer-facing websites," Hunnewell said. "You have these big brands that are DTC-only that are questioning whether to come on Amazon because of the lack of customer communication."
Amazon seems to be attuned to those critiques, but he said he wasn't expecting any sweeping changes soon. "I think this is a wonderful step forward, but knowing Amazon, it's going to be lackluster at the beginning," Hunnewell said. "They'll get there eventually, but it'll definitely start out slow."
The future for Amazon AR
I reported last week on how Amazon Salon could potentially further Amazon's B-to-B ambitions, but there is also another side to the Amazon Salon that I didn't put into the piece: namely, Amazon is using it to test its AR tech.
Amazon already uses AR for furniture shopping and lipstick try-ons on the Amazon platform — at the Amazon Salon, AR will be a way for customers to preview a haircut or hair colors in advance. That gives Amazon plenty of opportunity to refine its technology — potentially for uses far beyond salons.
In the salon world, AR features have not been widely embraced. Joel Warren, who runs a New York-based hair salon called The Salon Project that integrates AR, told me that AR technology is not yet sophisticated enough to offer an accurate representation of, say, what color a client might end up getting if they're planning to dye their hair. "It's a good marketing tool, but it's not something that a really highly skilled hair colorist would use to help create the look that a client would want," he said. "The technology really has not advanced enough to do that."
But refining its AR will help Amazon unlock other parts of the e-commerce world. Snapchat has increasingly made moves in the e-commerce space, acquiring companies like Fit Analytics and Screenshop in the past month. According to analysts, the company could use its AR tech to more accurately give size estimates and cut down on expensive e-commerce returns. Amazon, which in December launched a size-customized white t-shirt that uses AR, is not far behind. And the Amazon Salon offers a real-world chance to get ahead.
Amazon news to know: 
Amazon announced this week that it is expanding its in-garage delivery service to around 5,000 cities and towns. Walmart followed that up a day later with the news that it was reviving its own in-home grocery delivery service. Let the in-home delivery wars begin.
Amazon currently prohibits sellers based in Pakistan from joining the platform — but it appears to be testing a program that would change that, at least for large sellers. Pakistani sellers are already a significant part of the Amazon seller ecosystem, using a number of backend workarounds.
Amazon is on track to beat out Walmart and become the country's biggest retailer by 2025.
What we covered:
Amazon, Nordstrom, Klarna and tons of other retail companies are investing in livestream shopping — betting that the niche phenomenon will soon become a dominant mode of productive discovery in the U.S. But the nascent livestream boom has also given rise to a new category of retail job: livestream shopping host.
Gamified commerce, which is a staple of Chinese platforms like Pinduoduo and Alibaba's Taobao, is coming to the U.S. through a new initiative by the live bidding app Tophatter. E-commerce companies are increasingly trying to bundle shopping and entertainment — look no further than Amazon's shoppable TV show, "Making The Cut."
Even DTC brands are trying out the marketplace model. Furniture brand Floyd just launched a resale marketplace.