Amazon is trying to cash in on viral TikToks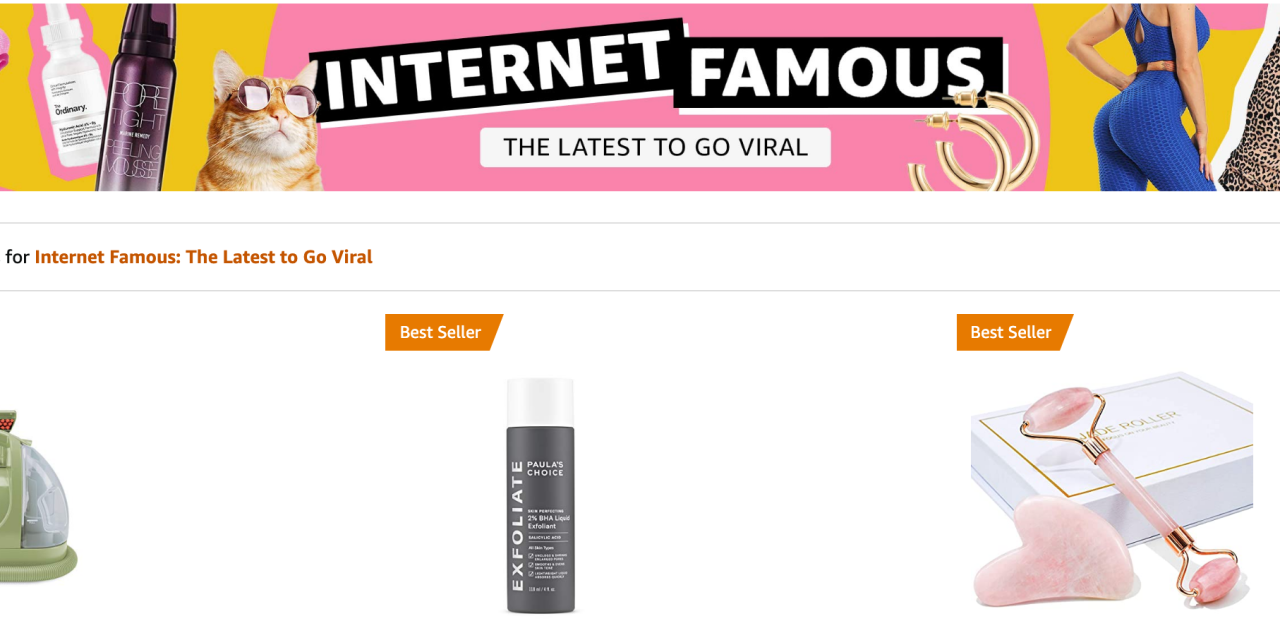 Amazon is leaning into TikTok virality.
Last month, the company published a new product collection called "Internet Famous: The Latest To Go Viral." It features a mix of portable carpet cleaners, foot peel masks and dozens of other products that have recently garnered millions of views across TikTok. While Amazon doesn't specifically use the word TikTok on its site, the collection pulls from the app — both aesthetically and in its list of products — in all but name.
The new collection is also an important acknowledgement of the power that TikTok has amassed as a product discovery channel. For over a year, TikTok influencers have built thriving product recommendation empires, making video demonstrations of largely unconventional products and then earning commissions through affiliate links. TikTok has catapulted products like the Dash waffle maker and The Ordinary's peeling solution — both of which are included in the new Amazon collection — to viral heights. "That was one of the original products that sold out on TikTok and made marketers go, oh, we should be doing this," Kristen Wiley, who runs the influencer marketing platform Statusphere, said of The Ordinary.
That growing link between TikTok and Amazon — where TikTok has become a product discovery tool for a fast-growing cohort of consumers — has remained largely haphazard until now. But by curating a collection of viral TikTok products, Amazon is acknowledging the importance that TikTok has amassed in driving retail sales, especially for products that stray toward the unconventional.
"I think that brands are starting to realize that TikTok has quite a bit of influence as a path to purchase," said Ryan Mulvany, an active product recommender on TikTok who also works at the Amazon brand management company Quiverr. He added that Amazon acknowledging TikTok, even in an implicit way, might further fuel that shift.
While Amazon does have a presence on TikTok, including through its own Video and Prime Student accounts, the company has remained relatively quiet about the new social platform. (By contrast, Walmart has now completed two live shopping events on TikTok, and it even made a bid to buy the platform last fall.) Amazon has yet to even integrate TikTok into its influencer program.
But even if Amazon has stayed away from the app, that doesn't mean TikTok hasn't made an impact on Amazon. In January and February, "TikTok leggings" became one of the top searches on Amazon — a signal of the ways in which TikTok trends have begun to translate into a high volume of Amazon sales.
The "Internet Famous" collection can help Amazon itself more directly capture some of the viral energy around TikTok. While Wiley said that products that go viral on TikTok do drive a healthy number of conversions — she noted that she has clients whose web traffic saw "significant lift" after TikTok campaigns — there are still hundreds of thousands of people who swipe through a viral TikTok without making a purchase. Those are the people that a collection like this seems most poised to target, she said: People who've seen the viral waffle maker a few times on TikTok, and might be willing to buy it if it pops up on Amazon.
For now, a TikTok-inspired collection is mostly symbolic for Amazon, and it does not on its own mark a fundamental shift in Amazon's approach to the platform. And while Amazon did promote the collection through a banner on its homepage late last week, it's hard to say exactly how impactful its sales will eventually be.
Amazon has increasingly pushed curated shopping collections like these, whether they're put together by Amazon itself or by small businesses. Mulvany said that, from his experience, Amazon's product collections tend to vary wildly in terms of the traffic they drive. "It's something that can fluctuate quite a bit," he said, noting that, while "if you're on the Oprah's list on Amazon, it's the holy grail," that doesn't mean all collections will convert mammoth amounts of sales. "They have so many lists all the time," he said.
Mulvany said he viewed this as a first step for Amazon in embracing TikTok more fully. "I think it's exciting that they're experimenting with it, running ads on it, and I think they realize that this could be a big shopping channel for them" down the line, he said.