Amazon now ships more parcels than FedEx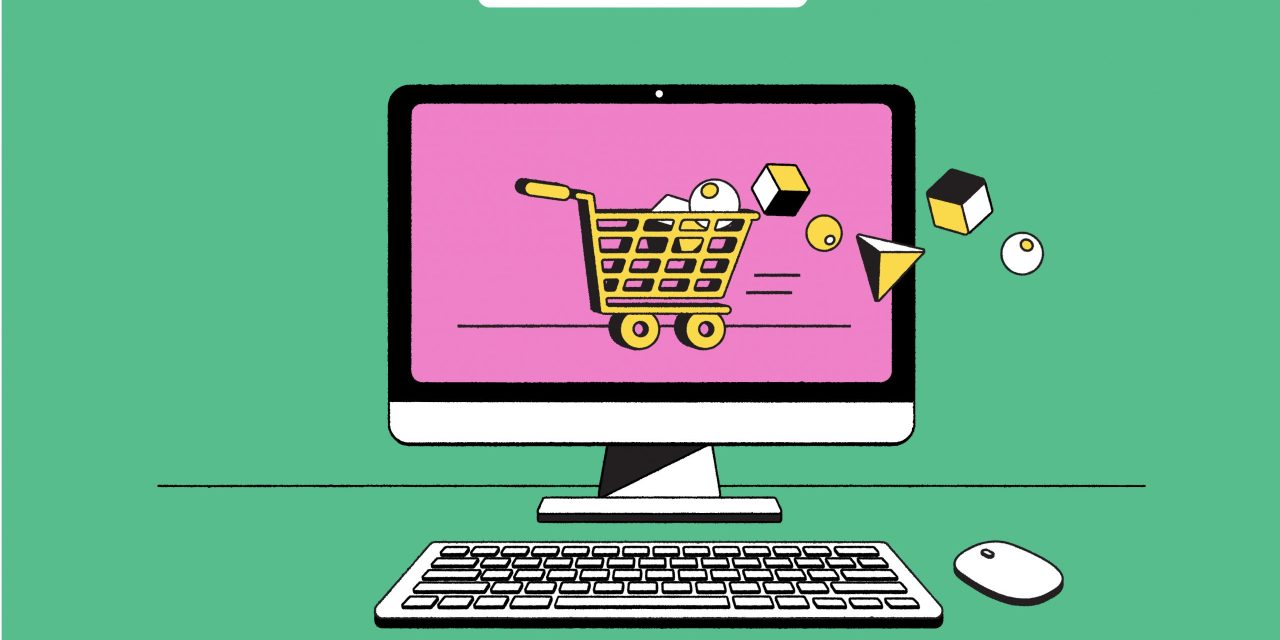 For years, three companies — FedEx, UPS and the U.S. Postal Service — have controlled nearly the entire last-mile delivery market in the U.S. But a new report suggests that Amazon, through its shipping arm Amazon Logistics, is no longer a marginal threat to these companies — it has, in fact, begun shipping more parcels than FedEx, and is nearly at the shipping levels of UPS.
According to data from Pitney Bowes, a technology company focused on shipping and postage, Amazon is now one of the top deliverers of parcel shipments — meaning boxes and packages delivered to people's homes. In 2020, Amazon Logistics delivered 4.2 billion parcel shipments, up from 1.9 billion in 2019. It now makes up, by volume, 21% of the parcel shipments in the U.S., behind the USPS (38%) and UPS (24%) but ahead of FedEx for the first time (16%).
That shift has happened with incredible speed. Amazon only opened up its shipping and warehousing network to third-party sellers in the past decade. Since then, it has turned a relatively marginal operation into a parcel shipping behemoth. In 2014, Amazon delivered just 20 million packages, versus the 4.2 billion last year. Those figures make concrete what many in the industry have known for a while: Amazon has become one of the biggest delivery forces in the U.S.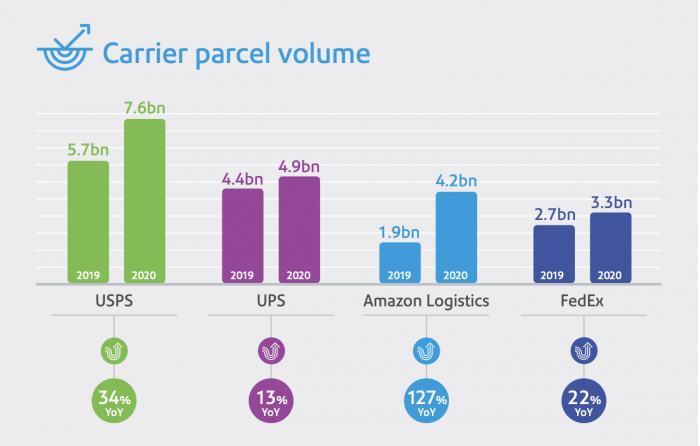 "This data supports Amazon Logistics' overall growth" Jason Dies, evp and vp of sending technology solutions at Pitney Bowes, said in an email to Modern Retail. "The parcel market remains highly consolidated among Amazon Logistics, UPS, [the USPS] and FedEx, which collectively account for 99% of US parcel shipments by volume."
"When you look at Amazon overall, I've always seen them not only as a technology company and a retailer, but I've also seen them as a fulfillment company, a fulfillment provider," said Rachel Dalton, director of e-commerce and omnichannel at Kantar. Responding to the Pitney Bowes data, she said, "the fact that they advanced beyond FedEx by that much, that I find impressive."
Amazon's infrastructure is not on par with those of FedEx and UPS in every respect. For one thing, while Amazon might have comparable market share of parcel shipping by volume, its revenue figures still pale in comparison to those of UPS and FedEx. Pitney Bowes estimated Amazon Logistics' revenue to be just 10% ($18 billion) of the overall parcel shipping market, even if its volume is more than double that. By comparison, FedEx has 34% of the parcel market by revenue ($58 billion) and UPS has 35% ($60 billion).
One way to explain that discrepancy is Amazon Prime. Individual customers generally pay for shipping per package with UPS and FedEx, whereas Amazon Prime offers free shipping to its customers in exchange for a subscription. That means customers order frequently from Amazon Logistics, but Amazon isn't making the same per-parcel profits as rival carriers. (Pitney Bowes estimated that Amazon Logistics earns $4.30 per parcel.)
Further, parcel shipping also represents one slice of what UPS and FedEx offer to their customers. Compared to the two establishment companies, Amazon's shipping fleets still have a lot of room to grow. To take one example: cargo planes. Amazon's fleet is still only a fraction of UPS's and FedEx's. According to one estimate from DePaul University, Amazon is expected to have around 80 planes in its arsenal by the end of 2021, compared to UPS' 275 planes and FedEx's 463.
Still, Amazon's astounding growth in the fulfillment sector points to bigger ambitions. In recent months, Amazon has broadened out its Multi-Channel Fulfillment program, which allows brands that sell on non-Amazon platforms to warehouse and ship with Amazon — its first attempt to become a standalone carrier in the vein of UPS and FedEx. "Right now, they're using logistics to achieve their overall fast, free shipping goals," said Dalton. She thinks that "in the short term, at least, they would focus on continuing to grow out their shipping network to do just that."
But she said she wouldn't be surprised if Amazon's ambitions eventually involve selling its logistics business as a service to a larger assortment of brands and retailers. Given the expertise Amazon has built up, "as a logistics fulfillment provider, they could easily be standalone," she said.
Even that version of Amazon Logistics, if it comes true, will have its limits. "As the system grows, [Amazon] is poised to handle fulfillment for other retailers, which is an exciting prospect for the company," said Joseph Schwieterman, a professor researching transportation at DePaul University. "What they're not going to be able to do, which FedEx and UPS do, is have pickup in many places and drop off anywhere."