Amazon's Climate Pledge Friendly badges are off to a slow start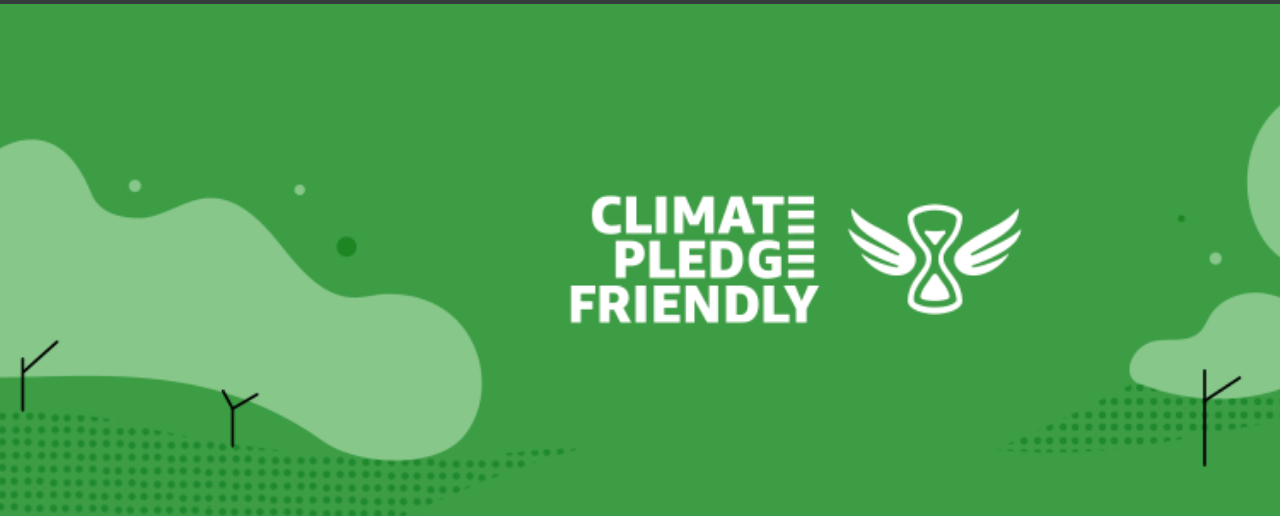 Amazon is adding new certification options for sellers who want to qualify for the company's new line of Climate Pledge Friendly badges.
Amazon announced the Climate Pledge Friendly badges last September as a part of a larger rollout of its company-wide sustainability goals, which involve getting to net zero carbon by 2040. Brands only have to receive one of the now 31 approved certifications across the U.S. and EU — most of which require sellers to submit their products to outside organizations like Fairtrade or the Regenerative Organic Alliance for approval —  in order to qualify for a climate-friendly logo. Brands that receive a certification qualify to have badges appear at the top of the product details page or in search results. Among the new certifications is Animal Welfare Approved and EPA Safer Choice (the latter of which is made from ingredients that are identified as safer for the environment).
This update is one of a few additions of certification programs that Amazon has made surrounding the new badges since last fall. Otherwise, the badges have failed to make waves among sellers after their initial rollout. While they do hold promise for attracting new customers, even sellers that have received the necessary certifications are struggling to actually receive the climate badges.
When Amazon first launched its Climate Pledge Friendly badges, it did so with a number of high-profile partners, including Seventh Generation, Burt's Bees Baby and HP. Meanwhile, Tide laundry detergent, Skippy peanut butter and Chateau Souverain wines all shifted how they package their products to meet Amazon's Compact by Design certification — an in-house sustainability certification that encourages brands to reduce the amount of packaging they use per item — and therefore receive an environmentally friendly badge.
"I think Amazon did one really large PR push when it first launched, and since then there hasn't been a huge spotlight on it," said Laura Meyer, founder and CEO of the Amazon ad agency Envision Horizons. The program is still new, but even nine months later, she said that many brands she works with aren't aware that the badges exist at all. "I'm definitely educating people, consumers and brands, that this is even a thing," she said.
One problem is that the application process is opaque to many sellers. There isn't a form that sellers can fill out in order to receive a badge directly. Instead, said Meyer, sellers have to open up a general case with Amazon in Seller Central, attach copies of their certification and then ask to receive the Climate Pledge Friendly badge from there.
Meyer said that in other cases, Amazon has applied the badges automatically. "We just log in and the climate badge is there," she said. Ken Woodyard, the e-commerce administrator at the natural detergent brand Charlie's Soap, also said that Amazon "automatically applied the certification" to its products in November 2020. "I haven't seen the ability to claim certifications through the listing itself within Seller Central," he said.
An Amazon spokesperson told Modern Retail that more than 75,000 products on Amazon have the Climate Pledge Friendly badges, and clarified that there doesn't need to be an application process because Climate Pledge Friendly badges are applied automatically. "Amazon receives updates from the certifiers themselves to identify Climate Pledge Friendly products, so once a brand is certified, they shouldn't need to make any changes to the product data on Amazon to be included in Climate Pledge Friendly," the spokesperson said. "Certifiers are frequently updating their list of certified products on Amazon so there shouldn't be a need to follow up with the certifier or with Amazon."
Meyer said that, based on anecdotal evidence from her clients, the badges do seem to drive sales — though she has not yet gathered exact figures. "I'm very bullish on making sure the brands within my portfolio who are eligible are getting that badge," she added
Even so, on an individualized level, the exact benefit of these labels can be hard to assess. That's because there are many other investments that a brand might be making on Amazon around the time that it receives a climate badge that could also lead to an increase in sales. Woodyard said that, for Charlie's Soap, "we've not really seen this convert into increased sales" but he added that even if there was an increase, "it did it would be hard to track with all the recent ad spend increases."
Still, one reason to think that the climate-friendly logo could help sales is that badges in general hold special importance in search results. Sellers are always eager to find ways to make their products stand out among a crowded array of white-background product photos in search results. Some try to secure placement in collections that Amazon surfaces in search, like Editorial Recommendations. Others might strive for an Amazon's Choice badge. But getting a Climate Pledge Friendly sticker, for those who know how to get it, is one of the easier ways for brands to differentiate themselves in search results. "By having that badge attributed to your PDP [product details page], it's very impactful, especially for the conscious consumer," Meyer said.
Some recent studies have also bolstered the case for sustainability logos. One recent roundup of research concluded that, in 79% of published studies on the topic, customers were more likely to buy products that featured eco-labels on the packaging. That supports the idea that consumers are increasingly expecting brands to clearly identify when their products are sustainable.
There are other roadblocks to the Climate Pledge Friendly badges becoming truly widespread on the Amazon Marketplace. Many of the outside certifications, for example, can cost upwards of thousands of dollars — a sum that might not matter to a large company like HP or even a mid-sized Amazon seller but may impact thinly resourced sellers who are bootstrapping their businesses.
Yet there's plenty of reason to think that Amazon will continue to push the new badges. Woodyard said that, for Amazon's Compact by Design system specifically, products that adopt those packaging standards are "taking up less valuable bin space in the fulfillment centers." He said, "By offering the certification, they are probably trying to get other manufacturers to adopt these packaging guidelines to streamline the fulfillment process and cut down on shipping costs."
Correction: This article previously stated that last week's announcement was the first major update Amazon made to the program since the fall. It is one of a few times Amazon added extra certification options to the Climate Pledge Friendly program.