Amid a growing Starbucks union drive, digital orders increasing play a role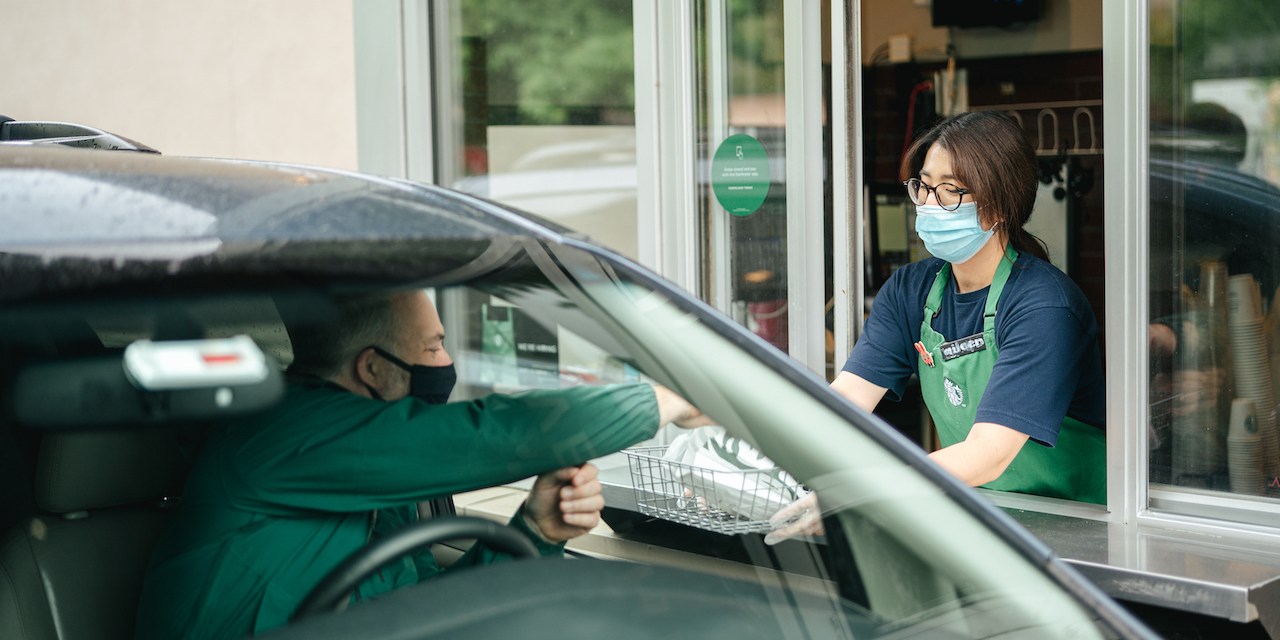 About one in four Starbucks orders is made on a mobile app — and this has CEO Howard Schultz teasing "disruptive innovation" amid a growing unionization movement.
On the company's May 3 earnings call, Schultz told investors that more than 70% of U.S. store volume comes from mobile orders and drive-through lines. Mobile orders make up 25% of all transactions at U.S. stores. And delivery is also up 30% in the first half of the fiscal year.
"The combination of shifts in customer patterns, accelerating demand and algorithms built for different customer behaviors has placed tremendous strain on our U.S. store partners," Schutlz said. "Simply said, we do not today have the adequate capacity to meet the growing demand for Starbucks coffee."
But this heightened demand didn't happen overnight: Starbucks launched mobile pre-orders in 2015, began introducing new store concepts in 2019 meant to accelerate digital ordering and sped up plans for stores without lounges in 2020. 
For those behind the counter, the added duties and busier shifts brought on by digital ordering come without commensurate staffing or changes to the ways shifts are covered. This was one of the reasons Starbucks workers have begun banding together. Since two stores in Buffalo, New York, unionized in December, the movement now has reached more than 250 stores across the country. 
In response to the wave of union drives, Starbucks has cast unions as third-party interlopers that will speak for workers. Schultz linked it to a broader movement stemming from young people's frustration during "turbulent moments in history" rather than experiences at any one company. Instead, Schultz is pledging to align the workflow with current customer behaviors with tech-driven solutions. 
Schultz said the company plans "to literally catch up on investments we have not made and make further investments to position the company ahead of the coming growth curve." He hyped up forthcoming "industry game changers" including new technologies, handheld devices, and equipment improvements that deliver a better experience — plus digital tipping come 2023.
A Starbucks spokesperson declined a request from Modern Retail for further comment on the planned improvements. However, Schultz and other top company leaders said they're focused on how to deliver a better experience for customers and workers alike.
"What you will see is the coming transformation and re-imagination of the Starbucks customer and partner experiences," Schultz said. 
Anastasia Christman, a senior policy analyst for the National Employment Law Project, said the recent union wave is part of a broader phenomenon in the retail and service industry. 
Workers are recognizing that business models have changed and are asking "the corporate bosses" to catch up, she said.
"What we saw during the Covid pandemic is employers were willing to risk workers' health or even the lives of their employees to continue business as usual," she said. "To protect yourself, you start talking amongst yourselves to make sure you're safe and protected."
Schultz's pledges for transformation seem to be more of a power play designed to appeal to shareholders than a bid to address the employees' concerns, she said. 
"Starbucks as a corporation clearly is having a real problem thinking about what the business model needs to look like now, and actually thinking about partners and baristas as part of that model," she said. "These are the people who do the work, and they know how to fix it." 
Barista Ande Hernandez has worked at a Starbucks in La Quinta, California for the last seven years. It's a popular spot with teachers, parents and students from a nearby high school — and it's centrally located to a large Costco that's been bustling with those seeking bargain gas. Her store is set to vote on whether to form a union in the coming weeks.
Hernandez said staff has struggled to contend with the shift to mobile ordering ever since it was rolled out about four years ago. But it "took off" during the pandemic — along with people requesting a large number of customizations inspired by off-menu viral "TikTok drinks" like a six-pump, three-shot, iced white chocolate mocha with caramel drizzle and sweet cream foam. 
"For the level of service they would love us to give, and that I would love to give to the customers, we're just not able to do that," Hernandez said. "I love the idea, I get the convenience. But to execute at the level that they want us to, you have to have enough people there."
The result can leave both customers and baristas frustrated. Sometimes orders get abandoned, and customers walk out empty-handed. Other customers don't know whether they can gran their drink themselves or wait for their name to be called, crowding up the busy order counter with a deteriorating level of patience. 
"If someone comes and we haven't gotten their drink, we're the ones getting yelled at. We're the ones getting that feedback, that we don't have enough people on the floor," she said. "We're the ones that face the people."