Amid inflation, Chewy bets on pet health care offerings to drive sales growth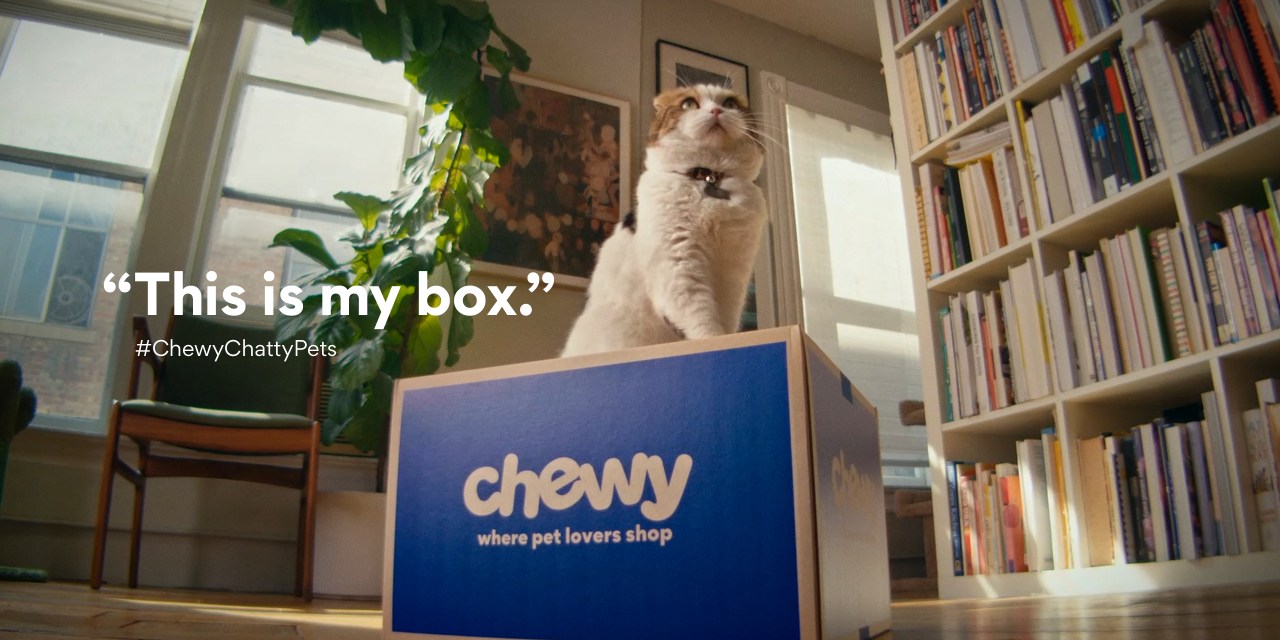 Chewy
Amid macroeconomic headwinds, the continued demand in the pet industry has allowed Chewy to report better than expected results in the first quarter.
The company's net sales grew 13.7% year-over-year in the first quarter to $2.4 billion, and its gross margin declined 10 basis points. Chewy's reported a net income of $18.5 million or 4 cents a share in the first quarter, down from $38.7 million last year. Chewy's advertising and marketing costs scaled 80 basis points in the first quarter to 6% of net sales.
As consumers pull back spending on discretionary items, even in the pet category, categories deemed essential like consumables and health care were some of the strongest categories for Chewy this quarter. Moving forward, the company is planning to squeeze more revenue out of these essential categories by investing in health care offerings. Though the pet industry could continue to flourish, analysts said Chewy will have to work on winning more share of consumers' wallets and weather industry-wide disruptions like inflation, fuel costs and supply chain expenses.
"Our [first quarter] results are a testament to the resiliency of the pet category and clearly demonstrate our ability to capture consumer share of wallet and execute against our stated objectives," Chewy CEO Sumit Singh said during a call with investors and analysts. 
Chewy was one of the pet retailers that have heavily benefited from the rise of pet adoption rates and online shopping during the pandemic. In the fiscal year 2020, Chewy's net sales rose 47% year-over-year, and its customer base grew 43%. In March 2021, the company turned its first quarterly profit. 
In 2019, Chewy went public at $22 per share although it is still controlled by PetSmart and its owners. PetSmart's current owners BC Partners acquired Chewy in 2017 for over $3 billion. 
"On the whole, [Chewy's results were] better than expected," said Seth Basham, managing director of hardlines retail, equity research at Wedbush. "They were slightly better than expected on the top line in terms of revenues and significantly better than expected on the bottom line."
This quarter, consumables, such as pet food, and health care were some of Chewy's strongest categories due to their essential nature. Executives said inflation is pushing consumers to purchase fewer discretionary goods like toys. 
To further capitalize on the demand for veterinary care, the company is planning to launch its wellness and insurance offering this quarter, dubbed CarePlus. The wellness plans cover annual exams, vaccines, routine lab tests, parasiticides, among other preventative care. Chewy's insurance plans, on the other hand, "offer protection" against accidents, unexpected illnesses and surgeries. 
"Overall, CarePlus represents an opportunity to drive even greater brand loyalty, customer engagement and incremental consideration for health care purchases with Chewy," Singh said.
CarePlus' launch builds on Chewy's past initiatives in the health care category. Back in September, Chewy also introduced a veterinarian-only marketplace called Practice Hub, which helps streamline pharmacy operations and grow veterinary clinic revenue.
Chewy's competitor Petco is also leaning into the pet health and wellness category. Petco in March introduced new perks to its existing paid membership plan, called Vital Care. The plan, which was initially launched in October 2020, has expanded its benefits to include discounts on grooming services, nutrition, litter, among others.
"The economics of animal medical care in the United States is completely backwards. So that industry is crying out for somebody to bring a service and cost focus to that," said Bryan Gildenberg, svp of commerce at Omnicom Retail Group. "I think they've got a natural right to play in that space. And there's real market opportunity there."
Finding ways to gain a larger share of consumers' wallets by leaning into certain categories is essential during challenging economic conditions, said Brad Jashinsky, director analyst at Gartner. Chewy's active customer base grew 4.2% in the first quarter at 20.6 million. The company's net sales per active customer in the first quarter hit an all-time high of $446, which Jashinsky said reflects the stickiness of Chewy's business.
"They surprised Wall Street and showed that the pet category, and their company in particular, was able to continue to grow even with the shift to more people purchasing in physical retail," Jashinsky said.
As supply chain costs continue to rise across the industry, Chewy is also looking to bring more logistics capabilities in-house. The company's line-haul initiative, dubbed Chewy Freight Service, is already operating some of the company's middle-mile network, executives said. The goal of the initiative is to create a smoother flow of packages, which could cut transportation costs and provide a better customer experience. Executives said they plan to continue scaling the initiative in this year and next year.
Despite its optimism for the pet category, Chewy reiterated its full-year forecast of $10.2 billion to $10.4 billion. The company also expects second-quarter sales to be between $2.43 billion and $2.46 billion or 13% to 14% year-over-year growth. Analysts said the conservative outlook isn't a surprise given the challenges hitting retailers, such as inflation and the supply chain crisis.
"While our core fundamentals remain strong, ongoing volatility in the macro environment continues to make accurate forecasting difficult," CFO Mario Marte said during the call. "As always, our current guidance reflects the balance of the opportunities and risks we see today."