An online wine company is using customer data to develop products and gain traction with retailers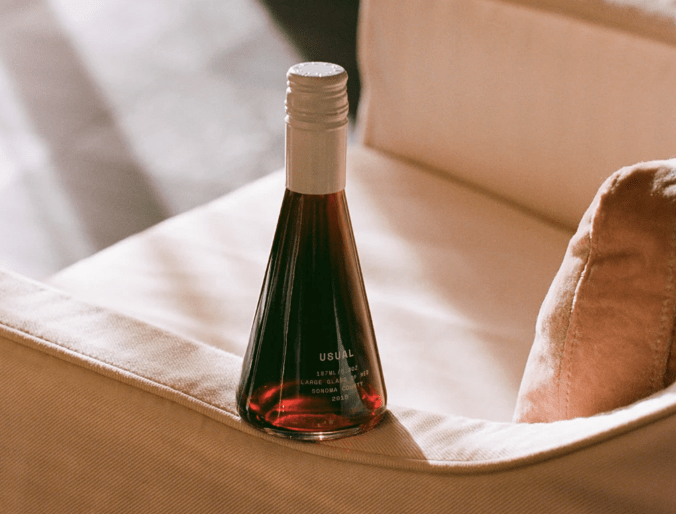 Vinebox, which sends shipments of wine-glass-sized bottles every three months — built a membership business off the back of selling packs of individual wine pours to subscribers.
After gathering customer insight from subscribers around the types of wines they prefer over Vinebox's past three-and-a-half years, and seeing users buying more cases of the individual pours outside of the three-month delivery cycle, Vinebox founder Matt Dukes launched Usual Wines, a private-label brand of wines made in-house. Usual wines, which launched eight months ago, are sold in packs of six, for $48, and can be bought online for and at Usual's first branded store and wine bar in San Francisco.
Vinebox, like other wine delivery e-commerce companies, has split its focus between subscription and private label to launch a direct-to-consumer wine brand using customer feedback and data. The ultimate goal is to build online brand loyalty. According to Dukes, the direct-to-consumer model, still in its infancy for alcohol brands, is central to Usual wines. Not only does it help the brand decide which direction it should go next in its product development cycle, but it's a gateway to success down the road, when third-party retail distribution comes into the mix. Customers still overwhelmingly shop for wines at their local grocery or liquor stores (according to Slice Intelligence, online wine sales have increased by 63% since 2015, but remain less than 10% of the overall $4.3 billion US market). Having existing brand recognition, established with the online audience, acts as a leg-up in driving sales and drawing in new customers.
An existing customer base also draws the attention of third-party retailers looking to bring online brands into stores.
"Direct-to-consumer is our shining beacon and competitive advantage," said Dukes. "Doing it as well as possible would be the best thing we could do to get into third-party distribution, where right now, we're behind."
Other e-commerce wine companies have started out as wholesale marketplaces and membership clubs before fashioning private-label wine plays, including Winc.com, whose two wine labels Summer Water and Folly of the Beast generated nearly $6 billion in sales last year. The approach sets up an established customer base before introducing new wines to an existing audience. In Usual's case, the audience had a role in deciding on the brand's early direction.
According to Dukes, Usual's first rosé started with a customer survey. The company asked customers what type of rosé they would prefer, and from which region. The Santa Barbara-produced wine received more interest than the alternative, a wine from Sonoma. Vinebox and Usual also use text messages to communicate with customers — they can ask for order updates, order new cases and ask questions about the wine — where they field areas of interest and white spaces in product mix. Right now, 44% of customer communication happens through text.
This type of customer participation, Dukes said, is rare for the alcohol industry, which operates on a three-tier system: producers sell to distributors which sell to retailers, who then sell to the customers. That, Dukes said, has led to limited product innovation in the wine category, with brands typically working with fixed product orders without much room to think of something new.
"We're taking the innovation curve in alcohol and reversing it," said Dukes. "Traditional companies have fixed assets, and any innovation comes from here's what's left, let's look for an opportunity and market it. We ask our customers what they want, and dedicate resources only to product we know there will be demand for, that will increase brand loyalty and that people are excited about. It can fix gaps in the market much more quickly."
Traditional beverage companies have been slow to keep up with shifting customer taste, as consumers lean towards products with buzzy ingredients like CBD and charcoal and, in the alcohol industry, obsess over trends like hard seltzer. Zak Normandin, the CEO of beverage portfolio Iris Nova, said the game of catch-up is thanks to a lack of data.
"If companies had customer data, they could create a new product for the same consumers and not be caught off guard by new trends," he said. "But the dependence on distribution and retail makes it too challenging to experiment."
Now, retailers are eyeing DTC brands to bring their online audiences in stores. Dukes said that multiple retailers have approached Usual to sell its individual-pour wine bottles in stores, but that the brand wants to focus on growing its direct business before it starts selling to other retailers.
"They're recognizing the DTC value of retail in stores. There's a loyalty component, and then for us, it's moving product into places where shoppers are and buyers are naturally going. We're not pursuing that yet, but the feedback we've gotten is that the brick-and-mortar retailers are watching," said Dukes. "They're looking for more ways to bring in the millennial consumer group especially."