'Apparel is hard': Why VC funding has moved on from traditional clothing startups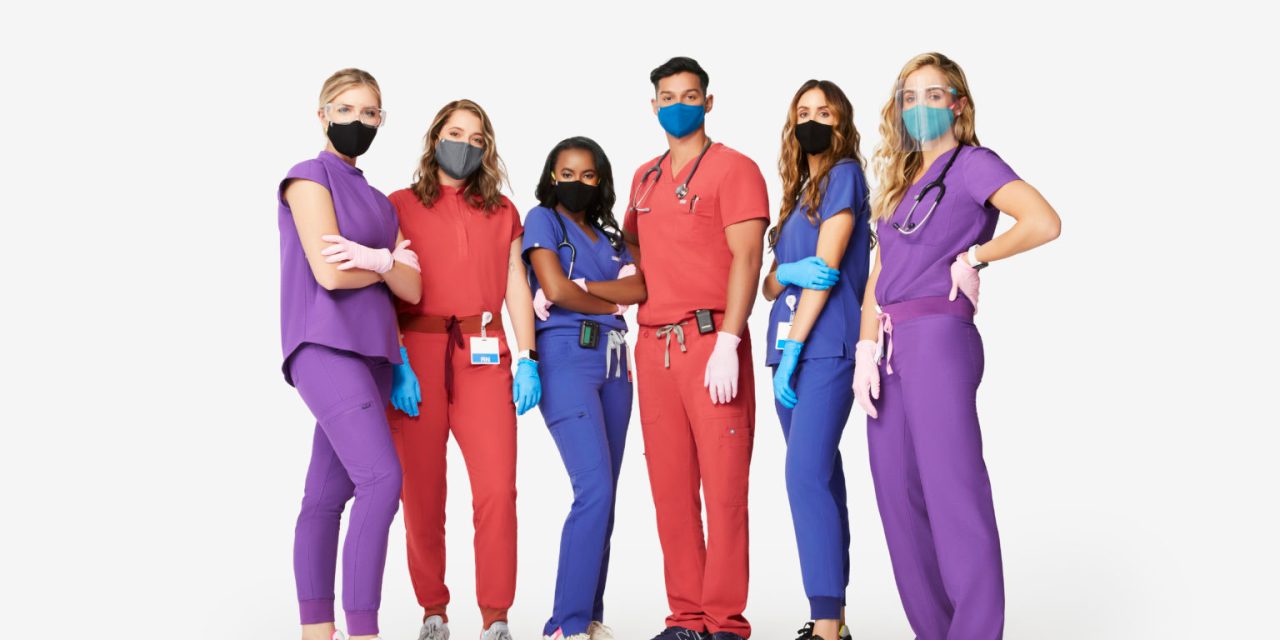 via Figs
As funding for traditional apparel startups dries up, VCs are instead turning toward more profitable niches like resale or apparel tech.
In the early aughts, e-commerce apparel startups became venture capital darlings as more investor money flowed into direct-to-consumer startups. But some of these startups have since fallen out of fashion. Apparel brand Nasty Gal raised $65 million in VC funding from 2006 to 2016. However, it declared bankruptcy in 2017 after burning through capital on marketing, luxury offices and brick-and-mortar stores. Vintage retailer Modcloth, raised $75 million after launching in 2002, and was even acquired by Walmart. But the big-box retailer eventually offloaded Modcloth reportedly due to too high of losses, and the apparel startup has since been resold to a tech company called Nogin last year.
Deborah Benton, a founder and managing partner at Willow Growth Partners, said that VC investors "have learned a lot over the course of the last 10 or 15 years about how these how these [apparel] businesses actually scale" and some of the profitability challenges of the category. These challenges range from costly seasonal inventory to high returns on apparel purchased online.
In turn, many investors have turned away from traditional apparel brands into higher-margin subcategories like resale, apparel tech, and medical apparel.
VCs look toward platforms
This month, sneaker re-commerce platform Kicks Crew raised $6 million in a Series A funding round. Also this month, fashion supply chain software company Calico brought on tennis star Serena Williams for its $2.1 million seed round. Both suggest an emerging trend in apparel VC funding: invest in apparel tech and platforms, rather than apparel companies themselves.
Tessa Battistin, head of platform, investor at the retail-focused venture capital firm Interlace, told Modern Retail that "at our core, we're looking for a technological advantage." As a result, Interlace hasn't invested in any true apparel businesses.
However, Interlace has invested in technology companies that power clothing businesses. Interlace's apparel-related investments include secondhand marketplace Treet and Flyp, a company that allows shoppers to give their items to a professional apparel reseller who will flip the product for them for a fee.
"We think that [technology] is going to be really the future of the apparel space," said Battistin. "If it's not innovation on the manufacturing side — which would be materials innovation, sustainable dyes, and upcycling or reworking recycled fabrics — it's going to 100% be in the consumer-facing side where consumers get the product faster, it's easier returns, or maybe even digital try-on."
Interlace, like many funds, is also interested in the resale space. Kicks Crew is just the latest resale platform to announce a major VC funding round or acquisition in recent months and years. Resale-as-a-service platform Archive — which builds the backend of brands' owned resale efforts for their sites and stores — announced $8 million in additional funding this January. Sneaker and streetwear platform GOAT also raised  $195 million in a late-stage funding round in June.
Benton, however, points out that many investments in resale are more about platform, than product.
"Depop was a tremendous success story [after it] was acquired by Etsy last fall," said Benton. "I would still say that that looks and feels more like a tech marketplace. It happens to be facilitating the sale and resale of apparel, but that's almost an afterthought."
The problem with apparel
The problems in apparel are plentiful, explained Benton. Broadly, consumer good companies are often unlikely to scale at the rates of SaaS companies. But even within consumer goods that have worse margins than software, explained Benton, "apparel is hard."
Apparel margins are often lower compared to a category like beauty. Apparel is also known for having high return rates, which are often higher for e-commerce online apparel brands. According to the NRF,  apparel is the second-most returned category in retail after auto parts, Moreover, there's high promotional activity in the category, in part due to the seasonality of the category. Retailers often resort to end-of-season sales to offload any inventory that's about to become outdated, which further erodes profit.
On top of this, added Benton, there's a higher risk of getting apparel wrong than in other categories. Buyers are tasked with selecting the right silhouettes, colors, and size range, and have to do it over again every season.
"When you compare [apparel] to beauty or personal care, it's night and day in terms of the level of risk that you're taking," said Benton.
When VC funds do invest in true apparel brands, they pick startups that operate in less risky subcategories.
Athleisure, explained Benton, has a more forgiving fit than more formal categories. It has fewer returns and higher margins. In turn, startups in this category have attracted more VC funding in recent years. Activewear brand Vuori, for example, received the largest single investment to date in an apparel brand with a $400 million funding round led by SoftBank this October.
Similarly, medical scrub companies have also attracted VC interest. Benton's Willow Growth Partners has invested in medicalwear company Jaanuu, which received a $75 million investment from French private equity firm Eurazeo this January. Additionally, another scrubs company Figs went public last May at a valuation of $4.57 billion.
Like activewear, scrubs are less seasonal, more fit-forgiving and often come in just a few silhouettes and colors. It's a product that customers typically have to purchase often, given that nurses and doctors wear scrubs to work every day. According to Figs' S-1, 60% of purchase are from returning customers.
"Both Figs and Jaanuu have brought — I would say — a stronger style component to the medical apparel category," said Benton. But it's not like it's runway haute couture. It's a little more fitted, it's nicer colors, there may be a little bit different design on the sleeves or the pants. You just don't have fashion risk there."
But both Benton and Battistin suggest there is still a place for a traditional apparel company to thrive.
Battistin explained VC funds may have to rethink timelines with these sorts of companies. "I think that there's always going to be a place for apparel businesses proper," said Battistin. But, she added, these apparel businesses are likely not going to offer venture capitalists as quick of a return on investment nor IPO quite as quickly.
Benton, meanwhile, warns investors against treating an apparel company with the same expectations as a software company. A software company is likely to have better profit margins and scale more quickly.
"If you look at a lot of apparel companies that were not successful, a lot of investors lost a lot of money," said Benton. "I would argue that those could have been successful companies, and really should have been successful companies if they hadn't raised as much capital as they did if they hadn't been put on this path and almost forced to perform more like a software company."