Apparel retailers are investing in new categories to return to sales growth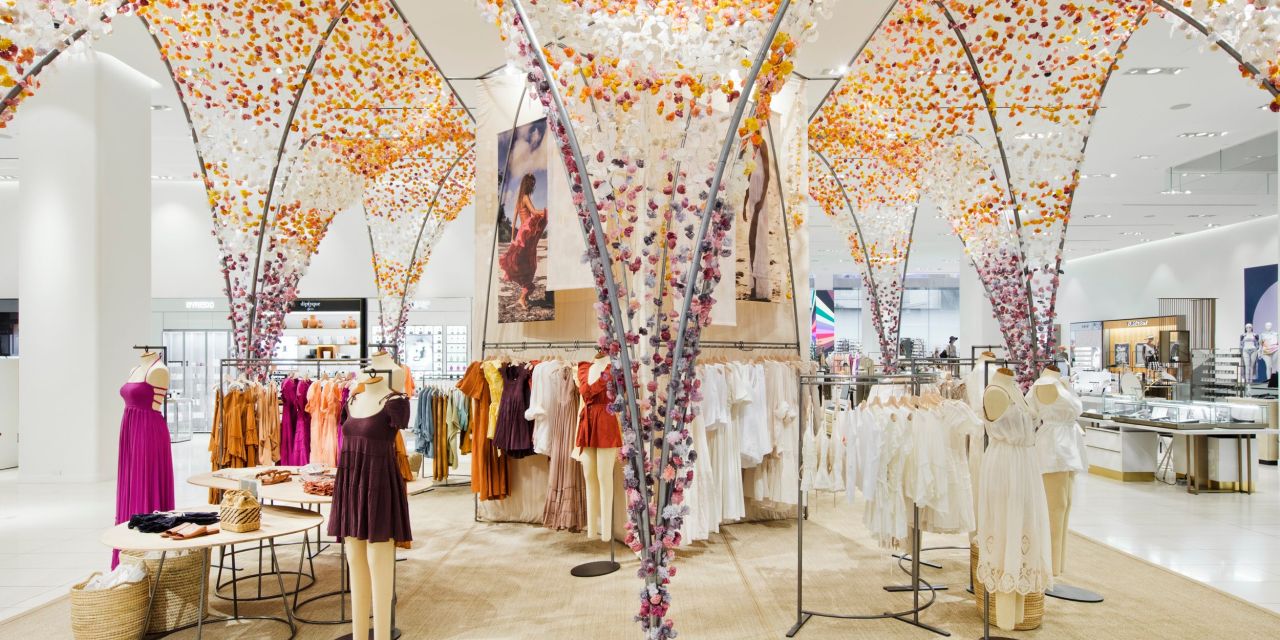 Nordstrom
After many apparel retailers reported revenue declines in 2020, they are spending 2021 investing in new categories in order to recapture market share.
Like last quarter, second quarter apparel sales outpaced the year prior across most retailers. At Target, category success was strongest in apparel, up "mid-teens" in sales, according to CEO and Chairman Brian C. Cornell. Macy's, Kohl's, Dillards, TJX and Nordstrom all increased their revenues by double or triple digits year-over-year and outperformed analyst estimates. Moreover, Macy's, Kohl's and Dillards outpaced their second-quarter 2019 numbers, though other retailers, like Nordstrom, still haven't surpassed 2019 revenue levels. In-store sales, in particular, drove growth as consumers returned to brick-and-mortar again.
In order to draw people back to stores, some of these apparel retailers have started investing more in new categories that have performed well during the pandemic, such as home goods and beauty. Menswear and footwear are also driving more sales for select retailers.
"We had to some extent expected that there was going to be a big return in retail," said Deepthi Prakash, global director of product and marketing for advertising and insights agency TBWA Worldwide. "[This quarter] I think we also noticed that, that rise didn't only come online, that it came from the physical store."
Hot Boy Summer
Historically, menswear has been a smaller sector than womenswear. Estimated sales at men's clothing retailers in 2020 were less than a quarter than those at women's apparel retailers, according to the Census Bureau.
But some retailers increasingly see menswear as a promising area of growth — and, as they have with women's apparel — are investing more in trending categories like athleticwear. At Kohl's, men's sales increased 60%, year-over-year "despite significantly less in-store dedicated square footage," according to CEO Michelle Gass. Menswear drove "extremely healthy" sales growth at TJX (home to Marshall's, TJ Maxx and Homegoods) according to president and CEO Ernie Herrman.
Last quarter, Gass explained that Kohl's was shrinking men's floor space and shifting the category toward activewear as well as toward "big and tall" sizing (e.g., plus size). This quarter it appears to have paid off, outpacing women's apparel in year-on-year growth.
Macy's chairman and CEO, Jeff Gennette, described menswear as a "dormant category" that this quarter "is starting to rev up."
Macy's is focusing its efforts on men under 40, as well as boys and teens. The retailer, explained Gennette, is investing more heavily in preexisting private labels or creating new private labels like "Now This" to speak to Gen Z and millennial men.
Investing in beauty and home
Home and beauty sales have continued to grow, as they have throughout most of the pandemic. Home and beauty both saw single-digit growth at Target this quarter.
Sensing the promise of these categories, retailers that have historically focused on apparel have started investing more in these respective categories over the last few months. In June for example, Gap launched a home goods selection to be sold exclusively at Walmart. Meanwhile, Kohl's and Target both recently launched Sephora and Ulta shop-in-shops respectively at some of their stores.
And during their second-quarter earnings calls, executives at apparel retailers continued to highlight the promise of these categories.
Gass described the Sephora launch as "very successful" with an "overwhelmingly positive" customer response, though didn't share sales or foot traffic specifics.
Home goods is proving to be another popular space that apparel retailers are investing in — though mostly through online efforts initially. This quarter, for example, TJX announced plans to launch Homegoods.com, a completely separate e-commerce site from TJ Maxx for its popular in-store home selection. Macy's announced that it would be selling Oak — a new home and textiles private label — through what the retailer describes as a "sitelet." This is a subsection of Macy's main site with unique editorial and merchandizing content that the retailer first employed for its contemporary fashion earlier this year.
Changing tastes in footwear
Last quarter, footwear was a mixed bag. While Deckers and Foot Locker saw revenue increased driven by comfort-forward Crocs and sneakers, respectively, Nike's revenue, for example, slipped 0.6% year-over-year.
This quarter, however, footwear was a bright spot across retailers. Despite the fact that many don't yet have to buy shoes to return to the office, athletic, as well as casual styles are remaining popular
Foot Locker had another strong quarter, with revenues up 9.5% to $2.28 billion. Nike's US sales broke records and Adidas' revenue was up 51% year-over-year. At Stuart Weitzman,a luxury shoe brand under Tapestry, sales were up 13% in the second quarter year over year.
But Stuart Weitzman's success, for example, came from flat boots, jelly sandals and thong sandals, as well as a significant reduction in SKUs to focus on more active and casual styles according to Tapestry CEO Joanne Crevoiserat.
A shift towards more formal styles will have to wait for a return to work explained TBWA's Prakash.
"I would expect by early next year, we're going to see a revival of a broader set of footwear and more work kind of oriented footwear coming back in vogue," said Prakash. "[It's] unlikely to be the stiletto heels of the past and unlikely to be the Birkenstocks of now. [It will be] something in between, that kind of melds the professional and the comfortable."