As footwear gets more casual, Cole Haan adapts with new materials and styles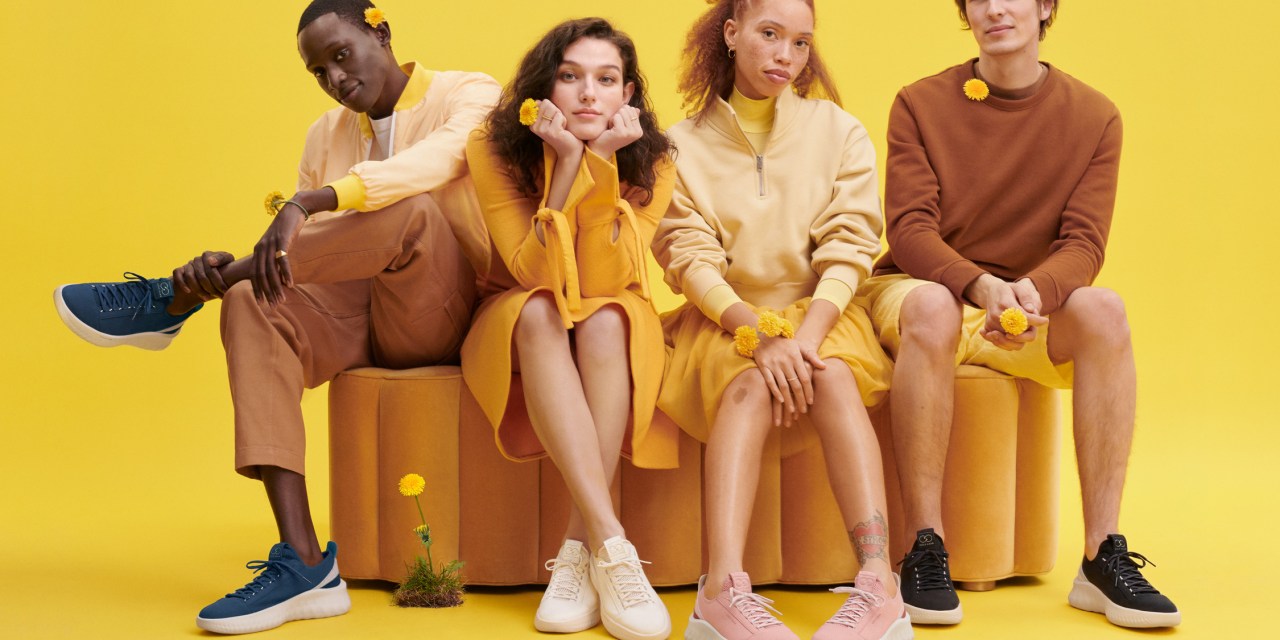 Cole Haan
On Thursday, Cole Haan released its first sustainable sneaker made of 25% recycled materials, and a new outsole technology made from dandelion rubber.
For Cole Haan, these moves are part of a quiet repositioning of its products. The new rubber tech, dubbed "Flowerfoam," is one of many proprietary materials that Cole Haan has released in the past few years. As casualization hits fashion, the brand has been pivoting away from its traditional dresswear roots into athletic footwear, high-performance materials and more casual versions of its dressier styles. Alongside these product changes, the brand has also begun rolling out a new sneaker-focused store concept called Grandstore.
Cole Haan's new dandelion soles have been in the works for over two years, explained David Maddocks, brand president. While typically the brand can bring new footwear to market in 15 months, the relatively new material required further tests for durability and cushioning properties.
"The interesting thing about dandelion rubber is that the rubber industry has flirted with it for many years, in fact, since the 1940s," said Maddocks. "It makes sense — it's got great cushioning properties and doesn't pack on a lot of weight. It gave us what we wanted from a performance standpoint."
Founded in 1928, Nike acquired Cole Haan for $80 million in 1988. Nike later sold off Cole Haan to Apax Partners for $570 million in 2012. While that meant losing access to the resources a much larger brand like Nike has, Cole Haan has since found other ways to innovate in-house.
The dandelion launch is not the brand's first foray into new materials, for example. In 2014, Cole Haan released its first Zerogrand shoe: a cross between a sneaker and an oxford shoe that prioritized lightweight materials, flexibility and high cushioning. Since then, the company has released four new versions of the Zerogrand tech. These new collections offer aesthetics alongside upgraded sole and upper technology and materials.
While Cole Haan's material investments initially focused on making dress shoes more like athletic shoes, the brand has since expanded to athletic footwear. In 2017, the company released a hiking boot collection designed to withstand extreme climates and, in 2019, an athletic trainer. In 2021, Cole Haan expanded into performance golf and tennis shoes.
Beth Goldstein, an executive director of accessories and footwear at The NPD Group, explained over email that the "aesthetics, functionality and comfort features of sneakers have spread to other [dressier] styles" at many brands in recent years. "Sneaker bottom" styles on shoes like sandals, oxfords or ankle boots, for example, have been stealing category share and sales dollars from those without, Goldstein added.
It's partly a shift in performance, but it's also a shift in style. Fashion retailers across every apparel and footwear category have had to address consumers' increasing preferences for more casual aesthetics, even in their more formal apparel.
"My earliest recollections [of the trend] was sporting events pundits wearing sneakers with suits," Matthew Katz, a managing partner at SSA & Company said. "It used to be kind of awkward but now, it's an accepted practice, it's actually a high fashion play." Indeed, in many marketing images promoting the new dandelion sneakers, Cole Haan has paired them with pastel yellow suits.
While the pandemic accelerated casualization — as stay-at-home workers traded suits for sweats — Goldstein said that the trend had been slowly growing for years. "In the years prior [to the pandemic], the fashion category had already been losing share to athleisure, and — within fashion — the dress segment had been losing share to casual," Goldstein said.
A new store concept
To support its new athletic focus, Cole Haan is also testing out a new store concept called Grandshop. There are only two to-date — in Silicon Valley and in Japan's Harajuku District — but each focuses on the brand's Zerogrand material construction styles.
In store-screens explain the construction behind the shoes' soles. Product displays offer QR codes to link in-store shoppers to Cole Haan's website. On the site, these shoppers can find more information highlighting shoes' breathability or responsive cushioning. "When you walk in the front door, it really looks and feels like a place where our… customers might live or work in," Maddocks said.
Next, the brand is working on a hybrid concept meshing the Grandshop's athletic focus with Cole Haan's traditional storefronts for a 2022 opening in Kuwait. The store will be split into two sections. One will focus on the company's more traditional styles — dress shoes, handbags and outerwear — while the other will highlight sportier styles.
"[It's] completing the house, if you will," Maddocks said. "The way we've approached store design is very much the same way we approach product design."