As inflation rises, private labels are quietly taking over retail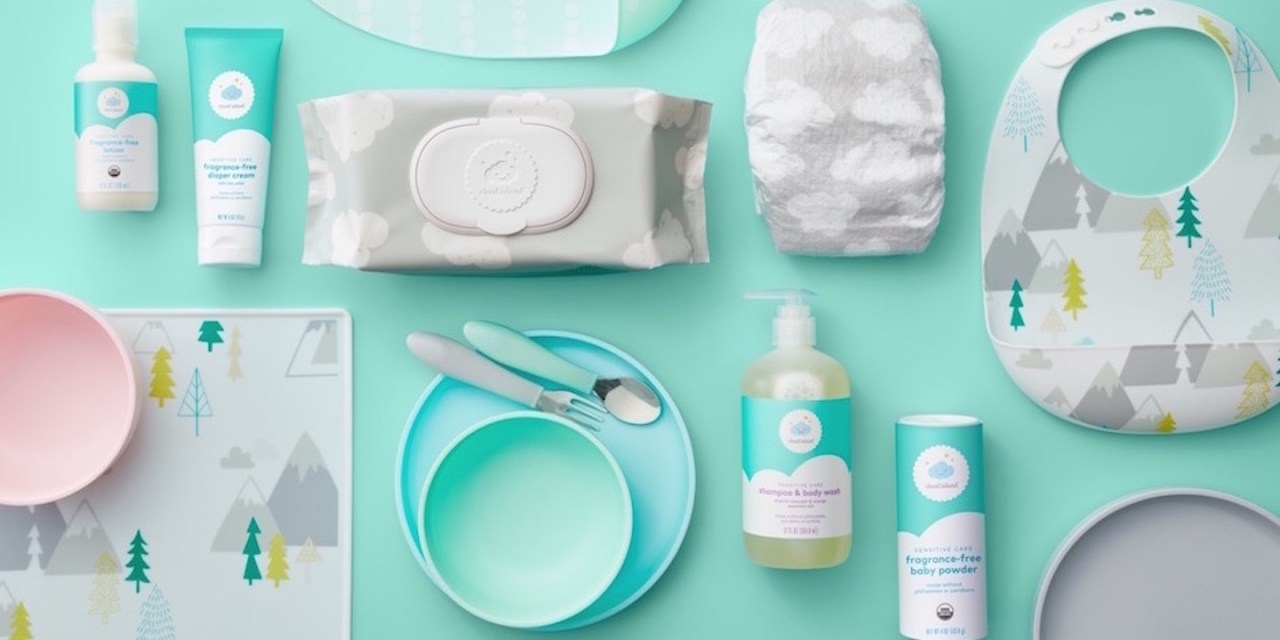 Image via Target
Consumers may begin looking to stretch their budgets as the cost of essential items continue to rise, making room for cheaper private label brands to take market share. 
The Consumer Price Index, a key barometer of inflation, rose 7% year-over-year in December, the largest annual increase since June 1982, according to recent data from the Labor Department. Costs for several categories increased in December, including household furnishings and operations, apparel and food. With living expenses taking a larger cut of consumers' paychecks, private label products may take spending away from staple national brands. Simultaneously, retail giants have been focused on building out new private-label brands to drive sales growth over the past few years. 
There are already signs that customers are buying more private label products. Target's owned brands grew 36% in the first quarter, the strongest the company has ever recorded. In March, Kroger reported a record 13.6% year-over-year to $26.2 billion sales increase for its store brands.
Private labels have historically grown alongside inflation and economic uncertainty, said Keith Anderson, Profitero's senior vice president of strategy. During the great inflation of the 1970s, private labels grew more prominent as cost-effective substitutes to name brand products. Again in 2008, American households turned to store brands when the economy contracted steeply.
"There is often a degree of increased planning of what you're going to buy," Anderson said. "If you're starting to feel a pinch, you may start to budget, and so that means you may get more precise about what you're not just looking for, but going to buy on a given trip."
Price hikes aren't stopping anytime soon it seems. Major food suppliers like Campbell Soup and Mondelez International as well as consumer products company Procter & Gamble have announced price increases on grocery items. Several direct-to-consumer brands, such as bedding brand Buffy and food container brand Stojo, said they are raising prices to offset the cost of materials, labor or other supply chain constraints. 
Due to price increases last July, 55% of consumers said they've already changed some of their shopping habits, according to data from Numerator. Of the respondents surveyed, 54% said they are moderately or significantly concerned about future spikes in prices. 
It's times like this when consumers may be more willing to try new brands or trade name brands for store brands, which are generally cheaper. "These private labels are price points that are the openers in the category and therefore more accessible," Anderson said. 
Consumers that are more loyal to private labels tend to be older and buy for larger households, according to recent data from IRI. A little over half (55%) of those loyal to private brands also have a household income of less than $70,000.
For price-conscious consumers, private label products are getting easier to find. In recent years, retail giants have been bulking up their private and exclusive brand offerings in an attempt to gain market share in trending categories. Bed Bath & Beyond, as part of its three-year strategy, planned to launch eight private label brands in 2021. Target has more than 45 private label brands, with home organization brand Brightroom being one of its newest. 
A lot of the private labels launched in recent years no longer have the same cheap and low-quality image they've had in the past. For instance, Walmart tapped acclaimed fashion designer Brandon Maxwell last year as creative director for Free Assembly and Scoop — its elevated in-house brands. Macy's also debuted a new private label line last year, dubbed And Now This, which boasted "trend-forward pieces at affordable price points."
"I think the long-term trend in North America is slow but steady private label growth," Anderson said. "Many of them will benefit over the short term from some temporary trial of lower-priced alternatives," but ultimately, quality is what gives private labels a permanent position in the category.   
Though some inflation-driven habits from the past may re-emerge, Hilding Anderson, head of strategy for retail in North America at Publicis Sapient, added that inflation back in the past looks nothing like the environment consumers are facing now. 
He said retailers saw year-over-year sales growth over the last 20 consecutive months, and in that environment, the significant imbalance between supply and demand has been a key driver for inflation. "Overall, we are living in a time of elevated inflation but we're also living in one of the strongest retail markets in our last 20 years," he said.