As physical retail falters, retail startups fall back on virtual sales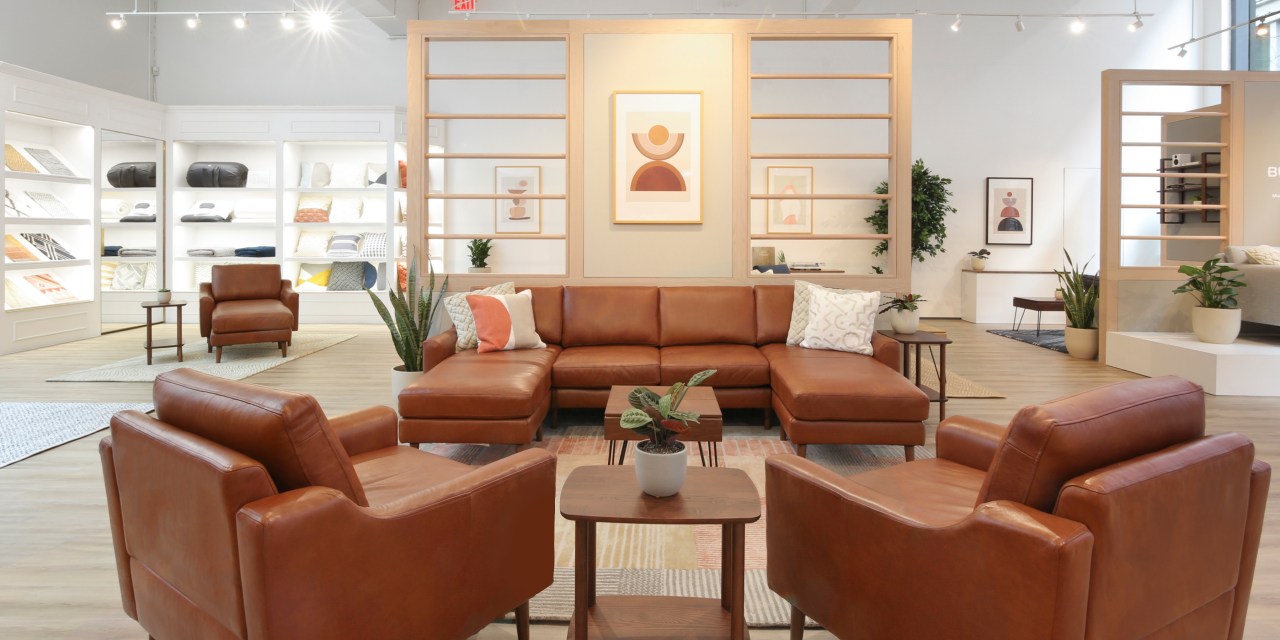 Since shutting its recently-opened Manhattan store on March 14, direct to consumer furniture brand Burrow has shifted to replicating the high touch experience for customers with Burrow House at Home. 
Nearly 90% of Burrow's revenue comes from e-commerce already. The startup already had the service in the works before the coronavirus outbreak, which allows shoppers to schedule a call with a Burrow design expert. It also uses text messaging for communication, which the team is working to add the ability for sharing floor plans and design imagery through. 
Burrow is in some ways going back to its roots, like many others: As their retail locations stay closed, so-called direct to consumer brands are going back to basics by shifting focus to their e-commerce operations. This time around, companies are implementing backend tools, including virtual customer communication, to keep revenue flowing.
Coronavirus-related shutdowns are affecting every aspect of the retail industry. However, digitally-native DTC startups are able to quickly deploy resources, including shops' staff and platform technology, to retain customers and even get new ones. This advantage has given brands across categories, like home decor and pet care, the ability to cater to shoppers with hopes of having virtual purchasing habits stick around long term. 
"When the shop closed, we expedited the process to launch phase one of Burrow House at Home within 48 hours," said Burrow CEO Stephen Kuhl, with the past week seeing several consultations going over an hour long. He credits the interest to more people being home, which gives them the time and energy to plan decorating projects. The shopper feedback has been positive, since the scheduled calls give customers an interactive experience, said Kuhl.
In terms of going from physical to virtual customer support, Burrow's three full time retail employees have been trained for the transition to working from home. And given their existing expertise in customer service, as well as the in-store Shopify knowledge, they're able to offer advice on products by Burrow partners Clare Paint and The Sill during the virtual appointments. 
While ad spend for the home decor category hasn't changed much in the past week, Kuhl said traffic is up "but conversion is down" due to extended browsing without purchase. However, he said the pattern is still good news for the company in the long run, because "the segment of the population on the fence about online furniture shopping is being forced to consider it" as the quarantine goes on. "It's also forcing us to adapt the model and perfect it as we go," Kuhl said.
In apparel, especially for luxury goods, try-ons and personalized appointments are going virtual. Olivela is now providing personalized, one-on-one virtual styling services through its Olivela Stylist Program. 
Shoppers are now able to virtually purchase items and have a percentage of proceeds go to relief, which has helped bump Olivela's sales in the process. 
Bridal startup Brideside, which launched with a digital concierge model before opening boutiques, has also shifted its stylists to conduct their appointments from home. With the sale process now revolving around its online showroom and digital tools, which launched within hours of shutting its stores down last week, its e-commerce booking platform has become the focal point for existing and new customers. "Brick and mortar still dominates the bridal industry," said CEO Nicole Staple, so in order to recreate the experience, stylists were sent home with kits that include dress samples and swatches to show brides during calls. 
Since virtual booking went live last Wednesday, Brideside has had 120 bridal party appointments booked. There has even been an increase in top line sale in the past week, with 650 new bridal parties having started working with stylists. The virtual stylists have done 2,500 outreach touch points per day.
For other companies that don't provide goods, but services, it's been a bit of a different transition. Since opening in November 2019, New York-based veterinary startup Small Door has been using both virtual tools and the physical location to provide pet owners with care. Founder Josh Guttman said that because the platform already uses the built-in telemedicine service before asking members visit the practice, the transition to virtual care has been fairly seamless. "It's a more efficient and honest way to practice veterinary," he said, confirming that even though Small Door's facility is deemed an "essential" service by New York state, the staff has moved to using video appointments to stay safe.
This might also stick. "We're preparing for a scenario in which some version of what's happening today will continue in the long run," Staple of Brideside said. "It's important to mentally prepare for that reality."