As shopping patterns continue to evolve, grocers are investing in ghost kitchens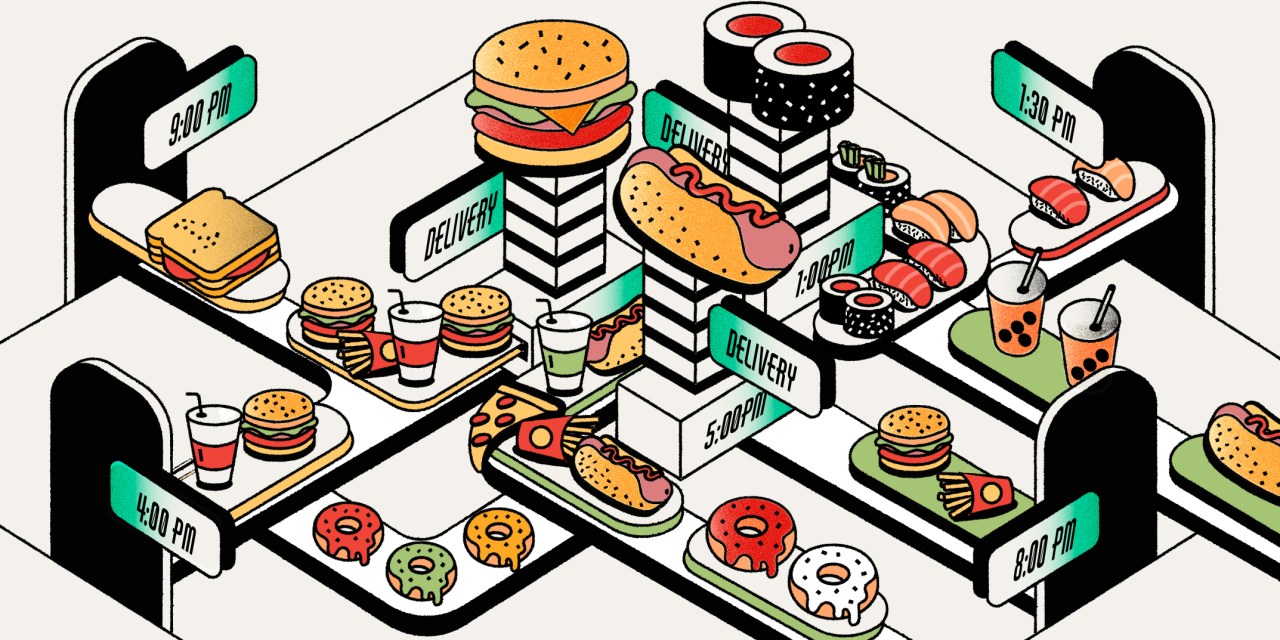 Ivy Liu
This story is part of a Modern Retail editorial series looking at how the retail experience will change in the post-pandemic economy. To see all the stories, go here.
As grocers try to find ways to keep growth apace, some are looking into ghost kitchens.
In March, Walmart announced a partnership with a company called Ghost Kitchen Brands, that would open up as many as 50 ghost kitchens in locations in both Canada and the U.S. by the end of the year. Kroger made a similar announcement last October that it was trialing a similar concept at an Indianapolis and Columbus location. Put together, it showcases how grocers are trying figure out sustainable new revenue drivers. Grocery sales exploded in 2020 — thanks to restaurant closure and people increasingly ordering their goods online. Now, as the world returns to normal, grocers are hoping to use ghost kitchen to convince shoppers they should buy prepared food in additional to daily necessities.
Ghost kitchens can mean a variety of things — but at its core, ghost kitchens are industrial kitchens designed to make white-labeled food for pick-up or delivery. A number of restaurant concepts have opened up using ghost kitchens to capitalize on the growth in food delivery platforms.
Indeed, according to data from Edison Trends, weekly spend on major delivery platforms steadily increased month-over-month in 2020. In 2021, that growth continued, said Edison Trends co-founder Hetal Pandya. During the week of April 26, for example, weekly spend (meaning the average amount of money spent on a given platform) on DoorDash increased by 53% compared to mid-2020; For Uber Eats it went up 20%. According to her, this continued growth signals a distinct behavior shift.
"Delivery platforms figured out how to make an efficient — maybe not profitable, but efficient — delivery with consumers [thanks to] the variety," she said. "They also figured out that they have a value proposition beyond just the pandemic."
In other words, when the pandemic first hit, people began having prepared food delivered to their homes more often. Now, as things begin to normalize, that behavior is likely here to stay.
For the grocers specifically, ghost kitchens represent a much needed revenue driver. The overall industry saw huge gains in 2020. Walmart's 2020 revenue grew 6.7% year-over-year compared to 1.9% the year before. Kroger's sales meanwhile shot up 8.4% year-over-year in 2020 compared to 0.4% the year before.
What fueled most of this growth was online ordering and new types of fulfillment. Online grocery sales shot up 10.2% in 2020 year-over-year, compared to 3.4% growth in 2019, according to Mercatus. But that growth is beginning to waver. Online grocery sales hit $7 billion in May 2021, which was a 16% drop from the $8.3 billion in online grocery sales transacted the same month in 2020, according to Brick Meets Click.
Now, grocers are faced with the problem of witnessing monumental growth and trying to find any way to keep apace. Many — including Kroger, Walmart and Target — are trying to build out their advertising platforms. Other have been looking into financial services as a way to include higher-margin services. But ghost kitchens present an incremental way to approach that conundrum. "Every player in the food industry is looking to expand their share of stomach," said Jason Goldberg, chief commerce strategy officer at Publicis. During the pandemic, with restaurants mostly closed, grocers had the clear edge. Now, Goldberg explained, grocery stores are saying "we want to win some calories from the restaurant industry."
Both Walmart and Kroger's ghost kitchens let shoppers order pre-made meals and have them ready for pick-up in the stores or via their own delivery program. Quick service restaurant PLNT Burger, which operates in eight Whole Foods locations, pivoted over 2020, operating as a "pseudo ghost kitchen," while indoor dining was closed, co-founder and CEO Ben Kaplan told Modern Retail. While this was a short-term answer to the grocery store closing its hot bar, the restaurant expects that sales channel to continue into the years to come.
For Walmart, the idea is to capitalize on new types of customer behavior. "There will still be people that eat in the stores, and there will still be people that eat food from a ghost kitchen in our stores, but there are also customers who want it brought to them and we want to be able to make sure that we can serve that customer as well," said Darryl Spinks, Walmart's head of retail services, to RetailDive last month. As a result, he said that retailer is focusing more on these new types restaurant offerings as well being more "intentional" about the business partnerships it inks.
All of this comes down to the bottom line. Even with revenue growth, margins are getting tighter. E-commerce sales are more expensive than in-store, and grocers are trying to figure out how to make online grocery a profitable endeavor.
As a result, grocers are trying to figure out how they can either find new revenue streams or increase basket size. "Both Walmart and Kroger have talked abut these alternative revenue streams or incremental profitability streams — media businesses, financial services," said Laura Kennedy, senior lead analyst at CB Insights. "They are being pretty explicit: We need things to add profits to our business because e-commerce is growing so fast and [they] need to be profitable."
An earlier version of this story misspelled Hetal Pandya's name. We regret the error.